AVRUPA TIMES/LONDON-The CTCA, British Turkish Cypriot Association and The Circle Foundation are proud to announce the first in a series of panel discussions on the future prospects for Cyprus.Announcement: WEBINAR EVENTS Hosted by former UK Government Minister Brooks Newmark. What is the future for Cyprus? Two-States? Federalism? Is TRNC recognition possible? 
The CTCA SAİD: "Dear Friends, We are hosting an important event on the future of the TRNC that we think you'll be interested in.Please share with your friends and family and register"
On-line via Zoom next Monday 26 January 7pm.

CTCA: "Please share with your friends and family and register here:"
https://zoom.us/webinar/register/WN_bTukEgUeRxuLxOeKPdiZtw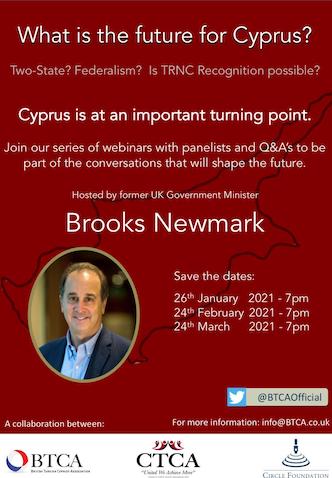 CTCA: "This Webinar will be English. Please download the ZOOM app in advance, to watch, participate and post your questions.
Link: https://zoom.us/download
Click here to register Registration required (26th January event): 
https://zoom.us/webinar/register/WN_bTukEgUeRxuLxOeKPdiZtw

Panels will be made up from politicians, legal experts and academics from the UK, Turkey and TRNC. Join the series of webinars with panelists and Q&A's to be part of the conversations that will shape the future.
 
Save the dates:
26th January 2021    7pm
24th February 2021  7pm
24th March 2021     7pm