Entry rules in response to coronavirus (COVID-19) Entry to Cyprus- The UK entered Cyprus' Red category on 8 July.Passengers coming from Red Category countries must undergo a PCR test within 72 hours prior to departure and provide proof of a negative result. You must then undergo another PCR test upon arrival at Larnaca or Paphos airports, and remain in self-isolation until the result is issued. Test results should be available within three hours through the online platform. The cost of both tests is borne by the passenger.Results from the PCR test taken before travel can be in the form of an email or SMS, but the result itself and/or appointment letter must include the date and time when the test was taken. You should not use the NHS testing service to get a test in order to facilitate your travel to another country. You should arrange to take a private test.

Children who arrive in the Republic of Cyprus before their 12th birthday, are exempted from the testing requirement.
If you belong to one of the following categories of passengers, you have the option to take a test only upon arrival in the Republic of Cyprus:
Cypriot citizens and family members (alien spouses and their underage children),
Persons legally residing in the Republic,
Persons entitled to enter the Republic under the Vienna Convention.
If you choose this option, you must remain in mandatory self-isolation for 72 hours upon arrival. At the end of the 72-hour period you must undergo another PCR test. If the repeat test is negative, you can end your isolation. The test result must be sent to the following email address: [email protected] The cost of both tests is borne by the passenger.
Further information about entry requirements for travellers from countries in Cyprus' Red category is available on the Cyprus flight pass website.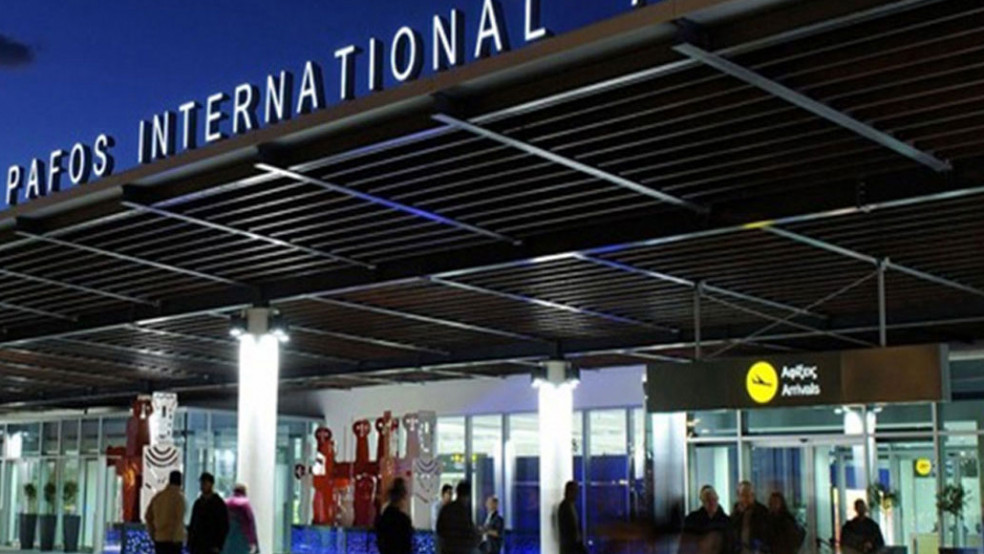 All permitted travellers must complete a Cyprus Flight Pass before their journey, available on the Cyprus Flight Pass website. Where relevant, you will be responsible for ensuring your PCR test result is uploaded to Cyprus Flight Pass within 24 hours of your departure. If you need to provide your appointment letter you can upload both documents in a single photo. In addition to obtaining the Cyprus Flight Pass, passengers are required to carry with them, in hard copy or electronically, copies of these documents. You will be asked to present your flight pass prior to boarding and on arrival at immigration.
The Cyprus government have a help desk to assist travellers with queries regarding the use of the Cyprus Flight Pass. This service is accessible by telephone +(357) 2484 1234 and through the Cyprus Flight Pass e-platform. You should continue to track developments through the Republic of Cyprus Information Office.
Travellers with proof of two COVID-19 vaccinations are not required to take a PCR test before departure. If you have received two vaccinations you will still need to obtain a Cyprus flight pass. You should check the Cyprus Flight Pass website for information on which vaccinations are acceptable, and the length of time which should have elapsed between your final dose and date of travel. (See Demonstrating your COVID-19 vaccination status)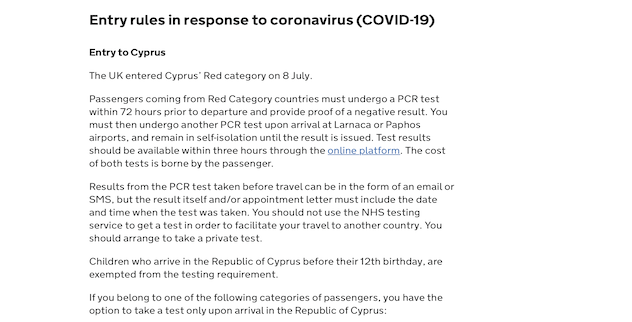 Travellers to the north of Cyprus who have been in the UK within the previous 14 days are required to undergo a PCR test within 72 hours prior to departure and present a negative result upon entry. If you have completed the vaccination program and/or previously had COVID-19, you will not be required to quarantine after entry. All other travellers are required to quarantine for 7 days at authority-designated accommodation. Both vaccinated and unvaccinated people from UK will need to do a further PCR test upon arrival.
Demonstrating your COVID-19 vaccination status

If you live in England, Cyprus will accept the NHS COVID Pass or your NHS letter to demonstrate your COVID-19 vaccination status. If you live in Scotland or Wales, Cyprus will accept your respective NHS letter to demonstrate your COVID-19 vaccination status. Your NHS appointment card from vaccination centres is not designed to be used as proof of vaccination and should not be used to demonstrate your vaccine status.
HERE IS THE FULL OFFICIAL DETAILS CLICK