Following the attempted poisoning in March, UK investigators identified one of the two suspects as Ruslan Boshirov.
President Putin claimed Boshirov was a civilian, and on Russian TV, he himself said he visited Salisbury as a tourist.
But the website Bellingcat says he is actually an intelligence officer by the name of Colonel Anatoliy Chepiga.
He has served in Chechnya and Ukraine and was made a "Hero of the Russian Federation" in 2014.
British officials have not commented, but the BBC understands there is no dispute over the identification.
Russian Foreign Ministry spokeswoman Maria Zakharova dismissed the new claims, saying there was no evidence.
Ex-Russian spy Sergei Skripal - who sold secrets to MI6 - and his daughter Yulia were poisoned with Novichok on 4 March. 
Both Mr Skripal and his daughter survived, but Dawn Sturgess - a local woman not connected to the original attack - died in July after being exposed to the same substance.
It is thought Chepiga travelled to the UK on a false passport, along with another Russian national who used the name Alexander Petrov.
Who is Colonel Anatoliy Chepiga?
The 39-year-old trained at one of Russia's elite academies and served with a special forces unit under the command of the GRU - Russia's military intelligence service.
He earned more than 20 military awards for his service.
He is believed to have transferred to Moscow in about 2009, where he was given a false identity as Ruslan Boshirov. He has been working undercover for the past nine years.
In December 2014, he was made a Hero of the Russian Federation. The medal, awarded in a secret ceremony, is typically handed out by the Russian president. 
It is only given to a handful of people each year. The timing suggests it was for operations in Ukraine.
Media caption"Our friends had been suggesting for a long time that we visit this wonderful town" - interview from 13 September
He and Petrov flew in to Gatwick Airport from Moscow on 2 March 2018 and visited Salisbury on two consecutive days, including 4 March, the day of the poisoning.
Both men returned to Moscow on the same day. European arrest warrants and Interpol red notices have subsequently been issued for the pair.
Russia does not extradite its own nationals.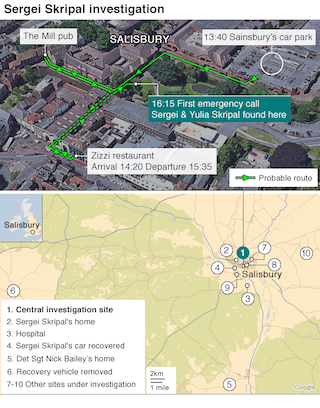 What is he accused of?
Sergei Skripal, 67, and his daughter Yulia were poisoned by a nerve agent in Salisbury, where he lived. The attack was approved by the Russian state, according to the UK government.
The Skripals spent several weeks in hospital, but recovered. 
The event sparked a series of accusations and denials between the UK and Russian governments, culminating in diplomatic expulsions and international sanctions.
Police linked the attack to another poisoning in nearby Amesbury in June, in which Dawn Sturgess and her partner Charlie Rowley were exposed to Novichok after handling a contaminated perfume dispenser.
Ms Sturgess later died.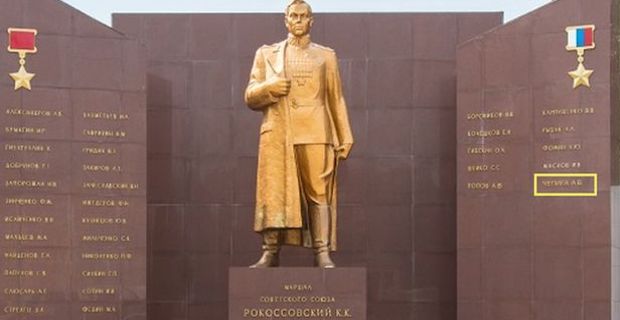 What does Russia say?
When UK police identified Boshirov and Petrov, Russian President Vladimir Putin insisted the pair were innocent civilians.
A day later, on 13 September, the pair appeared on Russian TV and claimed they were simply tourists, visiting Salisbury to see its "famous cathedral and its 123m spire".
Boshirov - or Colonel Chepiga - said he and Mr Petrov were in the sports nutrition business, but were travelling for pleasure.
They emphatically denied carrying any Novichok, or the modified Nina Ricci perfume bottle which UK investigators say contained the substance.
The two men told Russia's state-run broadcaster that their lives had been "turned upside down" by the allegations. 
"We're afraid to go out, we fear for ourselves, our lives and lives of our loved ones," Boshirov said.
Downing Street called the content of the interview "deeply offensive to the victims and loved ones of this horrific attack".
Image captionColonel Chepiga as the last name on the Gold Star honour list on the memorial wall of the Far Eastern Military Command School
BBC Monitoring, which tracks foreign media, says Russian state-controlled TV has made no mention of allegations made by Bellingcat.
However, they have been extensively covered by private media and external broadcasters.
Writing on Facebook, Russian Foreign Ministry spokeswoman Maria Zakharova described the allegations as groundless.
Komsomolskaya Pravda, a pro-Kremlin tabloid, published an online article listing "three reasons" why Chepiga was not involved in the Skripal poisoning, adding that he was not a Russian secret services operative.
What has Theresa May said?
Addressing world leaders at the United Nations on Wednesday, Theresa May criticised Russia for its "desperate fabrication" over the Salisbury spy poisoning.
The prime minister accused Russia of "flagrantly breach[ing] international norms" citing "the reckless use of chemical weapons on the streets of Britain by agents of the Russian GRU".
Image captionDawn Sturgess died in hospital on 8 July after handling a contaminated container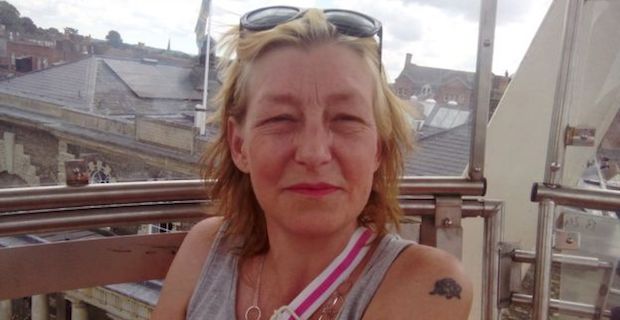 What is Bellingcat?
The claims about Chepiga were made following an investigation by a firm called Bellingcat.
Describing itself as "the home of online investigations", Bellingcat says it uses open-source computer software and social media as part of its work.
Founded by Eliot Higgins, a British blogger and journalist, the firm has also carried out probes into the shooting down of Malaysian Airlines Flight MH17 in Ukraine, the wars in Syria and Iraq, and Mexican drug lords.
On its work on the Skripal poisoning, Bellingcat says investigators searched images on several online search engines, contacted former Russian military officers, browsed photos of a military academy yearbook, searched specific terms online, and scoured leaked Russian databases.
The firm says it then obtained extracts from the passport file of Anatoliy Vladimirovich Chepiga, which contained a photograph that strongly resembled a younger "Boshirov".
A Bellingcat journalist, who writes under the pseudonym Moritz Rakuszizky, said he believed the firm was shortly going to be able to identify the second suspect in the Skripal case.
"We believe based on the information we have gathered so far that he [Petrov] is a junior rank relative to Chepiga," he told BBC Two's Newsnight.
"We think he is someone who is at the captain level or a senior lieutenant level."
BBC NEWS