The firefighters from fire stations in Ealing, Hayes, Chiswick and Willesden visited Shepcot House in Cowper Gardens N14 to undertake vital training exercises to help them prepare for future call outs to high-rise fires.   The real-life high-rise training is allowing firefighters to practice new procedures especially in scenarios where a building fails due to fire safety issues; and builds on lessons learnt from the Grenfell Tower fire.  Steve West, London Fire Brigade (LFB) Borough Commander for Enfield, invited Cllr Sabri Ozaydin, Mayor of Enfield, to Shepcot House to learn how fire crews would respond to a fire at a block of flats in London.    
Plans included how the crews would respond to and prioritise calls from for assistance in an emergency.  The training drills included communicating and helping people in situations where they are affected by smoke inhalation and life-threatening situations caused by fire.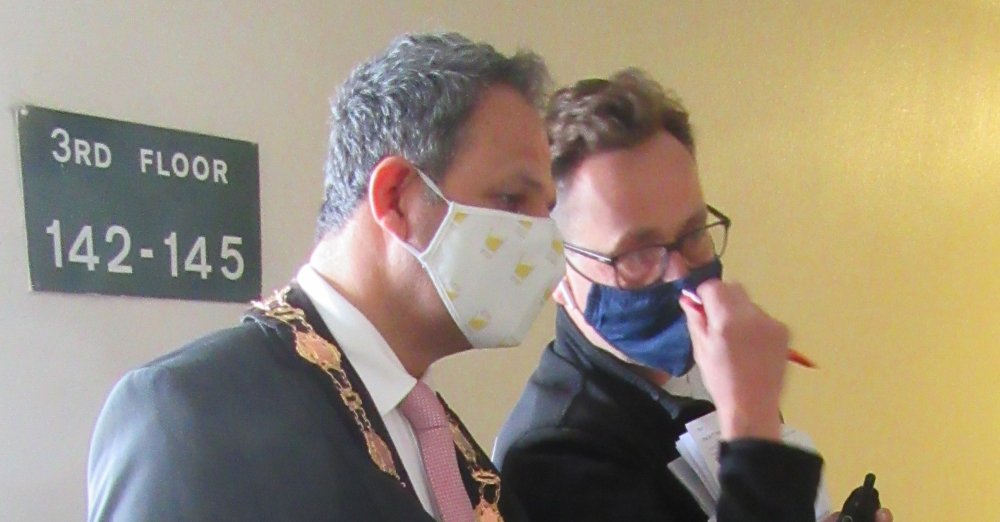 Cllr Sabri Ozaydin, Mayor of Enfield, said: "It was an honour to be invited by Steve to see first-hand how fire crews work together to respond to fires in the Capital. I am delighted that the London Fire Brigade was able to use Shepcot House for their firefighter's vital training sessions and I hope that they achieved goals."  
Cllr Gina Needs, Cabinet Member for Social Housing at Enfield Council, said: "Firefighters put their lives at risk every day to protect us all and we owe them a huge debt of gratitude.  I'm glad we were able to help provide the use of Shepcot House to the London Fire Brigade to help with their vital training drills. 
"The Council is investing £65m over the next three years in building safety. This programme forms part of our wider Council housing investment programme, which seeks to deliver safe, secure and sustainable homes for the future." 
The LFB praised Enfield Council for providing them with the use of Shepcot House to undertake vital training; and called upon other local authorities to help by providing similar opportunities in the future.  
 
Steve West, London Fire Brigade Borough Commander for Enfield, said: "We are extremely grateful to Enfield Council and all those connected for allowing venues like Shepcot House for vital firefighting training.  
"As we continue to learn lessons from Grenfell Tower fire and implement new procedures, we need high rise buildings for firefighters to train in real environments. Anyone who is responsible for disused high rise blocks please consider reaching out to London Fire Brigade and offering up the venue for our training." 
Shepcot House was built in the 1970s and is no longer fit for purpose. The building has been decanted ahead of demolition, to make way for new housing as part of the Council's New Avenue regeneration scheme. 
Enfield Council's Housing and Growth Strategy 2020-2030 sets out how the Council will deliver more and better homes to address inequality, create a more balanced housing market and help local people access a good home.  
For further information on Enfield Council's Housing and Growth Strategy visit: https://new.enfield.gov.uk/services/housing/enfield-housing-homeless-and-tenancy-strategies/