Dott, Lime and TIER have been selected by TfL and London Councils for a rental e-scooter trial of up to 12 months.E-scooters will be available for rent in a core group of London's boroughs, Canary Wharf and the City of London from Monday 7 June.Operators will work together with TfL, London Councils and participating boroughs and are required to meet the rigorous safety, parking and operating standards.Transport for London (TfL) and London Councils today announced that London's rental e-scooter trial will begin on Monday 7 June, in a core group of boroughs, Canary Wharf and the City of London with more areas expected to join the 12-month trial as it progresses.Following the government's announcement last year to legalise rental trials of e-scooters run by local authorities, TfL and London Councils launched an open and competitive procurement process for the planned trial of an e-scooter rental scheme in London. Operators Dott, Lime and TIER have been appointed to take part in the trial following the process, where their ability to meet strict safety requirements and high operating standards was carefully considered.
Safety will be at the core of the trial throughout, and data shared by the operators will play a vital role in helping to shape London and the UK's future policy on e-scooters, including whether they could form part of London's sustainable recovery from the coronavirus pandemic. The safety standards required will go further than those set out at a national level, by requiring: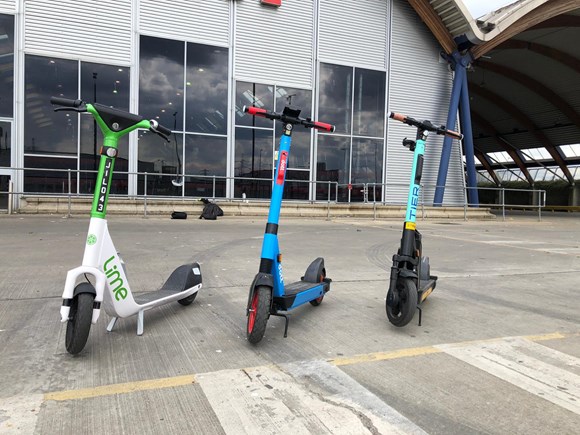 A lower maximum speed of 12.5mph;
Lights at the front and the rear of the vehicles that are always on throughout any rental;
Audible warning systems that can be used without adjusting the rider's grip of the handlebar.
The operators will also have other safety mechanisms in place, including 'first ride policies' where riders will need to take an e-learning safety course before they hire for the first time.
The rental e-scooters will only be allowed to be used on roads and in cycleways - not on footways. All operators will also be obliged to ensure that their rental prices take into account the needs of people on lower incomes and to offer discounts to certain groups where appropriate, including key workers playing a vital role in helping London get through the pandemic.
A core group of London boroughs, Canary Wharf and the City of London will be participating in the trial fully by providing parking, with further boroughs acting as 'ride-through' areas, which users may travel through but not start or end e-scooter rides. Between 60 and 150 e-scooters will be available to rent in each fully participating borough initially, with riders able to move freely across these boroughs and 'ride-through' areas. Operators that demonstrate strong performance and compliance may be able to increase the number of e-scooters in their fleet over the course of the trial, while those that do not may be required to reduce their numbers.
Boroughs, Canary Wharf and the City of London will control parking locations for e-scooters, providing marked designated bays to protect against street clutter and ensure footways are kept free. Geo-fencing technology will be a requirement for every rental e-scooter. This system is intended to ensure that e-scooters are not parked outside of these designated spaces as the hiring of a rental e-scooter can only be ended once parked in a designated bay. There will also be mandatory response times for the operators in cases where vehicles have been improperly parked, are damaged or are causing an obstruction. Boroughs will also be able to specify 'go-slow' areas where the speed of e-scooters will be automatically limited to 8mph.
TfL, London Councils, the participating areas and the selected operators will continue to work together over the coming weeks to prepare for the start of the trial, ensuring that London's streets are ready and engaging with local communities. The organisations involved in the trial will be carrying out education and awareness outreach to ensure that Londoners are prepared for the new trial.
Regulations introduced in summer 2020 have allowed local authorities in the UK to trial rental e-scooters. The use of privately owned e-scooters on public roads is not covered by the trial and remains illegal in the UK, as does riding any e-scooter, rental or private, on footways. The Metropolitan Police will continue their work engaging with e-scooter riders, and where necessary, will enforce the legislation regarding the use of privately owned e-scooters on the highway.
Will Norman, London's Walking & Cycling Commissioner, said: "We want to ensure a green, sustainable recovery from coronavirus, and e-scooters are an alternative to cars that could help with this. The safety of those using e-scooters, as well as other road users and pedestrians, is absolutely paramount, so it's important that they are trialled in this rigorous way to ensure high standards. We look forward to exploring the role that e-scooters could play in London's future."
Helen Sharp, TfL's e-scooter trial lead, said: "We're doing all we can to support London's safe and sustainable recovery from the coronavirus pandemic and it's clear that e-scooters could act as an innovative, greener alternative to car trips.
"Safety remains our number one priority and we will work closely with the e-scooter operators, London Councils and the boroughs to ensure rigorous standards are consistently met. We will also continue to work closely with all of our stakeholders, including TfL's Independent Disability Advisory Group, to ensure that the trial meets the needs of everybody living in, working in and visiting the trial areas. This new trial will provide the data and insights we need to determine the longer-term role e-scooters could play in our strategy for a greener and healthier future for London."
Mayor Philip Glanville, Chair of London Councils' Transport and Environment Committee, said: "The rental e-scooter trial has the potential to support our city-wide response to the coronavirus pandemic and boost London's green recovery. It will be important to see how this new service impacts London's existing transport network and carbon emissions and how inclusive it is of the travel needs of all Londoners – especially those on lower incomes.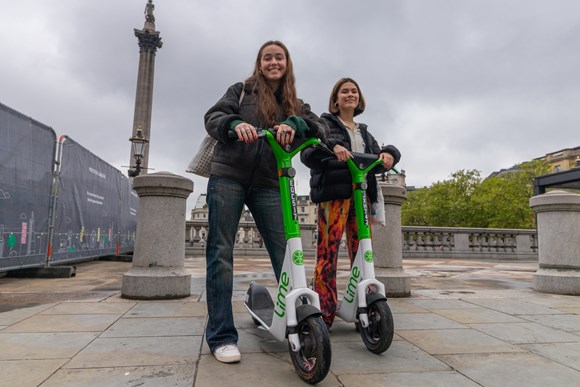 "The trial's chosen operators demonstrated a good understanding of London's unique and diverse local communities and infrastructure and a willingness to work with the London boroughs participating in the trial on shared objectives.
"Running the trial safely for all road users is vital. Boroughs will work with TfL, London Councils and operators to uphold the highest safety standards and take into account London's most vulnerable residents, such as people with visual impairments.
"That's why we would urge Londoners to only use rented e-scooters, which will be launched soon, and avoid unregulated privately-owned e-scooters, which will remain illegal to use on public roads and have not been designed for safe use on the capital's streets."
TfL Image - Dott's e-scooter
Henri Moissinac, CEO & co-founder of Dott, said: "We're delighted to win the London tender, and this feels like just the beginning for Dott in the UK. We are proud to be a part of the trial and grateful to the TfL and London Councils for their trust. This decision is testament to the daily work of Dott's local and international teams, who have been providing a high-quality, accessible and reliable service, since our foundation.
We are excited that we will soon be able to offer Londoners the best micro-mobility services, working closely with local authorities and other operators to build a better and more sustainable city."
TfL Image - Lime's e-scooter
Wayne Ting, CEO of Lime said: "We're proud to have already served more than 400,000 Londoners through our shared e-bike service over the last three years, and are delighted to now be able to bring our latest e-scooters to London. By offering two safe, convenient and zero-emission travel options through the Lime app, we hope to contribute to the development of a greener transport system that is accessible for everyone.
"London is one of the world's greatest cities and we're humbled that Transport for London and London Councils have placed their trust in us to deliver one of the UK's largest e-scooter trials in the capital. We are now focused on developing a world-class e-scooter service for residents and visitors to London - improving and innovating alongside TfL, the boroughs and the other operators to ensure Lime works for every Londoner."
 
Lawrence Leuschner, CEO and Co-founder, TIER Mobility, said: "This is a hugely proud moment for TIER and we cannot wait to start working with London, a city famed for transport innovation, from constructing the first underground railway to building the world's first international airport.
"Our e-scooters will not only give Londoners a new, convenient and environmentally-friendly mode of transport, but will bring jobs to the city and a financial boost for the small high-street businesses who choose to house the battery charging pods which make up our unique Energy Network.
"We will be applying all of the experience and knowhow we've gained from other major cities to ensure that TIER's e-scooter scheme in London is a success, not just for riders but for other road users and communities at large."
The rental e-scooter trial forms part of a wider approach across TfL, London Councils, London boroughs and national government to enable people to use greener forms of transport and help avoid a damaging increase in car use which would make air quality worse and increase congestion. London is the biggest and most complex environment for rental e-scooter trials in the country and TfL and London Councils have taken time to work closely with the boroughs and a variety of different groups and stakeholders, including TfL's Independent Disability Advisory Group, to ensure that the trial considers the needs of everybody living in, working in and visiting the trial areas. A comprehensive equality impact assessment has been published on TfL's website, which will be kept up to date and under continual review in the lead up to and during the trial of rental e-scooters in London. All participating London boroughs will also have their own equalities impact assessments finalised before entering the trial.
Rental pricing will be set individually by the operators and confirmed in due course and operators will also outline the terms and conditions for rental, but all must meet TfL and London Councils' rigorous minimum safety requirements.
Boroughs and areas participating from the 7 June
Ealing
Canary Wharf
The City of London
Hammersmith and Fulham
The Royal Borough of Kensington and Chelsea
Richmond upon Thames
Ride-through boroughs participating from the 7 June
Tower Hamlets
Boroughs seeking participation in the trial
Lambeth
Southwark