AVRUPA TIMES/LONDON-A vital part of East End Film Festival's mission to discover, debate and develop new voices in cinema is the festival's award system. The top award is reserved for the most outstanding film from a first- or second-time director, and the recipient of this year's Best Film award is DAHA (dir: Onur Saylak, Turkey).The directorial debut by popular Turkish actor Onur Saylak, it focuses on a quiet and sullen teenager in a coastal town in Turkey whose life is corrupted by his father's people smuggling business. Adapted from Hakan Günday's award-winning novel, the film is a brilliant and harrowing portrayal of Europe's refugee crisis.It was chosen by a jury comprising radio and TV host Edith Bowman, film producer Dominic Buchanan, actress Ophelia Lovibond, and screenwriter and critic Kate Muir. "Such a raw story. Really stayed with me," says Edith Bowman. "Great performances and incredible first outing for Onur Saylak." Other jury members echoed this opinion, describing Daha as "terrific", "gripping" and "emotionally devastating". Daha was one of eight shortlisted films screening in competition.
Yesim Guzelpinar said: "Balik Arts has co-hosted this screening. It gives us immense pleasure that DAHA continues receiving awards in festival circles. It was granted Best Script and Best Director awards at the 16th Dhaka International Film Festival, where we have programmed it"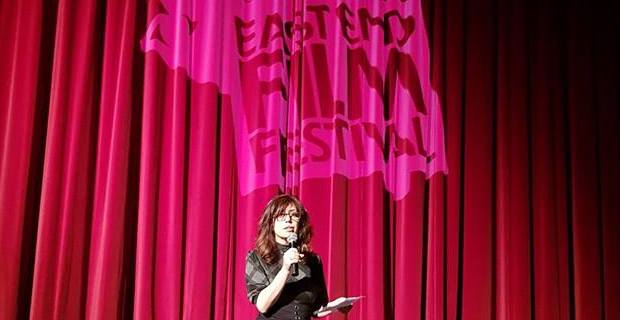 Yesim Guzelpinar presenting the film DAHA, which we co-hosted with East End Film Festival at Rio Cinema in London
Of the other titles, a special mention goes to I AM ANOTHER YOU (dir: Nanfu Wang, USA/Israel). Fascinated with the notion of a free America, Chinese documentary filmmaker Nanfu Wang takes an epic journey with a charismatic young drifter who rejects society's rules for a life of intentional homelessness.
BEST UK SHORT: POMMEL
The jury for EEFF's Best UK Shortaward are film journalist Karen Krizanovich, actress Alexandra Roach, film programmer and co-founder of Club des Femmes Selina Robertson, poet and artist Sophia Thakur, and writer and director Jamie Thraves.
After much deliberation, and the jury taking a second vote, the winner of Best UK Short is POMMEL(dir: Paris Zarcilla, UK), a tumultuous coming-of-age drama set within the world of competitive gymnastics.
"I feel that Pommel is the more complete film in terms of script, acting, cinematography, editing," says Selina Robertson. "I found the setting of a gymnastics competition to explore the tension and power dynamics between two brothers original and ultimately moving."
A special mention goes to WALE (dir: Barnaby Blackburn, UK), the story of a young black male with a criminal past whose efforts to start his own business are hindered when he's framed for a crime.
BEST SHORT AUDIENCE AWARD: ONE MORE & WAR HAS NO EYES
Voted for by audiences of shorts programmes throughout the festival, EEFF's Best Short Audience Award is a tie.The award goes jointly to ONE MORE and to WAR HAS NO EYES.
Directed by filmmaker, actor and former Eastendersstar James Alexandrou (whose feature debut The Showpremiered at EEFF 2017), and written and produced by its two lead actresses Kate Kelly and Celine Abrahams, ONE MORE(dir: James Alexandrou, UK) follows two women caught up in a destructive cycle of drinking, drugging and repeating.
Written, directed and produced by first-time filmmaker Perry White, WAR HAS NO EYES (dir: Perry White, UK) portrays a young Muslim from inner London in a search for redemption from his troubled past.
MIND THE GAP £10,000 TRANSIT FILM AWARD: APPLICATIONS NOW OPEN
Open to filmmakers fighting to make their second feature here in the UK, East End Film Festival's Mind The Gap 'Transit Film Award' is a major new film development grant. Announced by EEFF in partnership with director John Jencks (whose own second feature The Hippopotamusscreened at EEFF in 2017), the prize for the inauguralawardis £10,000. This will enable the recipient to have time to work on the development of their second feature. Applications for this inaugural grant were opened on 11 April 2018, at EEFF's opening night gala. See www.eastendfilmfestival.com/transit-award/for more details and an application form.
ONUR SAYLAK'S DAHA WINS BEST FILM AWARD
AT 17th EAST END FILM FESTIVAL
POMMELWINS BEST UK SHORT, ONE MORE &WAR HAS NO EYESTIE FOR BEST SHORT AUDIENCE AWARD
www.eastendfilmfestival.com
BEST FILM AWARD: DAHA