Kim Kardashian and Pete Davidson were among the A-listers in attendance at the Met Gala. Kim Kardashian grabbed the headlines at Monday's Met Gala as she stepped into a dress which was last worn by Marilyn Monroe six decades ago. The reality star sported the crystal-embellished gown as she walked the red carpet with boyfriend Pete Davidson on what has become fashion's biggest night.
The first Monday in May is one of the most important dates of the year for celebrities, designers, jewellery makers and tanning salons, and this year's Met Gala was no different.The event saw celebrities take inspiration from the gilded age - a period of rapid US economic growth in the late 19th Century - as they dressed for this year's theme, In America: An Anthology of Fashion.
Here are the best looks from the 2022 Met Gala red carpet.short presentational grey line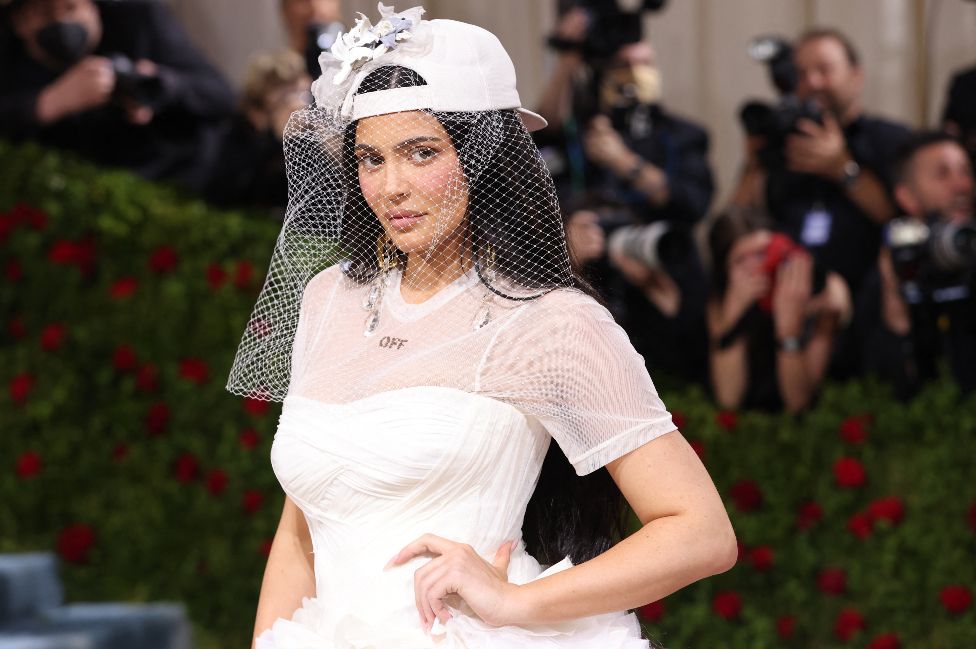 Kylie Jenner

The entrepreneur and reality star wore a ruffled ivory ball gown from Off-White's fall/winter 2022 couture collection, the last from the late designer Virgil Abloh.
But the icing on the four-tier cake was a white baseball cap, worn backwards, on top of a netted white veil - a look we hope to see a lot more of during this summer's wedding season.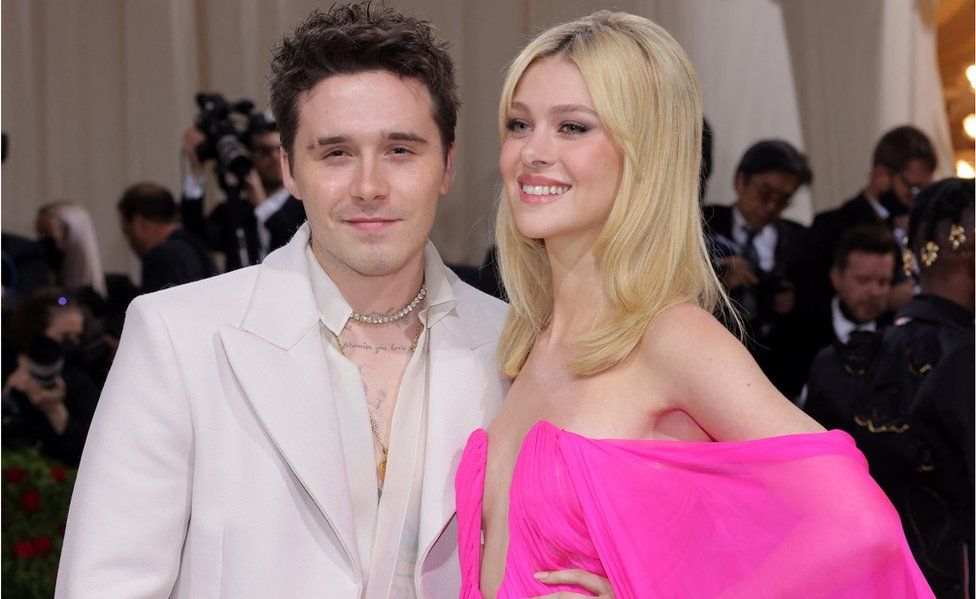 Alicia Keys

Alicia Keys is used to singing about her home city in songs like Empire State of Mind and Streets of New York, so it's only right that she starts dressing to match.
Her shimmering black-and-silver Ralph Lauren gown saw a silhouette of the entire NY city skyline displayed on its black cape. Keys walked the red carpet with music producer husband Swizz Beatz.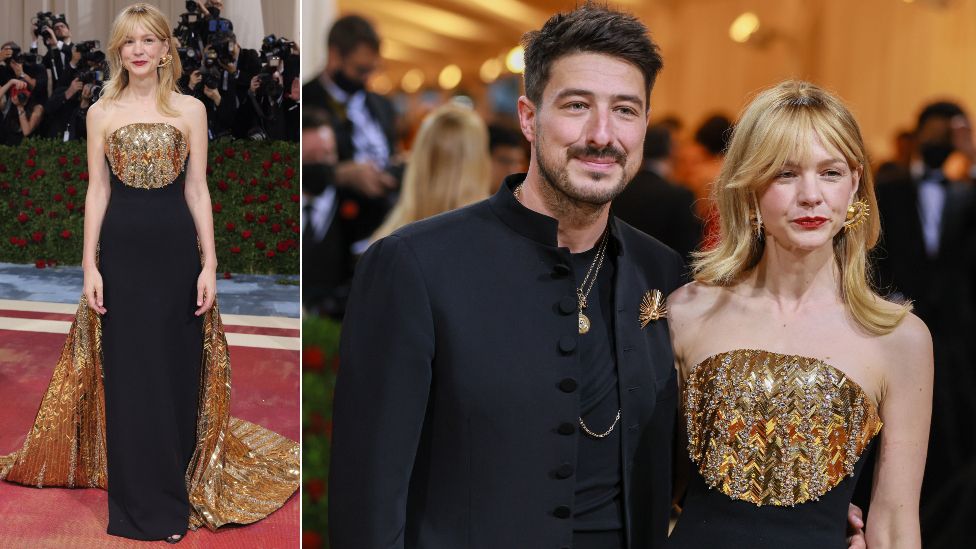 Nicki Minaj

Before she arrived at the Met Gala, Nicki Minaj was sadly involved in an explosion at an ink factory, which analysts fear could prompt a worldwide shortage of ballpoint pens.
In actual fact, the rapper's black feathered ballgown was designed by Burberry's Ricardo Tisci and topped off with a black baseball cap while her entire face and body were covered in circular jewels.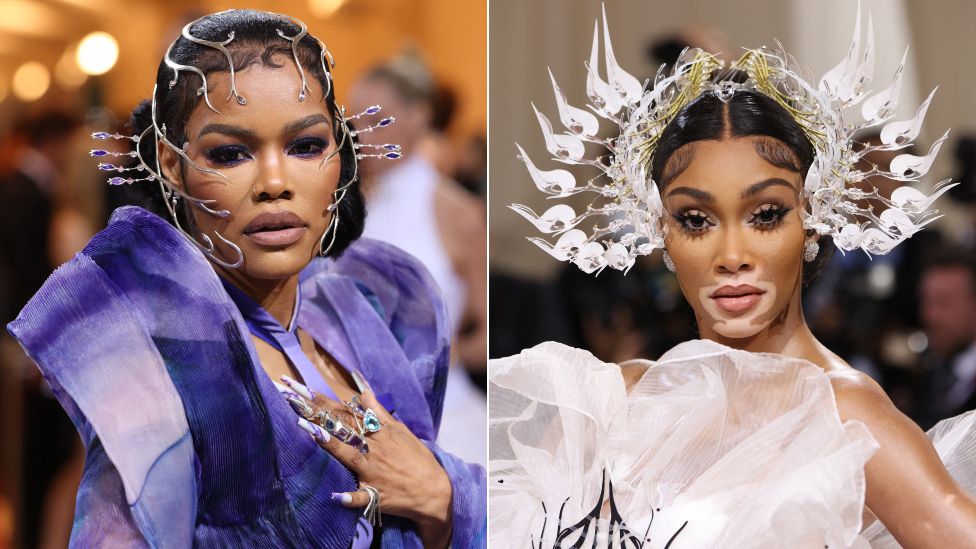 Kodi Smit-McPhee

The Power of the Dog star made his Met Gala debut, telling reporters the event "is a place where people can go with zero boundaries and judgements on how they want to express themselves through fashion".He wore a modern Bottega Veneta ensemble which utilised the colours of the American flag - with red opera gloves, blue jeans and a white pinstripe shirt.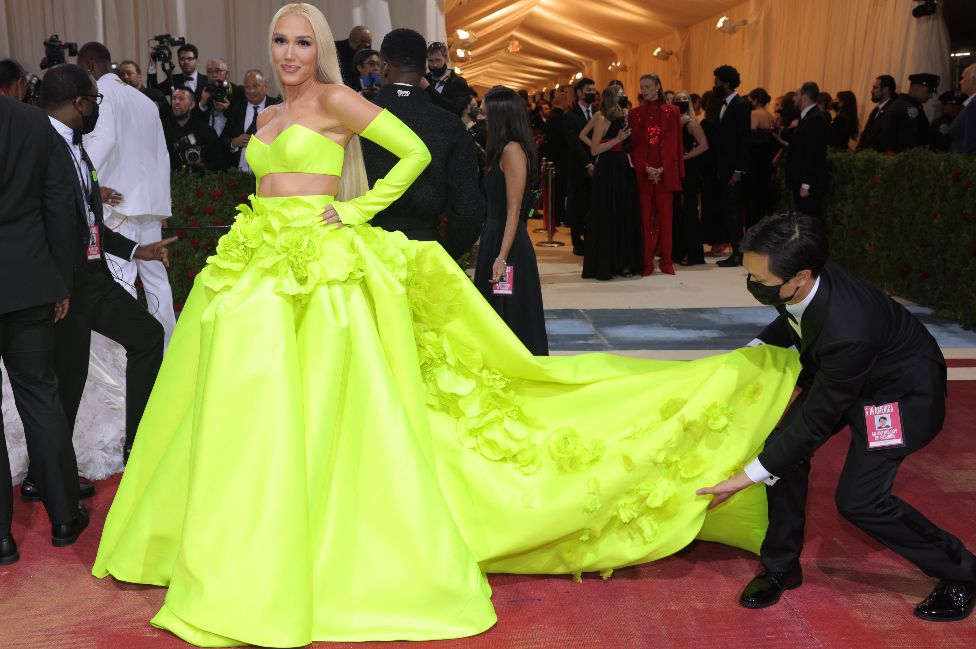 Billie Eilish

Billie Eilish has become one of the most reliably best-dressed celebrities you can find on a red carpet - quite a change from the (equally awesome) baggy hoodies which formed her staple look when she started out as a singer.At this year's gala, the Oscar-winning musician opted for a pale green and cream Gucci corset gown, which harked back to some of the fashions that were popular in the gilded age of the late 1800s.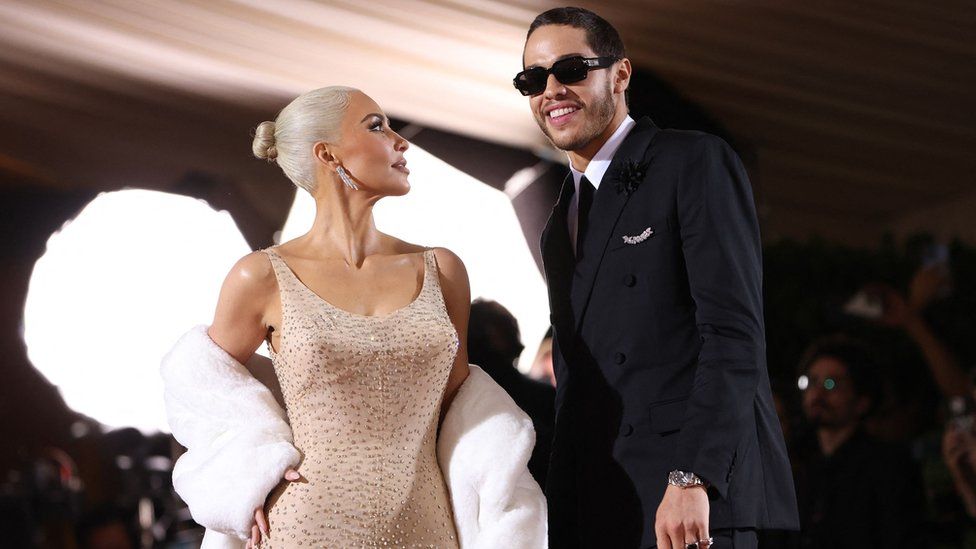 Alessandro Michele and Jared Leto

While most people who watched House of Gucci were trying to figure out what accent Jared Leto was aiming for, attendees at the Met Gala were simply trying to figure out which one was Jared Leto.
The actor (right) walked the red carpet with his close friend Alessandro Michele, the creative director of Gucci. Asked how to define their look, they answered simply: "Double trouble."The pair wore cream-coloured tuxedos embellished with floral embroidery and red satin bow ties.The duo previously matched their outfits at the 2018 Met Gala, wearing coordinating suits. The following year, Leto didn't even need a companion to match with - he walked the red carpet carrying a wax replica of his own head.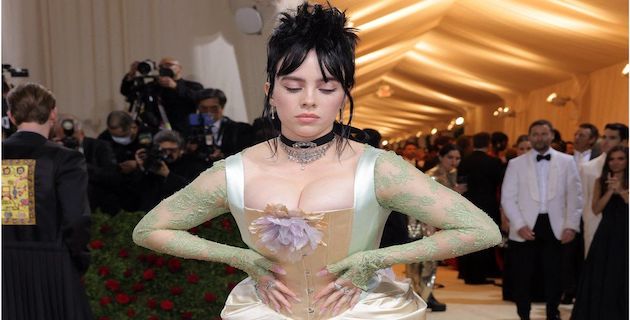 Taylor Hill

Normally, our favourite train is the 11:30 London Kings Cross to Edinburgh (thanks to those stunning east coast views), but at the Met Gala, we'd have to opt for model Taylor Marie Hill.
The train on her gorgeous royal blue dress came complete with stunning intricate floral embroidery.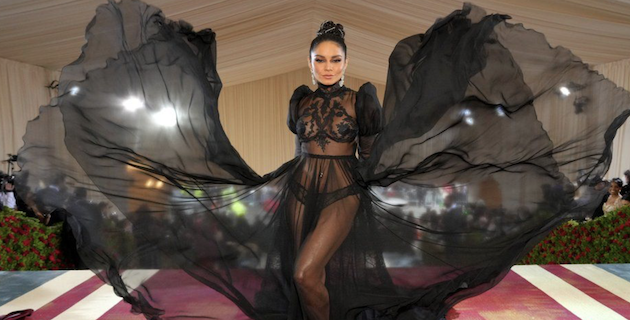 Sarah Jessica Parker

And just like that, Sarah Jessica Parker had her picture taken with her headpiece beautifully framed in the centre of the archway behind her (thank you to this photographer).Parker worked with Christopher John Rogers on a striking, thoughtful ensemble. The gown paid homage to Elizabeth Hobbs Keckley, who made history as the first black female fashion designer to work in the White House (becoming the official dressmaker to first lady Mary Todd Lincoln).Rogers used a particular design that Keckley had made in the 1860s as inspiration for Parker's black and white gingham-plaid gown. "She was a smaller designer, and someone that people don't really talk about," he explained. "The idea was to highlight the dichotomy between the extravagant, over-the-top proportions of the time period, and the disparity that was happening in America at the time."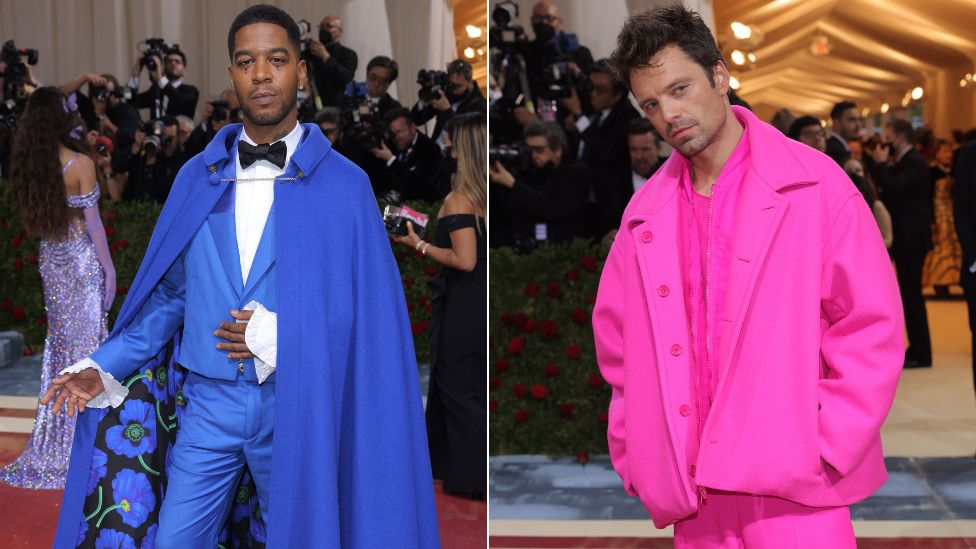 Kaia Gerber and Austin Butler

If you haven't heard of Austin Butler, you almost certainly will in the next two months. He plays Elvis Presley in the forthcoming big-screen biopic, which also stars Tom Hanks as the legendary singer's manager Colonel Tom Parker.We love a couple debut at the Met Gala, and they don't come much more glamorous than Butler and his model girlfriend Kaia Gerber. It's been rumoured the actor and model have been dating since 2021.Gerber wore an Alexander McQueen gown, Butler wore Prada. They walked the red carpet separately, but then united at the top of the stairs and shared a kiss, sending social media into overdrive.

Vanessa Hudgens

Because only then can the Tick Tick... Boom! star's sheer black gown be fully appreciated.Hudgens was hosting Vogue's coverage of the Met Gala, but her see-through Moschino ball gown designed by Jeremy Scott meant she was as well dressed as any of the guests she was interviewing.The dress had a long train which was made of lace, along with embroidery on the bodice, puff sleeves and a high neckline.

Joe Jonas and Sophie Turner

Game of Thrones star Turner proudly showed off her baby bump on the red carpet while wearing a black maxi dress with diamond-shaped embellishments.Her husband, singer Joe Jonas, wore a sharp white morning coat. Both outfits were designed by Louis Vuitton.The couple are expecting their second child, two years after they welcomed daughter Willa.

Kid Cudi and Sebastian Stan

We always award extra points to male celebrities who turn up to events wearing anything other than boring black, blue or grey suits.So actor Sebastian Stan, who recently starred as Tommy Lee in the Disney+ series Pam and Tommy, is now firmly in our good books.He rightly disregarded the dress code by wearing neon pink from head to toe, with an overcoat designed by Valentino.Rapper Kid Cudi, meanwhile, wore a stunning Kenzo suit designed by his friend Nigo, the company's newly-appointed creative director.Lizzo's coat took 22,000 hours to make, while the rare gold flute she brought as an accessory costs $55,000 to buy, the singer told Variety.Her hand-embroidered gold and black coat and black gown were designed by Thom Browne, which she accessorised with said flute and a gold choker necklace by Lorraine West.We can surely all agree that there isn't enough flute in pop music these days - something the singer put right with several spontaneous performances on the red carpet.Kim might have had Marilyn Monroe's dress, but next year we're going to need her to bring a clarinet.