New public art unveiled in Bunhill.A new public artwork was unveiled by Mayor Gary Heather at Bunhill Fields Burial Ground at an event attended by local schools and community members on Thursday 5 October.The artwork, called 'Collector', was created by artist and printmaker Georgie Fay. It is a hanging sculpture held up by tree branches. It features several prints made in collaboration with users of St Luke's Community Centre and pupils of St Luke's Primary and City of London Primary Academy Islington.  The piece was inspired by the trees and greenery in Bunhill Fields, which is managed by the City of London Corporation, and the historic industries of the area, such as printing, dye making, ironmongery and rope making. The artwork is expected to remain in Bunhill Fields until early next year, after which it will become part of the collection at Islington Museum. 'Collector' is the culmination of the first year of the three-year Bunhill Heritage Project, exploring heritage through art and participation. So far, the Bunhill community has enjoyed over 30 free activities such as walks, talks and children's activities, bringing local history to the community in engaging and accessible ways.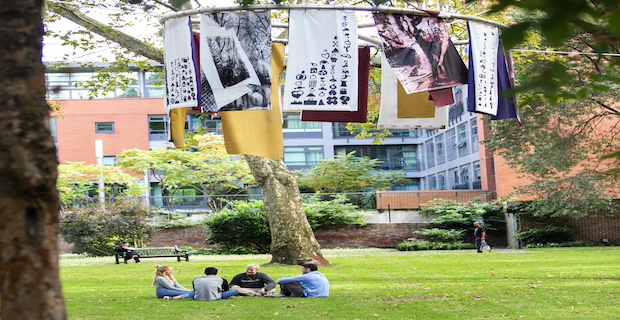 The Bunhill Heritage Project will employ two more artists over the next two years: metalworker Jacky Oliver and sound artist Jamie Turner. They will also run workshops from a studio in the community centre, encouraging participation from the local community, engaging older residents and giving young people the opportunities they need to thrive. 
Cllr Roulin Khondoker, Executive Member for Equalities, Culture and Inclusion, said: "Islington has so much to offer as a cultural destination and it also has a fascinating history. This artwork celebrates both perfectly, whilst also helping local people in Bunhill to feel connected to their community and proud of where they live. I encourage everyone to go and see it."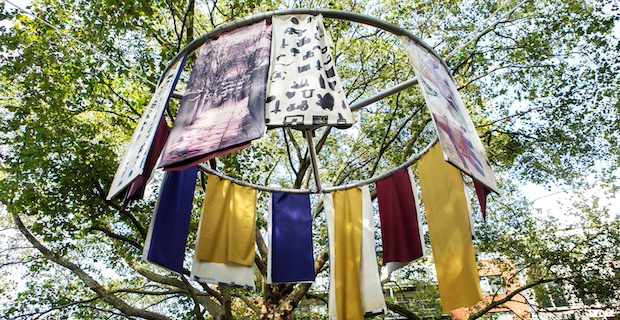 Georgie Fay said: "I felt so fortunate to create this work of community art in Bunhill Fields. Throughout the project, I met so many people, old and young, who helped inform the work. Having a studio space at the incredible St Luke's Community Centre, I really felt like I was at the heart of Bunhill. This was a special experience in my life, and an opportunity to work, collaborate and grow in my art practice too. My thanks to Islington Council for the opportunity." 
Carol-Ann McArdle, Community Engagement Manager at St Luke's Community Centre, said: "We have really enjoyed having Georgie working at St Luke's - the benefits to a community of art and participation can't be underestimated. We won't forget her anytime soon – especially as we now use her old printing press!" The installation of the artwork was done in collaboration with the City of London Corporation. Bunhill Fields, while located in Islington, is owned and managed by the City of London.   Chair of the City of London Corporation's Natural Environment Board, Caroline Haines, said: "This remarkable artwork beautifully captures the essence of Bunhill Fields."It exemplifies the power of art and community spirit in celebrating our shared heritage and fostering a sense of pride and connection within our neighbourhood."We are proud to support this initiative which enriches the cultural fabric of our city".