AYNUR TATTERSALL-Doku" Fabric Design Competition, held for the first time in Gaziantep, amazed the audience at the Zeugma Mosaic Museum. Fikret Kileci, Coordinator Head of GAİB:"We want to open up to the world with final products as well. We aim to create a brand value by creating more innovative and environmentally friendly textile products" 
The first of the "Doku" Fabric Design Competition was held in Gaziantep this year by the Southeast Anatolian Textile and Raw Materials Exporters' Association, with the support of the Ministry of Commerce and under the coordination of the Turkish Exporters Assembly. The works exhibited in a magnificent atmosphere among the thousands of years old works of the Zeugma Museum in a festive mood amazed the audience.
While the results of the competition were announced with a fashion show, the night held at Zeugma Mosaic Museum was attended by Deputy Minister of Trade Rıza Tuna Turagay, GAİB Coordinator President Fikret Kileci, Turkish Exporters Assembly President İsmail Gülle and Gaziantep Deputy Derya Bakbak. The designs of 222 contestants for the competition were evaluated by the jury consisting of academicians, fashion designers, textile engineers and industry representatives, and 10 finalists were determined. Despite the fact that the competition, which aims to contribute to the emergence of original, value-added and innovative fabric designs, to train new designers and to strengthen the textile industry, was held for the first time, the interest it received created satisfaction.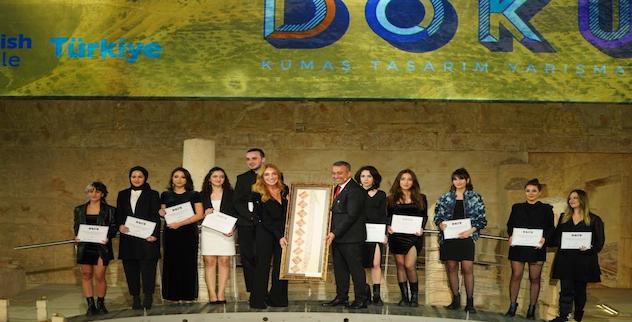 40 fabric designs of 10 finalists were exhibited at the Zeugma Mosaic Museum, under the consultancy of fashion designer Dilek Hanif. The third prize of the competition was 25 thousand TL, the second prize was 50 thousand TL and the first prize was 100 thousand TL. 
Opening doors
Making statements to the journalists before the fashion show, Kileci stated that they "opened to the world" and continued his words as follows:"But that's how we are in the intermediate product. Now we want to carry this into the final product. This and similar organizations are definitely one of the most important levers of this business while we are fighting that our export unit price will increase in the Southeastern Anatolia Region, with more value-added, more innovative and more environmentally friendly products, and how we can increase it to 20-40 dollars if the unit price of ready-made clothing is 10 dollars today. Our goal with the project is to produce value-added products and to create ready-made and outerwear brand products with these fabrics and sell them to the world. We will try to do that too. Our aim is to produce better quality textile products and sell them to the world."

Emphasizing that their aim is not to close their doors, Kileci said, "We cannot close our doors to anyone, but our priority is our own children and designers. Only after we bring them to a certain place can we organize an international competition. TIM, the Ministry does this. We want our own designers to compete in our local area,".
Exports are continuing 
Stating that they are satisfied with Russia and Ukraine, especially fabric exports, Kileci said, "There are interruptions due to banking system, customs and logistics problems, but our trade with Russia and Ukraine continues in a serious way. It will continue to increase as long as the conditions are met," 
First place goes to "The Scream"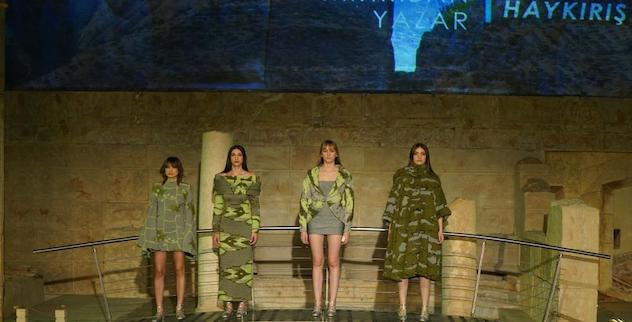 Mihriban Yazır, a graduate student of Marmara University Textile Department, came first in the competition with the fabric she designed with the theme of 'Scream'. The author said, "During the Covid-19 period, nature actually entered a process of renewing itself, with people shutting down in their homes. It began to show an existence. What I wanted to show, too, was to show the flower that emerged among the concrete piles on the sidewalks. I understood this when I went out on the street during the pandemic period. Humanity has an intervention in nature and nature is trying to get rid of it," he said.
The author says, "I used this in my fabrics as well. I used harder threads such as polyester and fishing line to give a hard look that resembled stones. I used natural yarns such as cotton to show the existence of nature. That's why I chose green. Because in this period, I observed that nature showed an existence despite human beings and screamed out. I was very confident in my fabrics, I put a lot of effort into it. I am very happy to be the first. I produced my own fabrics in size 40 by 40. Unlike the other competitors, I designed knitted fabric, the other competitors made it from woven fabric. I thought I would create more of this effect in knitting," she said.
"Textile and apparel is the apple of our eyes"
Speaking at the opening of the fashion show, Deputy Minister of Trade Rıza Tuna Turagay said:
"We can export products with high added value with our designer, innovation, creativity and our work with high brand value. This is why these competitions are so important. This year, our exporter associations organized 15 design competitions. As the Ministry of Trade, we support all of these competitions. To date, we have sent our designers, who have been ranked in 228 different competitions, abroad for training. And when they return to their countries, they start working for Turkey's exports. When we look at the exports of the textile and apparel industry in the last 10 months, we see that it is 25.5 billion dollars. Turkey's total exports are $181.8 billion in the first 10 months. Do you know how much is the share of textile and apparel? When you look at it, it's over 15 percent. This is a huge success. Our textile and apparel industry is the apple of our eye, so these design competitions are very important for our textile and apparel industry to turn to fashion and branded products."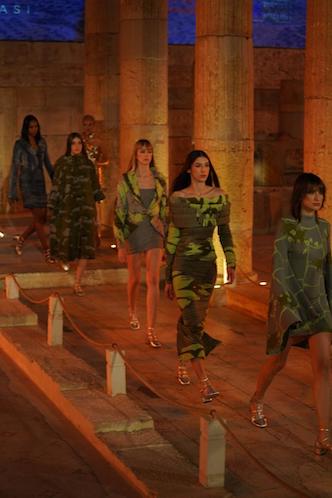 "Turkey will rise with exports"
TİM President İsmail Gülle also mentioned the importance of textile exports in his speech. İsmail Gülle said:"Gaziantep; makes a difference in every field with its industry, production and infrastructure; is the first and foremost in our region. In addition, Gaziantep is a complete mosaic and contains an endless source of inspiration for our designers. Design competitions are extremely important for the export of value-added products. Once again, I congratulate all our designers, whether they win an award or not. Turkey will rise with exports, with your dreams and designs."The fashion show and competition award ceremony presented by Burcu Esmersoy received great acclaim.