Enfield Council celebrated the project on Thursday (14 October) with a tour for stakeholders including the Greater London Authority (GLA), Thames21, the Environment Agency, the Friends of Albany Park and local school pupils who walked along the river and around the freshly planted wetland. The Enfield Archaeological Society was also on hand to explain what was unearthed during excavations, with some items dating back to the Victorian era.The Albany Park river restoration project, located in the North East of the borough, was part funded by a £346,000 capital grant from the Mayor of London, alongside a £901,000 grant from the Environment Agency and £250,000 from Enfield Council's capital programme. Work will continue to create more than 300 metres of improved footpaths and cycleways and an outdoor classroom that can be used by local school children and community groups. New entry points will help connect surrounding neighbourhoods to Albany Park.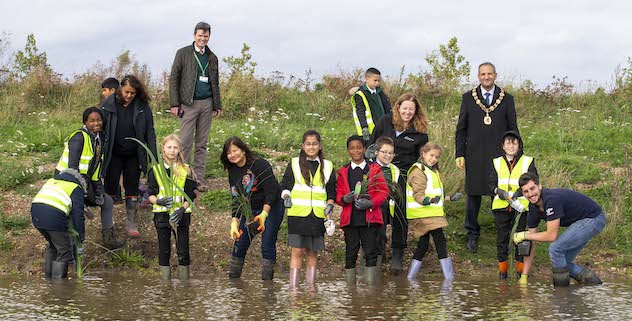 Enfield Council was also awarded £678,000 by the government's £80 million Green Recovery Challenge Fund to create new woodlands and wetlands, as well as to carry out work to restore existing waterways, which includes the Turkey Brook. 
Enfield Council's Cabinet Member for Environment, Cllr Rick Jewell, said: "Albany Park is a fantastic example of how we are improving and enhancing our open spaces and making them more accessible, particularly in areas of the borough that have in previous years not had sufficient attention. It was an enormous task to re-route the river but this will attract wildlife, improve biodiversity and, along with the wetland, protect local homes from flooding risks.
"I am proud that we have been able to officially re-open the park ahead of London Rivers Week (23-31 October), so we can show how our river restoration can cope with extreme events such as flooding and surface water pollution. Climate action and climate awareness projects sit at the heart of Enfield Council and we are committed to delivering further rewilding and urban greening across the borough."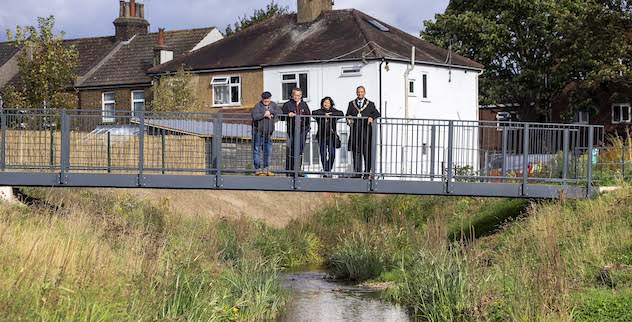 Shirley Rodrigues, Deputy Mayor of London for Environment and Energy, joined Cllr Jewell and helped school children with their planting tasks. She said: "This fantastic project in Albany Park shows how our green spaces can be transformed to be better places for nature and Londoners and make our city more resilient to a changing climate. The design of this park now protects hundreds of homes from flooding, which is increasingly necessary as intense rainfall becomes even more frequent.
 "The Mayor has invested more than £13 million to create and enhance green spaces through his Greener City Fund, including funding the planting of a record 330,000 trees. The Mayor has also committed to ensuring all Londoners have access to green space within 10 minutes of where they live. With this week's UN Biodiversity Conference and with COP26 coming up next month, projects like this really demonstrate the benefits of investing in our green spaces to make the most of their contribution to biodiversity, climate resilience and community well-being." 
It is also hoped that the project in Albany Park will bring the community together to learn about sustainability and improve local wellbeing. Enfield Council and the project partner Thames21 are keen for volunteers to get involved. The Thames21's events page has more information on Restoring Enfield's Rivers and upcoming volunteering events, including a walk along the Turkey Brook on 23 October. The Friends of Albany Park is also looking for new members. To take part in their activities, visit their Facebook page. - Ends

The Mayor of London awarded  Enfield Council grant funding of £346,000 capital funding (£30,000 in 2018/19; £316,000 in 2019/20) towards the project as part of the Green Capital grant scheme. Read more https://www.london.gov.uk/what-we-do/environment/parks-green-spaces-and-biodiversity/greener-city-fund/green-capital-grants#acc-i-52271
London-based waterways charity Thames21 has started delivering a series of volunteering events for the Restoring Enfield's Rivers and Connecting Communities project as Enfield Council's project partner. Further information can be found at https://www.thames21.org.uk/2021/06/enfield-council-and-thames21-launch-major-river-restoration-project/.
Learn more about London Rivers Week at https://www.thames21.org.uk/joinacampaign/londonriversweek/