The acclaimed Amsterdam band Altin Gün's vibrant new single (and video) "Yüce Dağ Başında" gets released today. It's the second single to be pulled from their upcoming album 'Yol' (Road), which is out on 26 February 2021 on Glitterbeat. Flirtatious and hypnotic, this dancefloor ready track features lead vocals by front woman Merve Dasdemir and showcases the band's thrilling new direction which melds synth-driven Europop with Turkish psychedelia. 
Watch/share the official music video: https://youtu.be/QhDfOYn0118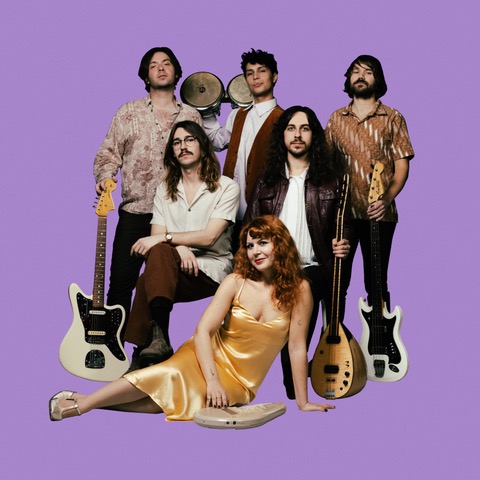 "Building on the irresistible pulse of last year's instant party starter … the Anatolian psych revivalists go full-on synth-pop. Harika!"  -- Uncut
"Altın Gün's unwavering commitment to Turkish psychedelic rock receives a glossy refurbishment here … Yol shifts the time frame forward to draw inspiration from European disco and synth pop." -- The Wire
"The band has made waves for its athletic, psych and funk inspired romps through music of the past … they've never sounded cooler." -- MTV News

"If you like bands like Khruangbin and King Gizzard then you'll love that band." -- Matt Wilkinson on Apple Radio
Altın Gün are a renowned live act with strings of sold-out shows on three continents, whose recordings have always been marked by muscular grooves and insistent melodies. 'Yol' (Road), the follow-up to their GRAMMY nominated second album 'Gece', excitedly continues these trends; while also digging in deep to unveil a new palette of sonic surprises. 
The album's first single "Ordunun Dereleri" was a mysterious and atmospheric track that patiently coaxed the listener into a soundworld of down-tempo electro beats, majestic synths and Erdinç Ecevit's yearning vocal. The new single, "Yüce Dağ Başında", stakes out different but equally engaging territory. Propulsive and funky the song is led by Merve Dasdemir's enchanting voice and the band's inspired groove explorations. It is easy to imagine this track echoing across global dancefloors.  
Fronted by two vocalists - Merve Dasdemir and Erdinç Ecevit - 2020's coronavirus quarantine forced the band to write and record their music in a completely new way, trading demos and ideas over email. Many of the resulting songs gravitate towards a sleeker, synth-driven sound that was aided by their collaboration with the Belgian production team Asa Moto (Oliver Geerts and Gilles Noë) who mixed the record. 
But it would be wrong to say that what made Altın Gün such a loved and successful band has been left to one side. The pressure-cookers "Sevda Olmasaydı" and "Maçka Yolları" are classic cuts from the band. And their signature employment of a dizzying array of ideas and approaches can be heard with the marked Brazilian feel of "Kara Toprak" and "Yekte". Cosmic reggae filters through the grooves of "Yüce Dağ Başında", and there is a steaming version of "Hey Nari" which gives the traditional composition by Ali Ekber Çiçek a kick onto the dancefloor. 
With 'Yol', Altın Gün have patented their own magical process of reimagining and sonic path-finding. Less of a reworking than a seduction, their recordings transport the listener to a world where the original songs never previously inhabited. 
Altın Gün are:
Merve Dasdemir – vocals, keyboards
Erdinç Ecevit – vocals, saz, keyboards
Jasper Verhulst – bass
Ben Rider – guitar
Daniel Smienk – drums
Gino Groeneveld – percussion