Top grades for A-level results for England, Wales and Northern Ireland have fallen since last year – with 36.4% of all grades marked at A* or A.But the percentage is still higher than 2019 – the last time results were based on students taking exams.Grades have been purposefully lowered from levels seen in 2020 and 2021 - when students were assessed by teachers due to the pandemic.Students have also received their T-level results for the first time ever - the overall pass rate was 92%.These technical qualifications are each broadly equivalent to three A-levels, and involve a mix of classroom learning and industry placements.More than 425,000 students have got a place in university or college - the second highest number on record - Ucas figures show.A return to in-person exams sees 19% more 18-year-olds accepted into their first or insurance choice than in 2019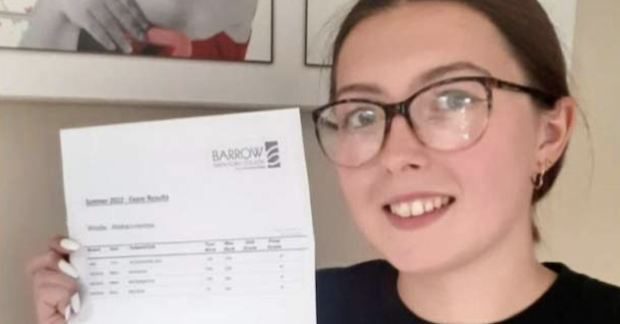 Students across the country react to their results
Alisha with her A-level resultsImage caption: Alisha with her A-level results.Our colleagues at Radio 5 Live have been hearing from students around the country about their results.Alisha in Barrow-in-Furness has achieved two A*s and an A in her A-levels and will be heading to Edinburgh University to study politics.She says the moment she stepped out of the door to go get her results, she felt "violently ill". Jack in North Tyneside says his results "went absolutely fantastic" after achieving one A and two B's.
"University isn't for me," he says, "but I know that should I want to go, the option is there."
He plans to look for an apprenticeship programme in sales and accounting.Amelia is looking at re-taking one of her exams.Image caption: Amelia is looking at re-taking one of her exams.Amelia was hoping to get in to Oxford University but narrowly missed out on the grades needed. She was hoping for three As, but achieved an A*, A and B and is now looking at appealing or re-taking the exam and applying again next year."Some of us feel like we maybe didn't get the chances other years had before Covid," she says.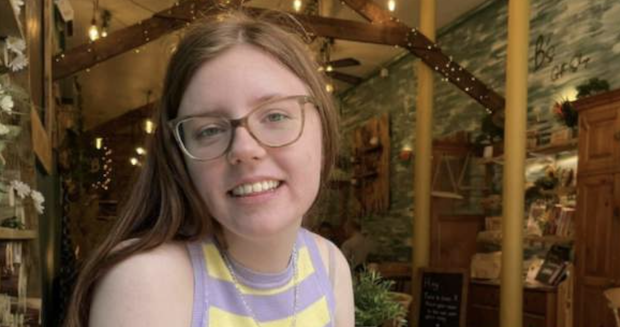 English literature is no longer one of the most popular A-levels in the UK.
The number of students taking exams in the subject dropped by 9.4% compared with last year - the biggest drop in any single subject, according to the Press Association.The increase in the popularity of geography was reported to be behind English literature's fall out of the top 10.The top five A-level subjects ranked by popularity remain the same this year. They are maths, psychology, biology, chemistry and history. 
Girls outperformed boys again
Girls performed better than boys across the board in this year's A-levels.That includes the top grades.In total, 37.4% of girls' entries were A* and A grades, compared with 35.2% of boys' entries.That gap is smaller than in 2021, when grades were based on teachers' assessments. That led to 46.9% for girls and 42.1% for boys.But, crucially, it is still bigger than in 2019, the last year that exams were held as normal before the pandemic. Back then it was 25.5% for girls and 25.4% for boys.It's important to remember that exams weren't back to normal this year. Special measures were introduced for this year's A-levels to counteract the disruption to education caused by Covid, such as pupils having advanced information about topic. BBC News