Almaty (27 July 2023) - World Foreign Press Association (WFPA) was established in Kazakhstan on the bridge stretching from Europe to Asia. World Foreign Press Association held the first meeting with the founders Public Foundation of Turkic Speaking Journalists President Naziya Bisenova from Almaty (Kazakhstan) European Turkish Journalist Association President Vatan Oz from London (United Kingdom) and European Turkish Press, Publishers and journalist Association President Alipasa Akbaş from Duisburg (Germany). World Foreign Press Association (WFPA) in England, Germany, Kazakhstan and many more representing all media association related international correspondents in print, online, and broadcast media from all over the world. WFPA will fill a big gap.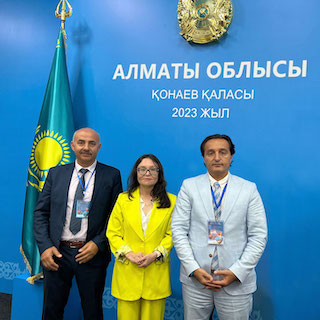 Founders elected Naziya Bisenova as first president. Also founders elected Vatan Oz and AliPasa Akbas as their first vice president. 
World Foreign Press Association president Naziya Bisenova said: "
Bisenova: "WFPA believe that a fundamental principle of a free and democratic society is allowing journalists and associations – from all over the world - to freely report on matters of public interest. WFPA will be part of the Media Freedom, Media Freedom Conference in the world with a proud tradition of press independence…" 
World Foreign Press Association vice president Vatan Oz said: "
OZ: "For a long time, we have been working with Ms. Naziya on how we can bring this association of journalists to life. With the participation of Ali Pasa, we established a strong bond between Europe and Asia. I believe it will be very useful. 

World Foreign Press Association vice president Alipasa Akbaş said: 
Akbas: "All Media Associations can join the WFPA. As WFPA, we will also organize book presentations, meetings on political and current events, seminars, conferences, conferences with key figures. Everyone has the right to receive and receive information, free thought, expression and free criticism." 
The World Association of Foreign Press Associations will hold a comprehensive meeting to introduce new members in September in Astana, the capital of Kazakhstan.
WFPA association lay the groundwork for maintaining high ethical standards within the profession. WFPA will develop media community codes of conduct. These standards are include principles like accuracy, fairness, impartiality, and respect for privacy. By fostering ethical journalism, media associations enhance public trust in the media and ensure responsible reporting.
World Foreign Press Association (WFPA)
WFPA will act as representatives of the media community, fostering collaboration and solidarity among media world and media associations. They provide a platform for sharing knowledge, addressing common challenges, and working together to advance the cause of media community. WFPA association also support the professional development of media associations and advocate for their welfare, ensuring their ability to perform their duties without fear or hindrance.