Britain's Turkish Cypriot community celebrated their high achievers at a special gala dinner in Central London last night. Three hundred guests attended the event at Royal National Hotel in Bloomsbury on Saturday 12 October. This year's winners include fashion designer Hussein Chalayan MBE, Baroness Meral Hussein-Ece OBE, Mustafa Kiamil, the founder and CEO of JJ Food Service – the UK's biggest Turkish Cypriot-owned business, actor Tamer Hassan, Liverpool and England U21 striker Liverpool Rhian Brewster and Enfield Council Leader Nesil Çalışkan.
Organised bi-annually by the Council of Turkish Cypriot Associations in Britain (CTCA UK), the awards recognise, promote and reward the achievements of successful British Turkish Cypriots in a variety of fields including community work, philanthropy, the arts, activism, business and, sport. This year's presenters were Eray Galip of Turkishisms fame and television channel Kanal T's Duygu Tağmaç.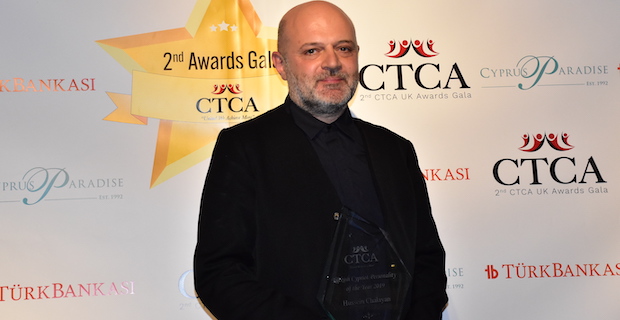 Fashion designer Hussein Chalayan
Among the notable politicians present at the gala were Hasan Taçoy, the Economy and Energy Minister for the Turkish Republic of North Cyprus (TRNC), TRNC London Ambassador Oya Tuncalı, TRNC Consul General Buket Kop, Joanne McCartney, the Deputy Mayor of London, Sabri Özaydın, the Deputy Leader of Enfield Council, and councillors Ahmet Karahasan, Mahmut Aksanoğlu, Güney Doğan, Mustafa Çetinkaya, Margaret Greer, Halil Halebi and Ahmet Durmuş.
 
Unable to attend the gala, the British Prime Minister Boris Johnson and TRNC Prime Minister Ersin Tatar both sent CTCA UK letters congratulating the community on their achievements and extended their best wishes for the event.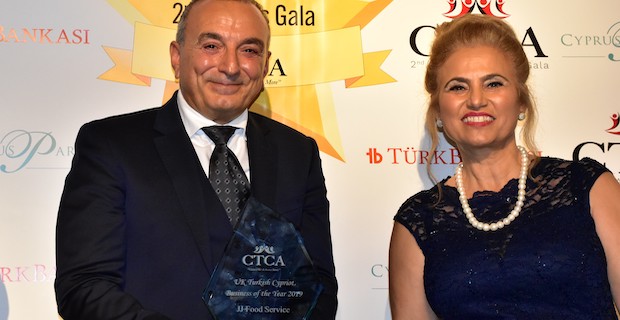 JJ Food Service CEO Mustafa Kiamil & CTCA UK Chair Leyla Kemal
In her welcoming speech, CTCA UK President Leyla Kemal talked about the importance of the awards, which were first launched under her leadership two years ago. She expressed her pride at presiding over a second awards night, and said: "We are proud that the Turkish Cypriots living in Britain are integrated into life here, while at the same time taking steps to preserve their own culture. They have achieved a great many successes in different fields. Our aim is to recognise these achievements and share them with our 320,000 strong community."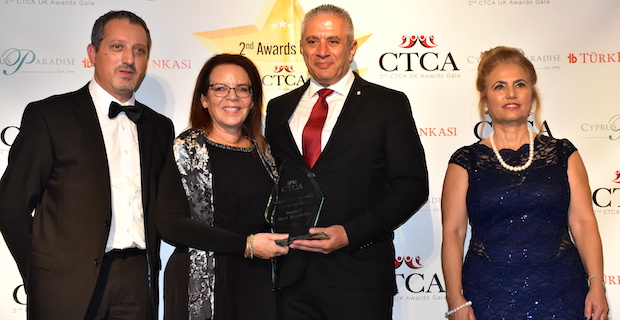 Çetin Ramadan, Baroness Meral Hussein-Ece, TRNC Economy & Energy Minister Hasan Taçoy, Leyla Kemal
Sponsored by Turkish Bank and Cyprus Paradise, the evening saw a total of 32 awards from 18 categories presented. In the first part of the ceremony, the community services of individuals and associations were recognised. Aysın Yılmaz, a former head of the Turkish Women's Philanthropic Association (TWPA) and the CTCA UK's first female president, and Türker Çakıcı, head of the Hornsey Atatürk Turkish School, received Lifetime Achievement Awards. The winners of the poetry contest, organised by CTCA UK to coincide with the 100th anniversary of 19 May 1919 – the start of the Turkish War of Independence – were also included in this section.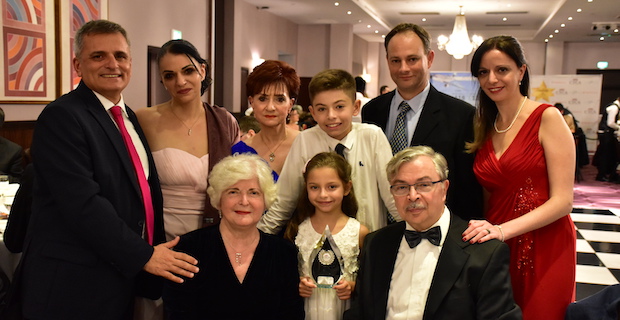 Aysın Yılmaz with her family
The second part celebrated those who have promoted Turkish Cypriot culture, language, and North Cyprus in Britain, as well as the community's leading philanthropists and activists. Renowned Turkish language educator Kelami Dedezade, and Necati Sayer, the second Turkish Cypriot ambassador to London, who both passed away in 2018, were recognised for their vital contributions with Posthumous Awards. Following a public vote, the winners of the People's Choice Best Community Activists were unveiled as Chingford Conservative Councillor Ilkay İsa and Cemal Ezel, the founder of Change Please, a social enterprise transforming the lives of the homeless.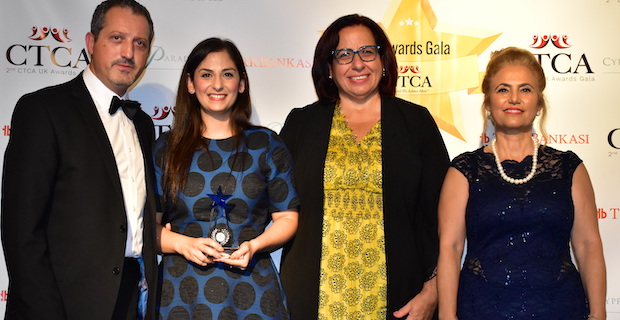 Çetin Ramadan, Cllr Nesil Çalışkan, TRNC London Ambassador Oya Tuncalı, Leyla Kemal
The third and final part of the gala awarded those whose outstanding achievements have left an indelible mark on British society and beyond.  They included the Male and Female Personalities of the Year, Turkish Cypriot Rising Stars, and Business of the Year. For the first time, a non-Turkish Cypriot was also recognised for their important contribution to Turkish Cypriot heritage: war photographer Sir Don McCullin was this year's recipient for his powerful photograph of  Nevcihan Oluşum, which won the World Press Photo Award in 1964. The CTCA jury said: "Taken in Gaziveren moments after Nevcihan Oluşum found out her husband had been killed, this 55-year-old photoremains hugely relevant, disproving the myth that the Cyprus conflict started in 1974 and Greek Cypriots are the only victims."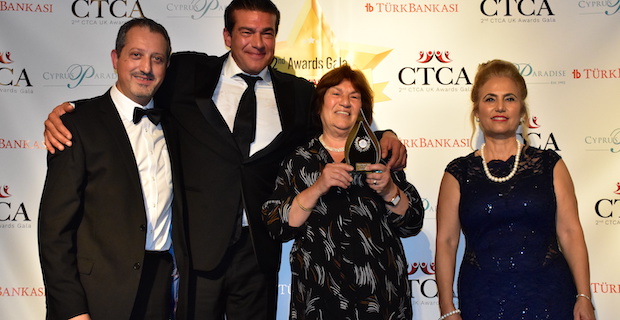 Actor Tamer Hassan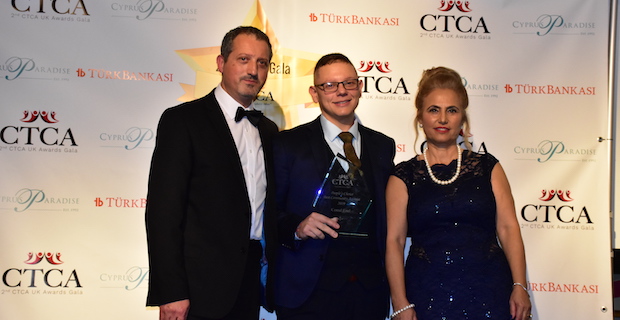 Change Please Founder Cemal Ezel
Full list of winners from the 2nd CTCA UK Awards

Poetry Award: Centenary of '19 May': Sonay Yakup Yakupsoy, Ertuğrul Türkbileği 
Best Attendance by a CTCA Chairperson 2019: Yusuf Mehmet 
Most Active Cypriot Association (CTCA member) 2019: Dr. Fazıl Küçük Turkish School 
Most Active Cypriot Association (Non-CTCA member) 2019: Cyprus Islamic Association 
Turkish Cypriot Philanthropist of the Year 2019: Argun İmamzade, Cemal Ezel 
Lifetime Achievement Award 2019 (female): Aysın Yılmaz 
Lifetime Achievement Award 2019 (male): Türker Çakıcı
Posthumous Award 2019: Kelami Dedezade, Necati Sayer 
People's Choice Best Community Activist 2019 (female): Cllr İlkay İsa 
People's Choice Best Community Activist 2019 (male): Cemal Ezel 
CTCA Outstanding Festival Volunteers 2019: Tuğrul Yiğitoglu, Işık Vedat, Hass 'J Junior' Redif 
Biggest Sponsor of the CTCA Turkish Cypriot Cultural Festival 2018: Cyprus Paradise 
Biggest Sponsor of the CTCA Turkish Cypriot Cultural Festival 2019: GİMA & Bodrum 
Best Promotion of North Cyprus in Britain 2019: Osman Balıkçıoğlu
Turkish Cypriot Cultural Heritage 2019: Osman Kelebek and Kelebekler 
Turkish Cypriot Artist of the Year 2019: MeM Tekari, Tamer Hassan 
Turkish Cypriot Sportsperson of the Year 2019: Rhian Brewster 
CTCA UK Platinum Supporters 2019: Turkish Bank, Cyprus Paradise 
UK Turkish Cypriot Small Business of the Year 2019: Havva
UK Turkish Cypriot Large Business of the Year 2019: JJ Food Service
Important Contribution to Turkish Cypriot Heritage 2019: Sir Don McCullin
Turkish Cypriot Rising Star 2019 (female): Cllr Nesil Çalışkan
Turkish Cypriot Rising Star 2019 (male): Rhian Brewster
Turkish Cypriot Personality of the Year 2019 (female): Baroness Meral Hussein-Ece
Turkish Cypriot Personality of the Year 2019 (male): Hussein Chalayan