U.S. President Donald Trump warned Iran on Sunday that any attack which targets American personnel would be responded to in a "disproportionate" manner.
Trump said on Twitter that his tweets would serve as a notification to Congress regarding any action against Iran going forward after tensions escalated between the two countries in the wake of the killing of senior Iranian general Qassem Soleimani in a U.S. drone strike.
"These Media Posts will serve as notification to the United States Congress that should Iran strike any U.S. person or target, the United States will quickly & fully strike back, & perhaps in a disproportionate manner," he wrote.
"Such legal notice is not required, but is given nevertheless!"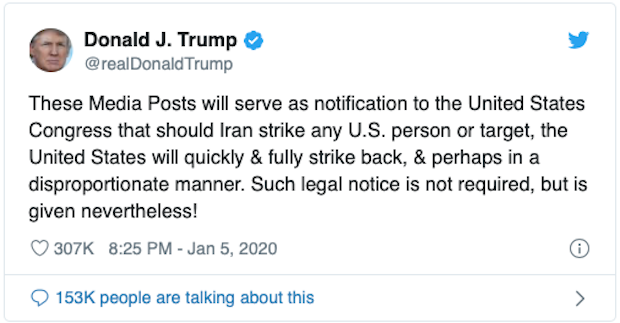 In a pair of tweets late Saturday, Trump said Tehran was "talking very boldly" about targeting certain U.S. assets as revenge for the killing of Soleimani, the head of the Islamic Revolutionary Guards Corps' elite Quds Force, adding the general was responsible for the deaths of an American and hundreds of Iranian protesters.
"The USA wants no more threats!" he said.
Noting that the U.S. spent two trillion dollars on military equipment, Trump said: "We are the biggest and by far the BEST in the World! If Iran attacks an American Base, or any American, we will be sending some of that brand new beautiful equipment their way…and without hesitation!"
Soleimani was killed along with Abu Mahdi al-Muhandis, the senior commander of Iraq's Hashd al-Shaabi force, and eight others in a U.S. drone airstrike early Friday outside Baghdad's airport, marking a dramatic escalation in tensions between the U.S. and Iran, which have been high since Trump chose in 2018 to unilaterally withdraw Washington from a 2015 nuclear pact that world powers struck with Tehran.