More than 4,300 people were killed and 15,000 injured in Turkiye and over the border in Syria when the quake struck in the early hours of Monday. The World Health Organization has warned the toll may rise dramatically as rescuers find more victims. As day breaks, rescue teams are stepping up their search for survivors. Many people in the disaster zone have been too scared to go back into buildings. The 7.8 magnitude tremor struck at 04:17 (01:17 GMT) on Monday at a depth of 17.9km (11 miles) near the city of Gaziantep, according to the US Geological Survey. 
Seismologists say it was one of the largest ever recorded in Turkiye, where at least 2,921 people are now known to have died. Survivors say it took two minutes for the shaking to stop.
A later tremor had a magnitude of 7.5 and its epicentre was in the Elbistan district of Kahramanmaras province. 
As dawn broke on Tuesday, traffic was at a standstill on the main highway to the Turkish city of Maras, close to the epicentre of the quake and believed to be one of the worst-affected areas. 
Cars occasionally crawled forward, the wet road illuminated by glowing red brake lights.
Few rescuers have made it to this part of southern Turkiye yet and everyone is trying to get there as fast as they can to assess the damage and give vital help.
One search and rescue team on their way to the city, their van loaded with specialist equipment and supplies, told they were eager to get there and start looking for survivors, but they had no idea how bad the devastation would be when they arrived.
Almost 8,000 people have been rescued from more than 4,700 destroyed buildings, Turkiye's Disaster and Emergency Management Authority (AFAD) said in its latest statement.
As aftershocks continue, rescuers in some areas have been digging through rubble with their bare hands looking for survivors. 
But freezing conditions are hampering search efforts. 
In the southern province of Hatay, the Reuters news agency reported that a woman's voice was heard calling for help under a pile of rubble.
"They're making noises, but nobody is coming," a resident who gave his name as Deniz said while weeping.
"We're devastated, we're devastated. My God... They're calling out. They're saying, 'Save us,' but we can't save them. How are we going to save them? There has been nobody since the morning."
In the Turkish city of Osmaniye, near the epicentre, pouring rain hampered rescuers as they searched through the rubble looking for survivors.
The city was without power as the cold and rain set in.
One family camped on the street - despite the freezing temperatures - as they were scared of the aftershocks triggering another building to collapse.
Every time they felt an aftershock, the family moved closer into the middle of the street.
A hotel owner in the city told  that of 14 guests staying that night, only seven had been found.
Countries around the world are sending support to help the rescue efforts, including specialist teams, sniffer dogs and equipment.
But the earthquake has caused significant damage to three airports across Turkiye, also creating challenges for aid deliveries.
At least 1,400 people are now known to have been killed in Syria, where millions of refugees live in camps on the Turkish border. 
Following an international appeal for help, President Recep Tayyip Erdogan said 45 countries had offered support.
UN Secretary General António Guterres called for an international response, saying that many of the families hit by the disaster were "already in dire need of humanitarian aid in areas where access is a challenge". 
The European Union is sending search and rescue teams to Turkiye, while rescuers from the Netherlands and Romania are already on their way. The UK has said it will send 76 specialists, equipment and rescue dogs.
France, Germany, Israel and the US have also pledged to help. Russian President Vladimir Putin has offered help to both Turkiye and Syria, as has Iran.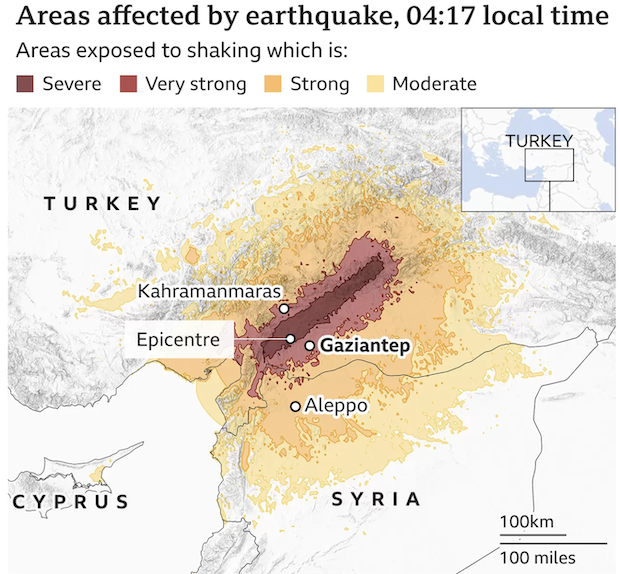 Turkiye lies in one of the world's most active earthquake zones.  In 1999 a quake killed more than 17,000 in the north-west, while in 1939, 33,000 people died in the eastern province of Erzincan. This earthquake was powerful enough to be felt as far away as Cyprus, Lebanon and Israel.