Turkish Cypriot President Mustafa Akinci and the UN special envoy on Cyprus met on Tuesday for the second day in a row to discuss the future of the long-divided island. 
The meeting between Akinci and Jane Holl Lute was held at the presidential place in Lefkosa, and lasted for around one and half hours. 
Turkish Cypriot presidential spokesman Baris Burcu and the president's Special Advisor on Diplomacy and EU Affairs Erhan Ercin were also present during the meeting.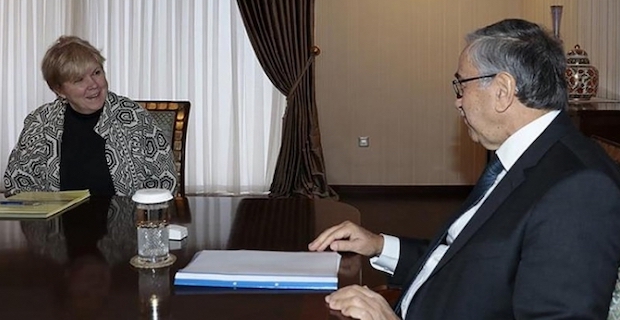 "Today's meeting was constructive and detailed," Burcu told reporters following the meeting.
Lute, who arrived at the island for consultations with both sides as part of the resumption of Cyprus talks, held her second meeting with Greek Cypriot leader Nicos Anastasiades earlier today. 
The UN envoy held her first meeting with Anastasiades on Sunday; while she met with Akinci on Monday.
Cyprus has seen an on-and-off peace process in recent years, including the latest initiative in Switzerland under the auspices of guarantor countries Turkey, Greece, and Britain collapsing last year.
The UN has sought a peace deal to unite Cyprus under a federal umbrella that could also define the future of Europe's relations with Turkey, a key player in the conflict. 
Cyprus has been divided since 1974, when a Greek Cypriot coup was followed by violence against the island's Turks, and Ankara's intervention as a guarantor power.