Greek Cypriot protesters in London blocked the vehicle of Turkish Republic of Northern Cyprus (TRNC) President Ersin Tatar on Wednesday.
A group of about 50 protesters tried to prevent his entry into King's College, where he was going to attend a conference on the Cyprus issue, according to the TRNC Presidency.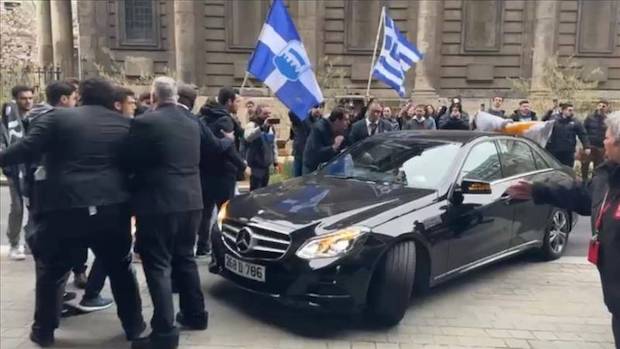 The protesters were carrying Greek flags and banners against Tatar and Turkish Cypriots.
British and Turkish security guards in front of the university building dispersed the crowd, enabling Tatar's passage. The president later left the university after the event.
In a television appearance on Turkish media after the incident, Tatar said the protesters would have attacked him had no police been present at the university's entryway.
'Death to Tatar,' Greek Cypriot protesters chanted as they tried to block Tatar's entry into King's College, the Turkish Cypriot leader said. 
"They can't tolerate it," he said, underlining that the reason behind the protest was the media coverage of his contacts with journalists and lawmakers in the UK, as well as his speeches.
"They don't even want to let our voices be heard. Because when our voice is heard, they see that it will be accepted, they see that it will become stronger," he said.