No decisions yet on 19 July rules easing - No 10. Downing Street says "no final decisions" have been made on whether all coronavirus restrictions in England will be legally lifted on 19 July.Prime Minister Boris Johnson's official spokesman told reporters: "It is right that obviously we want to get back to as close to normal as is possible."However, no final decisions have been taken about what measures are required. Earlier Environment Secretary George Eustice said he hoped not to have to wear a mask after 19 July.Asked whether the PM hopes to "bin" his own face masks on that date, his spokesman says: "That would depend. The prime minister, should there be any requirement for it in future, would be happy to comply."
Turkey: 10-day hotel quarantine
Travel to Turkey. Visitors to Turkey must:
Provide a negative PCR test result taken within 72 hours before arrival 
Complete an online form within 72 hours of travel
Expect a medical check for coronavirus symptoms, including temperature tests
Follow the red list rules when you return to the UK - including 10-days quarantine in a hotel.
Direct flights from Turkey to England have resumed to designated terminals at Heathrow and Birmingham.
Covid cases in Turkey:
47 confirmed Covid-19 per 100,000 people per week (seven-day average) - cases stable. (UK - 108, cases rising)
52 total vaccine doses administered per 100 people. (UK - 113 doses)
(Source: Johns Hopkins University, ONS, gov.uk, Our World in Data, UN - 22 June)
What are the rules in Turkey?
There are nationwide curfews until at least 1 July. Provinces are split into four tiers by Covid-19 risk from low to very high.
As of 23 June, the UK Foreign Office advises:
Face coverings must be worn outside of private homes 
Smoking in public is banned
Restaurants have limited opening hours for takeaways and deliveries only
Shops have limited opening hours 
Public transport limited to 50% capacity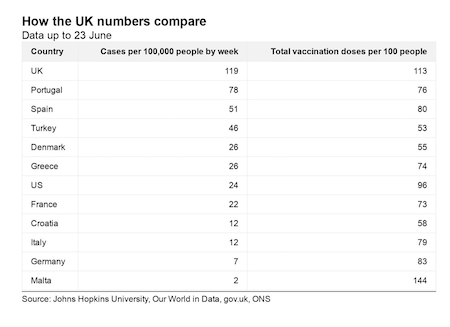 What are the UK's rules?
Foreign holidays are legal, but under England's traffic light system very few countries are on the green list of safe destinations.
The government says you should not holiday in amber and red countries. If you do, quarantine rules apply and there are Covid tests before and after you return.
However, the government is considering removing the need to quarantine for double-vaccinated travellers from England who are returning from countries on the amber list. 
How can I prove I've had both my Covid jabs?
Similar traffic light rules apply in Scotland, Northern Ireland and Wales.
Traffic light decisions are reviewed by ministers every three weeks, with the next decision due before 28 June.