The world's most powerful passports 2022. Asian countries currently hold the three highest passport rankings in 2022, with Japan taking the top spot. Before the pandemic, European nations dominated the rankings, signalling the lingering impact of COVID-19 and subsequent restrictions on the region.Japanese citizens now hold the most passport power, as they are able to enter 193 nations visa free, or with visa-on-arrival. South Korea and Singapore hold joint second place, with both countries' passports enabling their citizens to access 192 nations without restrictions.Germany, which was previously at number 2, is now in group 3 alongside Spain. Elsewhere, Brexit has had a significant impact on the value of the British passport over the last few years. The UK now holds sixth position in the rankings alongside France, Ireland and Portugal. Back in 2015, pre-referendum, the UK held the top spot alongside Germany, according to the Passport Index.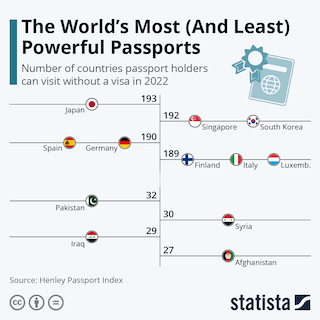 Henley Passport Index 2022: Asian countries lead the most powerful passports index this year
Asian countries lead the most powerful passports index in 2022.
Despite Japanese citizens possessing the most powerful passports, fewer tourists have left the country due to the pandemic, subsequent economic fallout and a weakened yen. According to immigration service Agency of Japan, there were 134,013 overseas travellers in May this year, a significant drop of -90.7% compared to 2019.This trend is reflected in IATA's data for the rest of the Asia-Pacific region. International passenger demand for March reached just 17% of pre-COVID levels, and was below 10% for most of the last two years.
Ukraine invasion has affected passport power
Meanwhile, Ukraine has moved up the rankings to 35 as the European Union voted for emergency measures to allow citizens to enter the bloc visa free for the next three years, following the outbreak of war with Russia.In March, the EU agreed to implement the Temporary Protection Directive for Ukraine, which was introduced "to give immediate protection to persons who need it and to avoid overwhelming Member States' asylum systems", and more than 6 million people have so far fled the country to neighbouring nations, according to the UN.Henley and Partners said the war "effectively condemns the Russian passport to junk status throughout much of the developed world", warning of a "profound and perhaps irreversible impact on freedom of movement within the region as a new Iron Curtain descends". Reflecting this, the Russian passport has dropped in the rankings since the onset of the conflict. It now sits in 50th place, after falling five places since last year.Henley and Partners' research has found that the countries with the most passport power tend to be those with the highest levels of peace.
The lower-ranked passports
Afghanistan has retained its position this year as the lowest ranked country on the Index. Afghan citizens can only access 27 countries without restrictions. Iraq and Syria are also low-ranked, at 29 and 30 countries, respectively.