On the evening of the Muslim Council of Britain's tenth annual Muslim leadership dinner on Tuesday 18th June 2019, calls for a stronger effort to tackle Islamophobia were made from the Secretary General of the MCB, as well as the Mayor of London, Sadiq Khan. Addressing an audience of over 300 guests at the dinner, held in Central London, the Mayor of London, said:  "As we saw with the Christchurch massacre, our language has a significant impact. We must make an effort to call out Islamophobic comments whenever and wherever."He spoke about the importance of speaking out against "every prejudice" and that we "cannot shy away from tackling hatred, irrespective of who it may be directed at". Sadiq Khan called on Muslims to "lead the way in speaking out against discrimination".
Muslim contributions to Britain. 
The dinner celebrated the Muslim festival of Eid-al-Fitr, and Muslim contributions to Britain. In acknowledgment of this, Sadiq Khan said, "Britain is strengthened by the number of Muslims contributing to British society – through medicine, politics, the Army and various other sectors". He praised the MCB for its work, and paid tribute to former founders of the MCB who were pivotal in setting up the ground work of the Muslim Council of Britain.
Harun Khan, Secretary General of the MCB 
In his speech, Harun Khan, Secretary General of the MCB thanked the Mayor for his "leadership and courage" when he "stood up for our country and our values in the face of the bigotry from Donald Trump". He spoke about how Muslims enrich society and the importance of keeping up positive work. He said, "For over twenty years, we have been fighting for the common good… We are fulfilling our purpose by doing good work through our campaigns."

He went on to say, "in our politics too we have urged our leaders to be far less tolerant of Islamophobia" and repeated the Muslim Council of Britain's call for action against Islamophobia in the Conservative Party, where there are "now almost weekly occurrences of Islamophobia in the Conservative Party. For the good of our country, I hope the leaders of the Conservative Party realise the immense hurt felt by Muslims" he said.
The dinner was attended by distinguished guests including Ambassadors, Imams, community leaders, interfaith and parliamentarians, including Naz Shah MP, Wes Streeting MP and Afzal Khan MP.
The event was held in association with Islamic Relief Worldwide, and supported by the Al-Khair Foundation. Tufail Hussain, Interim Director of Islamic Relief UK said:
"Islamic Relief UK is proud to once again be the exclusive presenting partner for this wonderful event. MCB truly are leading the way for British Muslims. From their work on making mosques more than a prayer space, to their efforts on empowering female leaders through to the fight against Islamophobia in all its forms, their work is crucial to millions of lives across the UK.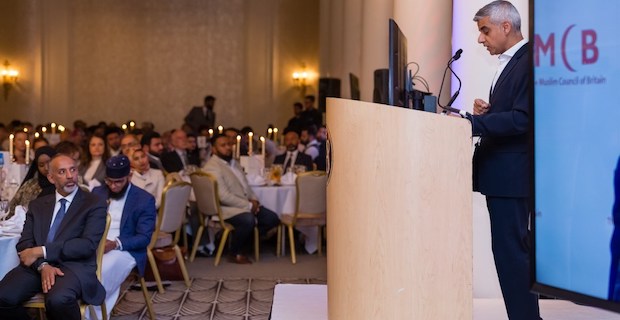 The Muslim Council of Britain
The Muslim Council of Britain is the UK's largest Muslim umbrella body with over 500 affiliated national, regional and local organisations, mosques, charitable associations and professional networks. www.mcb.org.uk
The Muslim Leadership Dinner 2019 
The Muslim Leadership Dinner 2019 was held in association with Islamic Relief Worldwide. Since 1984, Islamic Relief have saved and transformed the lives of over 117 million people by responding to disasters, rebuilding lives and preparing people in case disaster strikes. In addition to providing disaster and emergency response, Islamic Relief also promote sustainable economic and social development by working with local communities – regardless of race, religion or gender. Find out more: www.islamic-relief.org.uk 
Al-Khair Foundation (AKF) 
The event was supported by the Al Khair Foundation. Al-Khair Foundation (AKF) is a UK-based Muslim charity, and although they've been engaged in charitable work from the outset, education was initially their key priority. After their UK schools proved to be a success, AKF started building schools overseas with a focus on educating orphans and children from underprivileged communities. This led to further work with widows and vulnerable women, and then to the establishment of the AKF shelters. Find out more: www.alkhair.org