Concerned citizens and members of various communities gathered in north London on Monday in a show of solidarity and support for those affected by the devastating earthquakes in Türkiye and Syria. 
Islington Council held a vigil for the earthquake victims outside the town hall building which was attended by representatives of the Turkish and Syrian communities and faith leaders as well as local politicians.
"Tonight we stand with you through your grief and pain, through the pain of losing loved ones, through the pain of seeing the scale of the devastation in towns and cities across the region," said Islington Mayor Marian Spall in the opening speech.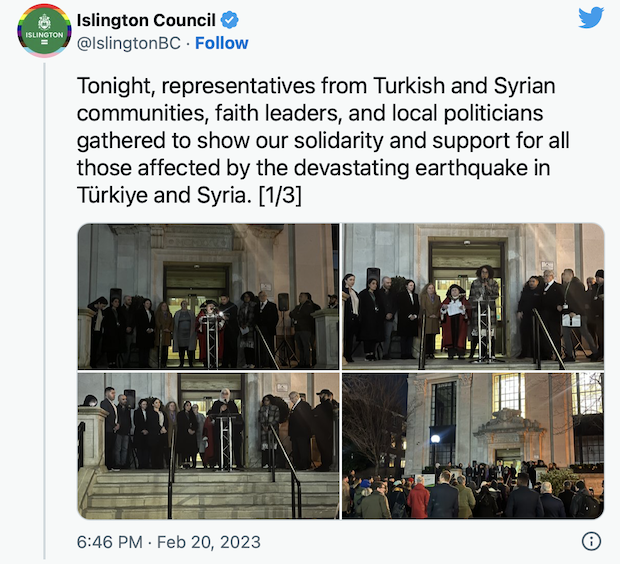 Also hailing the efforts of search and rescue teams on the ground, Spall called on everyone to remember and pay respect to those who lost their lives.
For her part, Islington Council leader Kaya Comer-Schwartz started her speech by mentioning a report on the latest quakes that hit southern Türkiye on Monday evening.
At least three people were killed and 213 wounded after a magnitude 6.4 and magnitude 5.8 earthquake jolted Hatay province Monday night.
"I promise you this evening that we won't stop there. This is not a moment. This is a continued commitment to you as a community that we are here for you," Comer-Schwartz noted, thanking everyone making donations.
Will do everything we can to help
Jeremy Corbyn, a former Labor Party leader and member of parliament for Islington North, joined those showing their strong support, saying they will continue to do everything they can to help people.
"Islamic Relief and many others have raised a great deal of money. My appeal is give everything you possibly can," he said, mentioning that he had discussions with Muslim communities following the quakes.
Corbyn went on to say that various campaigns such as cake sales are also taking place at some schools to raise money.
"So our children understand when people go through a disaster. We don't forget them, we don't ignore them, we do everything we can in our borough, in our community, to help," he added.
At least 41,156 people were killed and 105,505 injured by two strong earthquakes that jolted southern Türkiye on Feb. 6, officials said Monday in the latest figures from the natural disaster. 
The magnitude 7.7 and 7.6 earthquakes, centered in the Kahramanmaras province, affected more than 13 million people across 11 provinces, including Adana, Adiyaman, Diyarbakir, Gaziantep, Hatay, Kilis, Malatya, Osmaniye, Sanliurfa and Elazig.
In Syria, at least 5,840 people were killed by the deadly quakes.