It shows purported Saudi intelligence officers entering and leaving Turkey via Istanbul airport.
Mr Khashoggi, a critic of the Saudi monarchy, entered the Saudi consulate in Istanbul on 2 October and has not been seen since.
Turkish authorities say Mr Khashoggi was killed. Saudi Arabia denies this.
What else does the video show?
Broadcast by Turkey's TRT World channel and apparently garnered from security cameras, the footage shows vehicles driving up to the consulate, including black vans thought to be central to inquiries.
Groups of Saudi men are seen entering Turkey via Istanbul airport, checking in at hotels and later leaving the country. 
Turkish investigators are looking into two Saudi Gulfstream jets that landed at the airport on 2 October. The video shows aircraft waiting on the tarmac. 
Mr Khashoggi was visiting the consulate to finalise his divorce so he could marry his Turkish fiancée, Hatice Cengiz.
He is seen on the video entering the consulate. His fiancée waits outside. 
Turkey's Sabah newspaper reports that it has identified 15 members of an intelligence team it says was involved in the Saudi's disappearance.
Police are reported to be examining 150 security cameras as part of their investigation.
Some local media have also been reporting that Mr Khashoggi may have been abducted rather than killed. 
Turkey says it will conduct a search of the Istanbul consulate, while Saudi Arabia's foreign ministry said the country was "open to co-operation" and a search of the building could go ahead. 
Ankara is demanding that Saudi Arabia prove he left, while not providing definitive evidence to support the claim he was killed inside. 
Who is Jamal Khashoggi?
A critic of Crown Prince Mohammed bin Salman, Mr Khashoggi was living in self-imposed exile in the US and writing opinion pieces for the Washington Post before his disappearance.
A former editor of the al-Watan newspaper and a short-lived Saudi TV news channel, he was for years seen as close to the Saudi royal family. He served as an adviser to senior Saudi officials.
What has the international reaction been? 
The UK's foreign secretary told Saudi Arabia that Britain expects urgent answers over the disappearance of Mr Khashoggi, it emerged on Tuesday.
In a phone call to Saudi Arabian Foreign Minister Adel al-Jubeir, Jeremy Hunt warned that "friendships depend on shared values". 
Earlier on Tuesday, US President Donald Trump said he had not yet spoken to Saudi officials about the journalist's disappearance but he would "at some point". 
US Secretary of State Mike Pompeo called on Saudi Arabia to "support a thorough investigation" of his disappearance and "to be transparent about the results". 
UN experts have demanded a "prompt independent and international investigation" into his disappearance.
Last week, Saudi Crown Prince Mohammed told Bloomberg News that his government was "very keen to know what happened to him", and that Mr Khashoggi had left "after a few minutes or one hour". 
Crown Prince Mohammed's brother and the Saudi ambassador to the US, Prince Khaled bin Salman al-Saud, has insisted all the reports about his disappearance or death "are completely false and baseless". 
How has Khashoggi's fiancee reacted?
Hatice Cengiz has appealed to the US for help in an emotional article in the Washington Post.
"I implore President Trump and first lady Melania Trump to help shed light on Jamal's disappearance," she wrote.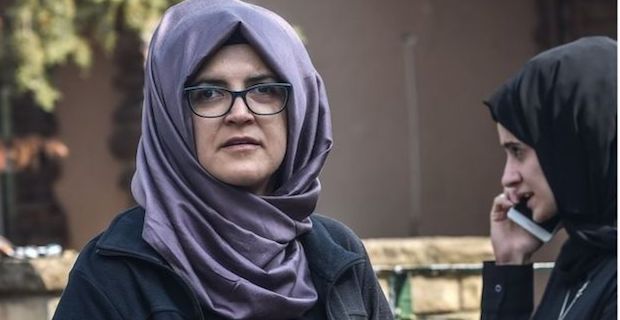 "We were in the middle of making wedding plans, life plans," when he vanished, she said.
BBC NEWS