International travel changes for fully vaccinated people to be set out.Details about how and when fully vaccinated travellers can return from certain countries without having to quarantine are to be set out later.Transport Secretary Grant Shapps will make a statement to MPs this morning.Currently, those arriving in the UK have to follow strict rules regardless of their vaccine status, and anyone returning from countries on the amber or red list must isolate for 10 days.
Travel bosses have called for the rules to be eased as soon as possible.
The UK's traffic light system for international travel is still in force. Fewer than 30 destinations are on the green list - meaning travellers do not have to self-isolate when they get back to the UK but they do have to pay for Covid tests.More than 50 countries are on the strictest red list, which requires arrivals to pay to self-isolate in a hotel for 10 days.
But most places - including several holiday hotspots such as mainland Spain, Greece and the USA - are on the amber list. People returning from these countries must quarantine for 10 days and pay for tests.

What are the green, amber and red rules?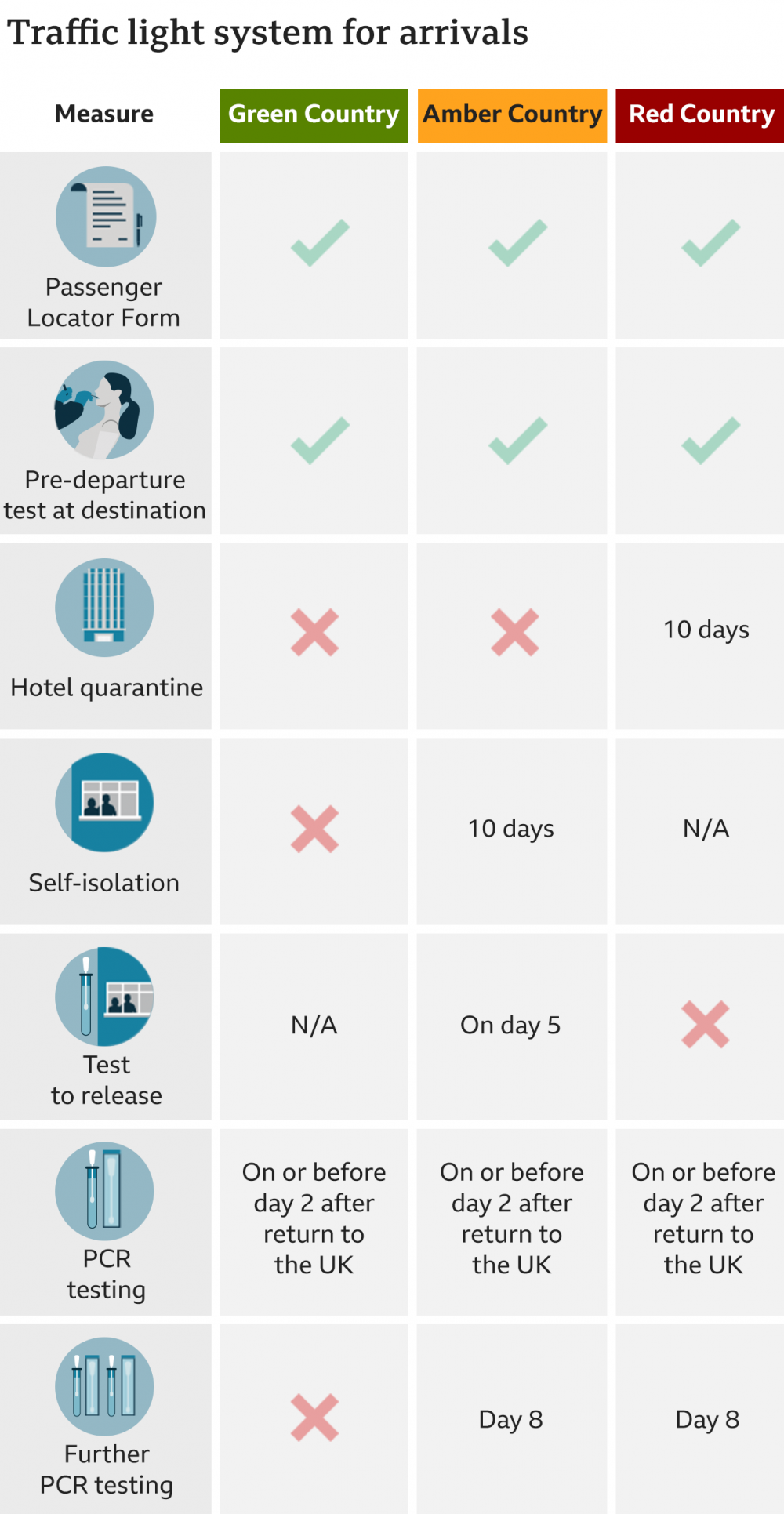 The government has already said it was planning to scrap the need to quarantine for those who are double-jabbed and returning from amber countries.But it has not set out how it would work, when it would happen, and whether unvaccinated children would also be able to avoid quarantine if their parents are fully vaccinated.In addition to relaxing the rules around isolation fortravellers, Chancellor Rishi Sunak told the BBC that the health secretary was considering a "more proportionate and balanced approach" to isolation for Covid contacts.It comes amid fears that surging cases across the UK will lead to millions of people being asked to self-isolate during the summer, even if they have been fully vaccinated.
"I recognise people's frustrations with this. I have spoken to the health secretary and he's also aware of this," Mr Sunak told BBC Breakfast.
"He's looking at the difference between the two systems [contact tracers and the NHS app] and seeing what might be a more proportionate and balanced approach to this."

The transport secretary's travel update in the House of Commons is due at 11:30 BST.The UK government's traffic light system applies to England, with Scotland, Wales and Northern Ireland able to make their own rules.However, the rules are broadly the same and previous changes to the lists have been adopted by all four nations.