In order to save humanity, states shelter and funding terrorists should be urged to eliminate the terror groups, said India's external affairs minister on Friday.

"If we want to save humanity, we must tell the states, who provide shelter and funding to terrorists, to dismantle the infrastructure of the terror camps and stop providing funding and shelter to the terror organizations based in that country," Sushma Swaraj told the Organization of Islamic Cooperation (OIC) meeting in Abu Dhabi, United Arab Emirates.
Swaraj attended the 46th session of the Council of Foreign Ministers of the OIC as the Guest of Honor upon invitation by the UAE.
Her remarks came amid the escalated tensions between her country and Pakistan following a suicide bombing in the Indian-administered part of the Kashmir in mid-February that left more that 40 Indian troops dead.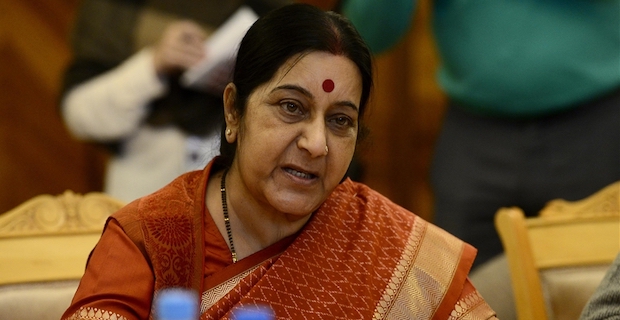 The attack was claimed by Jaish-e-Mohammed (JeM), a militant group that Pakistan has banned since 2002 but is accused by India of providing sanctuary.
"Terror is destroying lives, destabilizing regions and putting the world at great peril," she said, underlining the growing terror reach and increasing toll it leaves behind.
Terrorism and extremism had different names and labels, Swaraj said. 
The fight against terrorism could not be "a confrontation against any religion," according to her. "Terrorism in each case is driven by distortion of religion."
In an earlier statement, Pakistani Foreign Minister Shah Mahmood Qureshi said he would not attend the meeting, but a lower-level delegation would represent the country.
He pointed out that the decision was taken after the UAE did not retract its invitation to India despite strong objection by Pakistan.
Pakistan and India engaged in an aerial dogfight on Wednesday along the disputed border with Kashmir, the first in decades, where they claimed to have shot down each other's fighter jets.