Authorities have suspended planes and trains in and out of Wuhan - a city of 11 million people - as well as all public transport within the city. Similar measures will take effect in nearby Huanggang, a city of more than seven million, as of midnight. There are more than 500 confirmed cases of the virus, which has spread abroad.  The new strain of coronavirus is believed to have originated at a market in Wuhan. One resident of the city said the atmosphere felt like "the end of the world". The lockdown comes as millions of Chinese people travel across the country for the upcoming Lunar New Year holiday. Another Wuhan resident said on social media site Weibo that they were on the "verge of tears" when they heard about the closures. 
What's the latest?
Wuhan's public transport lockdown came into force as of 10:00 local time (02:00 GMT), leaving normally busy train stations and airports empty. Health authorities are reported to have made wearing a mask mandatory in the city. They are advising people to avoid crowds and public gatherings. Demand for rubber gloves and surgical masks has soared. Taobao, the Chinese online retail giant, has warned sellers not to profit from the outbreak by raising prices. Hours after Wuhan's lockdown came into force, authorities in Huanggang - east of Wuhan - announced a suspension of the city's bus and rail system from midnight, and encouraged people not to leave the city.  Cafes, cinemas, theatres and exhibitions in both cities have been shut. Ezhou - a city of more than one million people just south of Huanggang - announced it had shut its train stations. All the fatalities so far have been in Hubei province, of which Wuhan is the capital. Most of the 17 victims were elderly and suffered from other chronic diseases including Parkinson's disease and diabetes.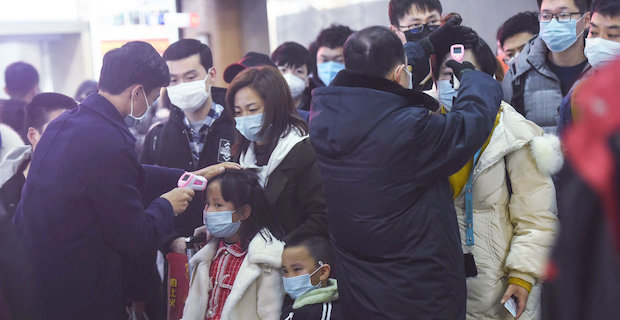 A doctor at a hospital in Wuhan spoke to the BBC
The virus is now spreading at an alarming rate. The hospitals have been flooding with thousands of patients, who wait hours to see a doctor - you can imagine their panic. Normally Wuhan is a great place to live and we are proud of our work - specialists here have developed a guide for coronavirus diagnosis and treatment. But I am scared because this is a new virus and the figures are worrying. Two days ago we were told not to go to work because of the risk of contamination. If we leave our home on the hospital campus, we are required to wear masks.
We don't want to take our two-year-old son outside. He's sleeping now, and we are trying to protect him as much as possible - hand-washing, airing the apartment, avoiding contact with people.
Outside I can barely see anyone on the streets. We have been told to avoid gathering. 
I went to the supermarket to buy food, but there was nothing left - no vegetables or biscuits. Some Lunar New Year celebrations are cancelled.
People had bought tickets to go home for Lunar New Year but they can't go now. Everyone is stuck here and can't leave.
BBC NEWS