Slovenia qualified for the CEV Men's Volleyball European Championship final after beating Poland 3-1 late Thursday. Slovenia became the first team to move forward to final, winning the match in capital Ljubljana in four sets (25-23, 24-26, 25-22 and 25-23).
Slovenia will face Serbia vs. France semifinal matchup winner in the tournament's final on Sunday.
The Slovenian team was grouped with Russia, Finland, North Macedonia, Belarus and Turkey. In pool C, they advanced to final eight matches, having three wins.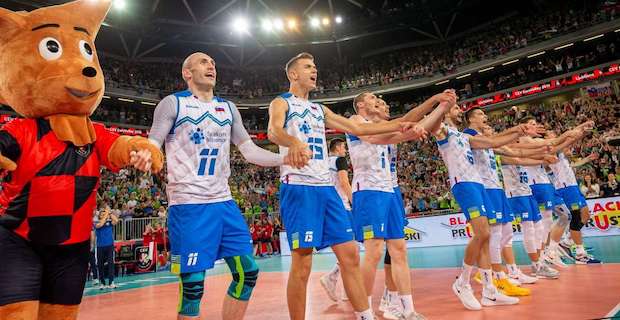 Slovenia eliminated Bulgaria 3-1 to be in the quarterfinals, then they defeated Russia again 3-1 to advance to the semifinals.
On Friday, Serbia and France will clash to get the ticket to European final in Paris.
Serbia defeated Ukraine 3-2 in the quarterfinals, while France got the semifinal ticket after beating Italy 3-0.