VATAN OZ/LONDON-The announcement was made today by UEFA President Aleksander Čeferin at a ceremony with the bid delegations at the House of European Football in Nyon."I would like to congratulate the bidders and host associations, whose dedication, hard work and commitment have been duly recognised today," said UEFA President Aleksander Čeferin. "Together, we will create unforgettable editions of this great tournament that will unite us and celebrate the spirit of sportsmanship."The 18th edition of the tournament will see the European Championship return to England for the third time, after solely hosting in 1996 and hosting matches during the 2021 edition, while Scotland will host matches for the second time after matches were played in Glasgow in the same edition. Wales, Northern Ireland and the Republic of Ireland will host European Championship final tournament matches for the first time.The venues indicated in the bid are Wembley Stadium in London, National Stadium of Wales in Cardiff, Tottenham Hotspur Stadium in London, City of Manchester Stadium in Manchester (to be renovated), Everton Stadium in Liverpool (new stadium), St James' Park in Newcastle, Villa Park in Birmingham (to be renovated), Hampden Park in Glasgow, Dublin Arena in Dublin and Casement Park in Belfast (new stadium).UK & Ireland 2028 Bid Partnership statement said: "This is a milestone day for UK and Ireland sport. Together, as a pioneering partnership between our Football Associations with full Government support, we are delighted to be appointed hosts of UEFA EURO 2028. The tournament will be a celebration of football and we can't wait to welcome Europe and the rest of the world to our host cities."Our vision is to develop football, increase participation, and grow a more diverse and inclusive game. We promise to stage an innovative and sustainable tournament that is also the most accessible EURO ever – with a record-breaking three million tickets for fans. UEFA EURO 2028 across the UK and Ireland will also help to drive forward positive social impact, helping communities thrive by creating economic and social legacies."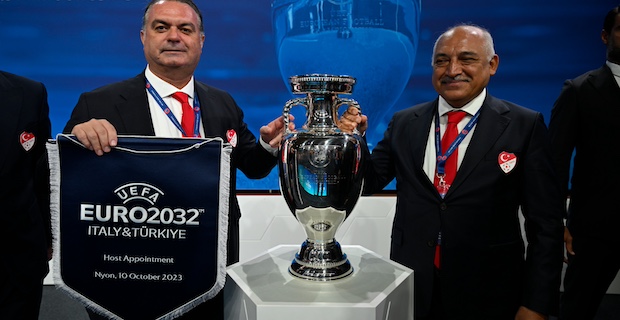 The 19th edition of the tournament will take place in Italy for the fourth time after solely hosting the editions in 1968 and 1980, and hosting matches during UEFA EURO 2020 in Rome. This will be Turkey's first time to host the competition.
The bidders presented 20 stadiums of which 10 will be chosen, five per country, by October 2026.
The venues indicated by the Italian Football Federation are Stadio San Siro - Giuseppe Meazza in Milan, Stadio Olimpico in Rome, Stadio San Nicola in Bari (to be renovated), Stadio Diego Armando Maradona in Naples (to be renovated), Stadio Artemio Franchi in Florence (new stadium), Juventus Stadium in Turin, Stadio Luigi Ferraris in Genoa (to be renovated), Stadio Marcantonio Bentegodi in Verona (to be renovated), Stadio Renato Dall'Ara in Bologna (new stadium) and Stadio Sant'Elia in Cagliari (new stadium).
The venues indicated by Turkey are Atatürk Olympic Stadium in Istanbul (to be renovated), New Ankara Stadium in Ankara (new stadium), Ali Sami Yen Stadium in Istanbul, Şükrü Saracoğlu Stadium in Istanbul, Timsah Arena in Bursa, Şenol Güneş Sports Complex in Trabzon, Konya Metropolitan Stadium in Konya, Gaziantep Kalyon Stadium in Gaziantep, Eskişehir Stadium in Eskişehir and Antalya Stadium in Antalya.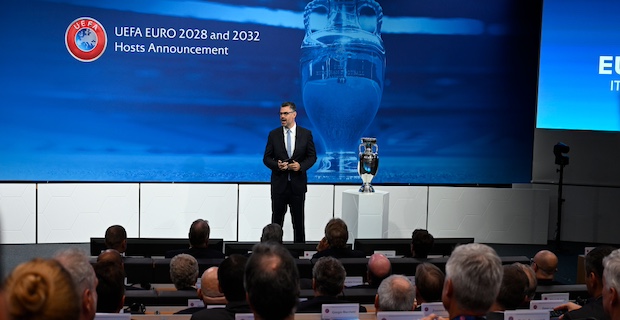 Italy and Turkey 2032 Bid Partnership statement said:
"We offer our gratitude to UEFA for giving two countries sharing Mediterranean culture the honour to co-host UEFA EURO 2032. The Italian Football Federation (FIGC) and the Turkish Football Federation (TFF) have united their strength with their bid to host the best EURO ever held, establishing new bridges of friendships and leaving a lasting contribution to the football legacy."In the coming years, Italy and Turkey will work intensively, as we point out in our motto 'Play as One', until 2032, with a big passion and commitment to offer the ultimate EURO experience to the fans."