Customers not travelling to the stadium advised to avoid the area where possible. Fans should check their transport options in advance, especially if games go to extra time or penalties 
With Wembley gearing up to host larger crowds from this week, Transport for London (TfL) is issuing travel advice for fans and Londoners to help them use the transport network around the big games.  With the capacity at Wembley set to increase to around 45,000 for the match tomorrow (Tuesday 29 June), and then to 60,000 for the semi-finals on 6 and 7 July and the final on Sunday 11 July, the area around the stadium will be busier than it has been for previous games in Euro 2020.  Londoners who are not travelling to Wembley stadium should avoid the area if possible. The Bakerloo, Jubilee and Metropolitan lines and parts of the Overground may be busier than usual in the lead up to the games as fans travel to the stadium.  Fans should plan ahead and leave enough time to complete their journeys to ensure that they arrive at Wembley ahead of kick-off. Walking and cycling options are available, with bicycle parking available in the north east corner of Wembley stadium.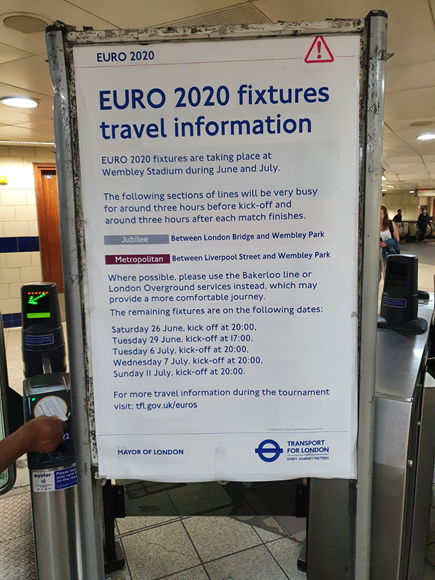 TfL is also advising fans that they should expect to queue outside stations around Wembley after the match for longer than usual as crowding is managed to keep everyone safe and provide as much social distancing as possible. Should the games go to extra time or penalties, customers are reminded that services do not run overnight and that they should check their route home before travelling. 
Andy Lord, Managing Director for London Underground said: "The excitement created in the capital by Euro 2020 has been fantastic so far, and it has been great to see fans welcomed back to stadiums around Europe. Wembley will be hosting some of the most important games in the tournament so Londoners have even more to look forward to as it continues. Fans travelling to the games should ensure that they check their journeys before they travel and leave enough time to get to Wembley so they don't miss kick off, and should make plans in case the games go to extra time and penalties. 
"A huge amount of work has been put in to make sure that journeys can be completed safely and our staff will be on hand in stations to help customers. We urge fans to be patient as it may take longer than usual to access stations after the games. Customers must please wear a face covering over their nose and mouth unless they are exempt."  
Face coverings will be handed out by TfL staff at Wembley Park and Wembley Central stations after games for customers who do not have one. Face coverings are still required by law on public transport, including inside stations, trains and buses and when using taxis or private hire vehicles. Failure to comply with this requirement means that customers may be denied travel or be fined a minimum of £200. Customers who are experiencing symptoms relating to coronavirus should not travel at all. 
Customers requiring accessible journeys are advised to use the Jubilee or Metropolitan lines to Wembley Park. 
TfL Image - EURO 2020 fixtures travel information poster
Download
Travel advice has been issued to customers attending the matches, and those who travel on parts of the network that are likely to be busier on matchdays. Posters are also displayed in stations across the network.  
The latest service information will be available online and through TfL travel tools including the free TfL Go app. TfL Go enables customers to access live updates and travel times for every station and bus stop, as well as information on the quieter times to travel and directions for walking and cycling. Pay as you go on contactless and Oyster allows people heading to watch the games to travel flexibly at quieter times by simply touching in and out and only paying for the journeys they make. This reduces the need to queue or buy tickets at a station. Pay as you go fares are also capped so customers don't have to buy a Travelcard in advance. 
More than 1,000 Dettol hand sanitisers are installed across the network, and 200 UV light devices are continually sanitising escalator handrails. This is in addition to the stringent, thorough cleaning processes being used across the public transport network to keep staff and customers safe.