Ministers dropped the plan after receiving legal advice it would probably fail if challenged in court, the Daily Telegraph reports.The Ulez scheme will be expanded to all London boroughs on Tuesday.The Department of Transport said it was for the mayor to justify its expansion as people deal with the cost of living.The Telegraph said cabinet ministers had been considering using part of the 1999 Greater London Authority Act that allowed them to overrule Sadiq Khan's policy if it was "inconsistent with national policies".But formal legal advice concluded that the move would fail if challenged, the broadsheet added.

A spokesperson for the mayor of London said: "The Secretary of State could only use this power after changing national policy to prevent all cities charging drivers based on their emissions.

"Ministers have directed numerous UK cities to introduce clean air zones, and the government is under clear legal obligations to tackle air pollution.
"The mayor has received no suggestion from government that they have any intention to renege on these commitments."
Motorists driving vehicles within the charging zone which do not comply with Transport for London's (TfL) emission standards will have to pay a £12.50 daily charge.
Petrol cars generally meet the standards if they were first registered after 2005, while diesel cars generally have to be newer than September 2015.
The controversial expansion of the scheme, first introduced in 2019 to clean up the capital's air, was ruled lawful in the High Court last month after five Conservative-led councils challenged the Labour mayor's plan.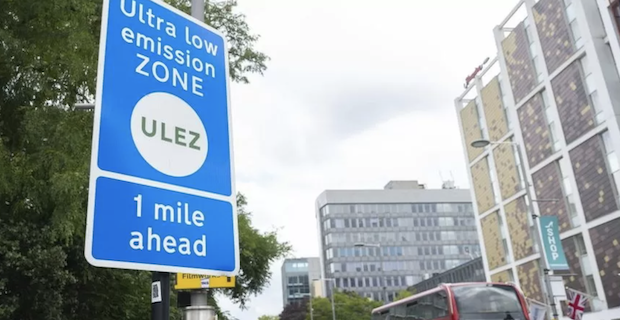 The issue was later blamed by Labour leader Sir Keir Starmer for the party's defeat in the Uxbridge and South Ruislip by-election.

A spokesperson for the Department of Transport said it was for the mayor to "justify the Ulez expansion, and at a time when the government is doing everything it can to support people with the cost of living, the mayor is responsible for explaining whether it is fair to charge those with non-compliant vehicles £12.50 every time they drive in London".
The AA motoring association says it is "essential" drivers who do not comply with Ulez are not fined "until the system beds in".
TFL says it can use its "discretion" to issue warning letters instead of penalty charge notices.
On the day Birmingham's emissions-based charging scheme was introduced in June 2021, the city council announced the £8 daily fee for non-compliant vehicles would not need to be paid for the first two weeks as part of a "soft launch". BBC