Turkey's First Lady Emine Erdogan on Tuesday received an award at an international forum in London in recognition of her humanitarian services.
"Turkish nation is a philanthropic nation with a deep-rooted history of charitable foundations," she said, in her acceptance speech after receiving the Humanitarian Service Recognition Award at the Global Donors Forum.
She said Turkey was extending a helping hand to millions of refugees across the world.
"Turkey is the largest donor of humanitarian aid in the world as a ratio of its gross national income," the first lady said.
"I receive 'The Humanitarian Service Recognition Award' on behalf of such a noble nation which represents the conscience of humanity.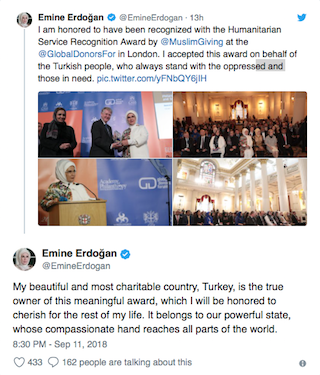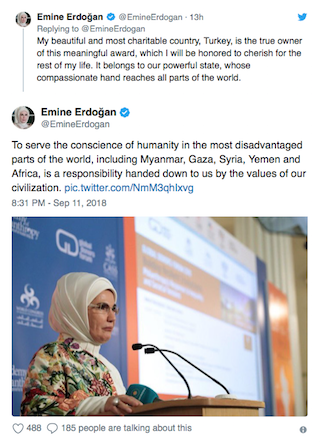 "The true recipient of this meaningful award which I am honored to accept is my country, my state and my nation which respond to any cry for help no matter where it comes from and regardless of religion, language or race!"
She highlighted the atrocities committed against people across the world.
"Let us pay tribute to all the downtrodden who are oppressed in Yemen, Syria, Bangladesh, Gaza and, in particular, to our most beloved Jerusalem!
"I would like to cordially salute the other half of our hearts; my brothers and sisters from Pakistan, Malaysia, Bosnia and Sudan."
Celebrating diversity
She said Muslims were known for embracing differences and celebrating diversity. 
"We are united in our joy and sorrow. When one of us is hurt, the rest of us also feel the pain. We are like parts of the same body. Any kind of suffering in one part of the world tears us apart and breaks our heart," she added.
"You endeavor to be the voice of compassion and conscience in a world where capitalism has numbed the human soul.
"I know that your noble souls that strive to shoulder the burden of humanity as a whole have been forged with philanthropic sentiments.
"The world desperately needs such efforts, especially in recent years."
Underlining the anniversary of 9/11, which "set the scene for the clash of civilizations", she said "since 2001, the Middle East in particular has become the land of suffering and tears".
"Afghanistan, Iraq, Syria ceased to be the cradle of ancient civilizations and, instead, became the scene of suffering where innocent children fight for survival in the shadow of weapons.
She spoke about the pain inflicted on the Rohingya community. 
"I visited Myanmar myself; the humanitarian tragedy there is one of the most disgraceful atrocities of the 21st century.
"I think I will never forget what I witnessed there for the rest of my life. To this day, I feel the pain of the suffering of women in Myanmar in my soul," she added.
"Similarly, the modern world is unfortunately deaf to the cries of the Palestinian or Yemeni women while the scars of colonialism in Africa are yet to heal.
"The voice of honorable endeavors is unfortunately not loud enough in a world rife with genocide, rape and discrimination."
Syria
Turkish first lady also spoke of the Syrian civil war and said "thousands of people lost their lives in the war in Syria since it started eight years ago."
"Millions have been displaced. Unfortunately, a common will to end this war is nowhere to be found.
"The responsibility that had to be shouldered by the entire world has been delegated to a handful of countries to bear. Turkey is one of those countries.
"We are hosting 3.5 million refugees in our country. They will be part of our family till the day their country becomes prosperous again."
Erdogan said the World Congress of Muslim Philanthropists "gives hope to the women in Africa, the children in the Middle East and the oppressed".
"You shake the silent hearts and rusty conscience of those who have become mute in face of such suffering. I believe that your efforts are more effective than tanks and missiles."
She underlined that "philanthropy is not just about showing mercy or providing financial assistance" but "also about striving to establish a fair and just order and pursuing compassionate policies".
"It is about enabling social justice and equal opportunity. It is about protecting the right to life of children and providing them opportunities in education," she said.
"Philanthropy is about caring for the environment and respecting animal rights as much as it is about the problems of humanity.
"In a nutshell, it is living up to being the noblest of all creatures; it is what makes us human!"
'Right is might'
Erdogan said she hoped to "come together in many other productive meetings which will contribute to the establishment of a world order where right makes might and not the other way around."
She said she is proud to see "two respectable Turkish institutions receiving awards in this ceremony."
"I would like to congratulate Turkish Airlines and the Turkish Red Crescent," she said.
Turkish Airlines and Turkish Red Crescent were also presented recognition awards for their contributions to humanitarian aid distribution around the globe.