A Democratic majority in the lower chamber for the first time in eight years will restrict his ability to steer his programme through Congress.
But Mr Trump's Republicans are set to strengthen their grip on the Senate.
Tuesday's vote was seen as a referendum on a polarising president, even though he is not up for re-election till 2020.
The election confirms a historical trend for the party that is not in the White House to make gains in the mid-terms.
House Democratic leader Nancy Pelosi - who is set to become speaker, a position she held from 2007 to 2011 - told cheering supporters in Washington: "Thanks to you, tomorrow will be a new day in America."
President Trump focused on the Senate, and praised himself by quoting a commentator.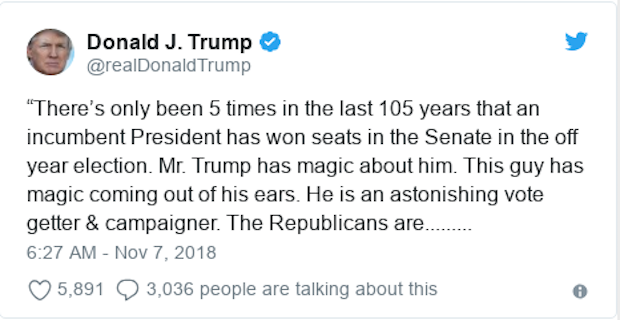 What difference does the new House majority make?
The Democrats took control of the House, having gained more than the 23 seats they need to take over the lower chamber of Congress. Americans voted for all 435 seats in the House.
The Democrats could now launch investigations into Mr Trump's administration and business affairs, from tax returns to potential conflicts of interest.
They could also more effectively block his legislative plans, notably his signature promise to build a wall along the border with Mexico.
Female candidates performed particularly well in an election cycle that had been billed as the Year of the Woman.
Two 29-year-old Democrats, Alexandria Ocasio-Cortez and Abby Finkenauer - are due to be the youngest women ever to win House seats.
Ilhan OImar and Rashida Tlaib are the first Muslim women and Sharice Davids and Debra Haaland the first Native American women to be elected to Congress. All are Democrats.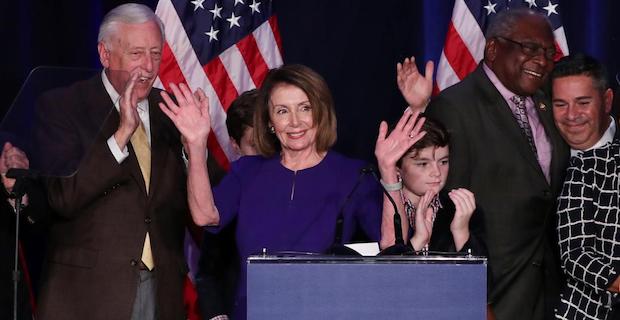 What's happening in the Senate?
Republicans are on course to increase their representation in the 100-seat Senate from 51 to 54. This ensures Mr Trump will still have a majority to confirm his executive and judicial appointments.
Democrats were always facing an uphill battle in the Senate this year because they were defending 26 races, while just nine Republican seats were up for grabs.
Key gains for the Republicans came in Indiana, Missouri and North Dakota, where they unseated Democrat incumbents.
New battle lines
By Anthony Zurcher, BBC News, Washington
With control of the House, the Democrats will be able to block Donald Trump's legislative agenda and will have much more oversight.
They will have key committees that will be able to look into allegations of collusion between Russia and Mr Trump's presidential campaign. They might delve in Mr Trump's personal finance.
In addition, there have been allegations of corruption made against senior administration officials. The Democrats will be able to dig deep into that.
The Republican maintaining control of the Senate is very important because if they stick together, they can confirm any of Mr Trump's appointments to his administration or to the judiciary.
The president has already appointed 84 conservative judges to the federal judiciary. Expect that trend to continue.
What's happening in governors' races?
Governors - who head the executive branch in state governments - have been chosen in 36 out of 50 states.
In Florida, left-wing progressive Andrew Gillum has conceded after an ugly battle against a Trumpist conservative, Ron DeSantis.
But Democrat Stacey Abrams - who ran to become the first black female governor in the US - refused to concede as her Republican opponent Brian Kemp took a commanding lead after a bitter campaign in Georgia.
Democrat Jared Polis is projected to win the Colorado gubernatorial race, becoming the first openly gay man to be a US governor.
Democrats also captured governorships in Michigan, Illinois and Kansas. In Kansas, Republican Trump ally Kris Kobach was defeated by a Democratic state senator Laura Kelly.
New York Democratic Governor Andrew Cuomo - sometimes spoken of as a 2020 presidential contender - cruised to a third term.
BBC NEWS