LATEST-Kent's port of Dover warned of major disruption this morning as thousands of holidaymakers were told to arrive SIX HOURS early for ferry queues lasting up to five hours.BRITS were plunged into travel chaos today after a "critical incident" was declared at Dover, huge queues built at airports and protesters crippled motorways across the country.Kent's port of Dover warned of "major disruption" this morning as thousands of holidaymakers were told to arrive SIX HOURS early for ferry queues lasting up to five hours.The travel chaos continues today after a 'critical incident' was declared at the port of Dover in Kent.The travel chaos continues today after a 'critical incident' was declared at the port of Dover in Kent.The tailbacks have been blamed on 'woefully inadequate staffing'. Swathes of passengers filled Manchester Airport's Terminal 2 before 3.30am this morning.Cops also stressed back-to-back traffic was set to build on the M4, M5, M32 and A38 in what is already set to be the busiest summer getaway in at least eight years.Manchester Airport saw hundreds of passengers snake around its terminals before 3.30am, while queues for flights piled into Gatwick, Heathrow and Bristol first thing.It came as strikes at Heathrow Airport were called OFF after hundreds of British Airways staff accepted a new pay rise.But those hoping to take the ferry reported being stuck in five-hour queues to complete border checks at Dover.Doug Bannister, the port's chief executive, said "woefully inadequate" staffing was to blame for the "major disruption".
He told Sky News: "The cause of it is French immigration controls.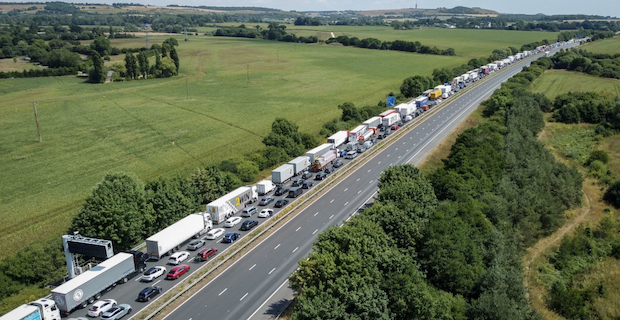 "This is causing major disruption. French border controls are not properly staffed."It's somewhat down to longer than normal transaction times as well, but mainly it's inadequate personnel numbers."The port said in a statement it has made "significant investment" to increase its capacity, and shared traffic volume forecasts "in granular detail with the French authorities".But it went on: "Regrettably, the PAF (police aux frontieres) resource has been insufficient and has fallen far short of what is required to ensure a smooth first weekend of the peak summer getaway period."The delays mean tourist and freight traffic have been stuck for hours on gridlocked roads in the area.And P&O Ferries warned passengers to arrive six hours early for their boats.A notice on the company's Twitter read: "Please be aware that there is heavy traffic at border control in the port of Dover."If you are booked to travel today please allow at least six hours to clear all security checks."The warning though was little use to those already in back-to-back to traffic, with one traveller claiming they were moving just "50m per hour".They wrote on Twitter: "At this rate it'll be 34 hours before I get to the port!"
Another described how they have been "waiting five hours and still not in the port".
Mum Donna Kyriacou told The Sun she had been stick in nose to tail traffic outside Dover since 5am.The animal rescuer, 51, said drivers were starting to vent their frustration at a single police officer controlling traffic, fearing "it could turn ugly".Waiting with her two teen daughters, Christiana and Georgia, she said: "No one knows what's going on. We're less than a mile from the Port."Locals including P&O staff are stuck in it and having to leave their cars to walk to work."I'm starting to feel really claustrophobic and trapped as we're being told not to leave our cars. And I need a wee."It came as ferry operator P&O Ferries told passengers first thing: "There are currently queues in excess of four hours to reach the border controls."Our check-in remains free flowing and once you reach us, we will put you on the first available sailing."Please arrive prepared for a prolonged wait. Carry snacks and additional water with you."
Turkish lorry driver Muhammet Turker said he had been queuing in his HGV in Dover since 6pm on Thursday and was still waiting to cross the Channel on Friday morning.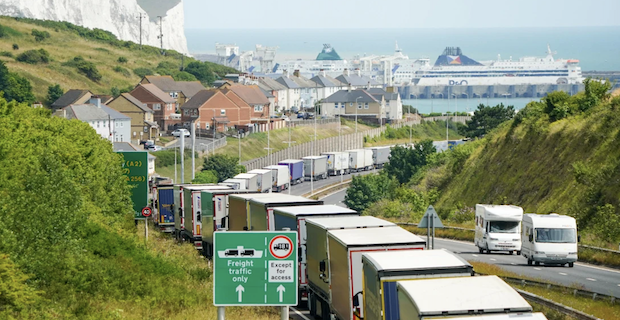 He told that other lorries kept cutting in front of him in the queue.And he added: "I've been in something like this before, but this is the worst."Meanwhile, gym owner Darren Fuller, whose business is minutes from the Port of Dover said the chaos has forced almost all his customers to cancel sessions.It comes after an image posted on Facebook group Fuel Price Stand Against Tax warned protests would be held "nationwide", including in Birmingham, Cardiff, Liverpool, London and Manchester.With most schools in England and Wales breaking up for summer this week, the RAC said an estimated 18.8million trips are planned in the UK between Friday and Monday.That is the most since the company began tracking summer getaway numbers in 2014.Analytics company Inrix this morning reported slow traffic on the M5 at junction 22 near Burnham-on-Sea thanks to a demonstration. It said a convoy of vehicles travelling at around 30mph as part of a protest over fuel prices. Meanwhile, superintendent Tony Blatchford of Avon and Somerset Police urged drivers to consider "alternative travel plans" due to the pump price protests.
Figures from data company Experian show the average price of a litre of petrol on Wednesday was 187.5p, while diesel was 196.1p.
Transport analytics company Inrix believes the M25 - London's orbital motorway - could see some of the worst jams due to the summer getaway, singling out the stretches between Bromley and the Dartford Crossing; Maple Cross and the M3; and the M23 to the M40.The A303 near Stonehenge, Wiltshire, the M4 between Cardiff and Newport in south Wales, and the M5 south of Bristol are also likely to see queuing traffic.There are also likely to be long queues at the Port of Dover again today.Travellers were forced to queue for up to three hours on Thursday to complete border control and check-in.On Thursday afternoon, a spokesman for the port said: "As a result of high demand and earlier capacity issues at the border, the port system is working hard to catch up and to get everyone through as quickly as possible."Passengers will be placed on the first available sailing and will be away on their holidays shortly."