Residents' concerns about crime have been starkly outlined by Enfield Council during a visit to the borough by London's Deputy Mayor for Crime and Policing, Sophie Linden.
Sophie was given a tour of the borough's housing estates, shopping centres and anti-social behaviour hot-spots to highlight the challenges facing Enfield and was asked for additional police support to tackle crime and disorder by Cllr Nesil Caliskan, the Leader of Enfield Council.
The visit, which was also attended by Enfield Council's Chief Executive, Ian Davis, Enfield Council's Cabinet Member for Community Safety & Cohesion, Cllr Nneka Keazor, and Chief Supt, Helen Millichap, the North Area Base Command Unit Commander, which covers Enfield and Haringey, featured a visit to the scene of a recent stabbing and discussions on how the Council and GLA could work together more effectively to reduce crime, improve community cohesion and share best practice.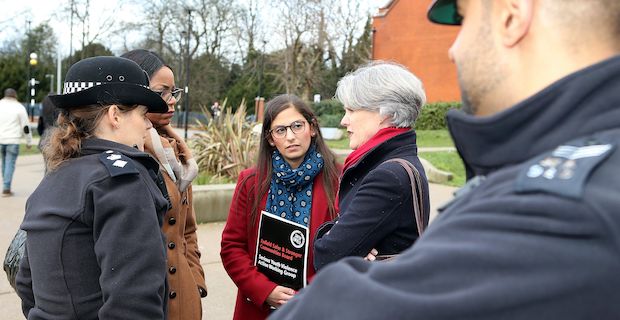 Residents and the Council have raised concerns about a recent spate of serious violent crimes in the borough and have been lobbying for additional police to be deployed in the area. Violent crime rates dropped in December, coinciding with an increase in the number of police officers deployed.
Cllr Caliskan said: "We are absolutely committed to working together with the GLA, and the Metropolitan Police to make sure Enfield gets the resources it needs to keep its residents safe.  
"Our officers are hard working and dedicated professionals, but there simply aren't enough to go round. We know the Metropolitan Police has lost a huge amount of government funding but we have ongoing concerns about levels of policing in Enfield.
"Enfield Council is doing everything it can to assist the police in tackling crime but our residents are genuinely concerned about the recent increase in youth crime and swift and decisive action needs to be taken to ensure our communities feel protected and safe."