Avrupa Times/ London - Cllr Nesil Caliskan Leader of Enfield Council writes for Avrupa Times 
Dear Enfield residents
Please read my letter below to learn more about the Annual Budget Enfield Council recently passed.
Setting a legal and resilient Council budget
Every year, all Councils across the country are required to agree their Annual Budget. There is a legal requirement to set a balanced budget.
The Labour Party rules also state Labour Councillors must not abstain or vote against a budget that is being proposed by a Labour Council. The Labour Party Leader Jeremy Corbyn has asked Labour Councillors to follow this rule.
Any Council failing to set a balanced and resilient budget can be deemed as failing, leading to the Conservative Government Secretary of State taking over the local authority. I do not believe the interests of Enfield residents would be served well if Conservative politicians were put in charge at Enfield Council.
Whilst Councils do have some flexibility to borrow money to invest in infrastructure and buildings, the law does not allow us to borrow money to pay for front line services, such as adult social care, children's services or the environment.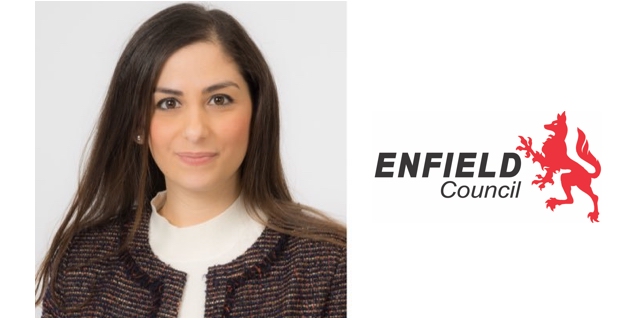 Cllr Nesil Caliskan Leader of Enfield Council
Conservative Government budget cuts to Councils
The Conservative Government led by Prime Minister Theresa May continues to persist with its policy of austerity, continuing to cut expenditure everywhere. Conservative Government funding for Enfield has been slashed in half since 2010 – we have had a funding gap of £178million. This is the toughest of times for Councils and for those residents who rely on our services.
This year, the Conservative Government forced us to cut another £18 million from our budget, with a further £12 million in 2020/21.
Austerity is a Conservative Party choice, as much as it is also a political decision taken by the Government to put the blame for reducing public services onto Councils. I am furious that they are playing with people's lives.
Cuts to our Council budget are the result of a Conservative Government. We know the only way to stop the decimation of our public services is to have a Labour Government who will fund the services our communities need and deserve. That means supporting Labour Councillors, Labour Councils and the Labour Party.
In the meantime, like every other local authority, Enfield Council is having to make some difficult choices on how we deliver many of our services. For example, we have recently taken the decision to change the borough's waste andrecycling service after the Government ended a £2.46 million grant that would have allowed us to keep weekly collections. The waste collection changes will create an additional 23 new council jobs with proper Terms & Conditions. We have also ensured that the new arrangements will allow us to invest an additional £500,000 annually into street cleansing and tackle fly tipping which we know is a priority for our residents.
Creating a better Enfield
Enfield Labour Council's budget is balanced and will serve the residents of Enfield well in these tough financial times forthe Council. It is resilient and the fairest it can be given the circumstances imposed on us by the Conservative Government, and it is true to our Labour values. We have protected services that look after our vulnerable and support those people that need it the most.
We will not accept the high levels of serious youth violence which continue to escalate, and we are committed to working with the police to make Enfield safer. That is why we are funding 16 additional police officers out of our own shrinking budget; investing over £1 million a year on CCTV across our borough to deter crime and provide invaluable evidence for police investigations; and allocating £500,000 from this year's budget to fund services that will tackle youthviolence. We also continue to call on the Government to adequately fund the police service and increase police numbers to address the recent increase in crime both locally and nationally.
We will also push forward with our estate renewal programmes across the borough to improve the quality of social housing in the borough. We have set up a new housing 'MOT' repairs team to visit social housing properties in the borough each year to check the condition, carry out repairs and identify residents who need extra assistance. As a result, we expect to see a significant reduction in call-outs as the vast majority of repairs will be completed in a single visit, reducing disruption for residents.
And at a time when traditional shopping habits are changing, Enfield Council is committed to helping to shape and support vibrant town centres. We're attracting new businesses into the borough to stimulate growth. We have recently successfully bid for £6 million from the Mayor of London to invest in Enfield Town. We are also working with developers to attract investment into Edmonton Green. We will be working closely with local communities and traders over the next few months to plan for future growth in the borough and make sure our town centres remain attractive, successful and thriving.
Since I became Leader of the Council, we have already acted decisively to take back control of the pioneering Meridian Water scheme to accelerate the delivery of affordable homes and quality jobs in Enfield. And we have put £1 million intoChildren's Services to boost staff numbers and support social workers so that our children are better protected and helped to become the best they can be. The Council also spends £11 million on concessionary TfL free travel – helping keep older and disabled people in our borough active.
Council Tax Support Scheme
We know some people in our borough are really struggling to pay their bill. It is shameful that we have seen such a massive increase in the number of people using foodbanks. That's why Enfield Council's budget continues to provide a comprehensive Council Tax support scheme for working-age people and pensioners on a low income. In comparison,Barnet's Conservative Council has decided to implement a scheme that will take away £3.2m from the poorest people in their borough! Our Labour administration in Enfield is making the right choices for those in our borough that most need our support.
I deeply believe in the value of Local Government and the role that Councils can play in creating stronger communities and changing lives. Of course, this would be a lot easier if the Conservative Government was not attacking our Councilbudgets, and that's why your Labour Councillors continue to campaign for a Labour Government. But in the meantime, I promise you that I am determined that with the little money Enfield Council does have, we will target it and spent it well.
Cllr Nesil Caliskan Leader of Enfield Council