It includes more university places for medical and nursing students and a greater emphasis on apprenticeships with the first ever scheme for doctors. A consultation on whether five-year medical degrees could be shortened by a year will also be launched. The plan has taken more than a year longer to be published than expected. During that time, the NHS has been beset by strikes - with the dispute with doctors still continuing. Pay does not feature in the plan - instead, it focuses on how much training places need to increase.
Currently, half of new doctors and nurses have to be recruited from abroad as the UK supply route has struggled to keep up with demand. One out of every 10 posts remains unfilled - more than 110,000 vacancies.  And without action, this could rise to 360,000 by 2037, modelling for the plan suggests.
Prime Minister Rishi Sunak and NHS England chief executive Amanda Pritchard will officially unveil the plan on Friday.  To help achieve the goals, the government has promised £2.4bn over the next five years. Ms Pritchard called it a "historic" moment for the NHS. "It gives us a once-in-a-generation opportunity to put staffing on a sustainable footing for years to come," she added.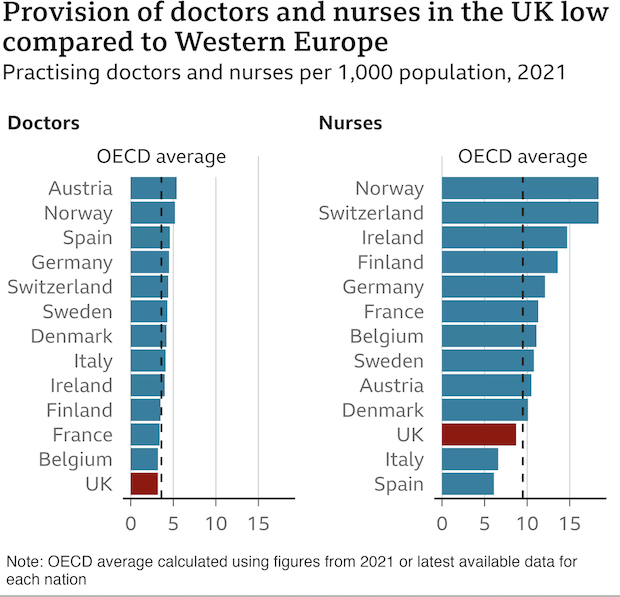 Mr Sunak called it "one of the most significant commitments" he would make as prime minister. 
The targets for 2031 include:
doubling medical school places for student doctors, to 15,000 a year 
a 50% increase in GP trainee places for junior doctors
24,000 more nurse and midwife student places a year - close to double the number now
In the next five years, the proportion of NHS staff, including physios, podiatrists and maternity staff, trained through apprenticeships - combining paid work with study and no tuition fees - will double, to one out of every six.And next year, an apprenticeship for doctors will launch, with a few hundred places.