The event, held on 26th May 2023, aimed to celebrate the dedication and achievements of the institute's Turkish language students while offering them a taste of Turkiye right in the heart of London. The atmosphere was electric as students, who had diligently learned Turkish through online courses, came together to experience the language and culture in a tangible way. The evening served as a unique opportunity for course-mates to meet in person and put their Turkish language skills to the test, all while enjoying a relaxed and friendly environment.The event kicked off with inspiring keynote speeches delivered by esteemed guests. Dr. Mehmet Karakus, Director of Yunus Emre Institute London, and Dr. Hadra Kübra Erkınay Tamtamış, Turkish Education Coordinator, expressed their gratitude to the students, teachers, and staff, acknowledging their hard work and dedication.Throughout the evening, students took center stage, showcasing their talents and passion for Turkish culture. Mariya Gospodinova, a B2.1 student, and Wiem Bejaoui, a B1.1 student, served as the charismatic hosts, guiding the audience through a captivating program.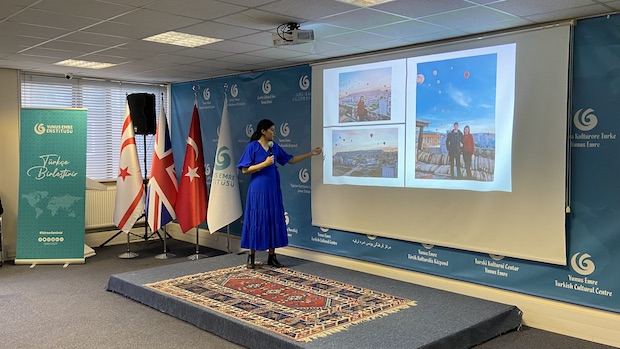 The performances were diverse and captivating, spanning various art forms. Bruno Smits, a student from Cambridge University Ottoman Turkish course, shared his journey of learning Turkish through Turkish songs, providing a unique perspective on language acquisition.Sam Jenkins, a C1.2 student, delighted the audience with behind-the-scenes stories as the host of TRT's "Şehrime Hoş Geldiniz Londra" program. His anecdotes offered a glimpse into the richness of Turkish culture and the vibrant city of London.The evening featured mesmerizing poetry recitations, with Rakan Otaibi, an A2.2 student, moving the audience with his heartfelt rendition of Yunus Emre's poem "Bana Seni Gerek Seni" Natalie Wyngard, a B1.2 student, brought joy and nostalgia by reading beloved nursery rhymes, evoking fond childhood memories.
The cultural performances continued with Hosna, a talented student from Copthall School, reciting the poem "Selam Ver" with grace and poise. A group of A1.2 students, including Ben Archer, Donata Rogozik, Zeinab Hendawi, and Peter Nimmo, united their voices to deliver an uplifting performance of the "Gençlik Marşı," capturing the spirit and energy of the younger generation.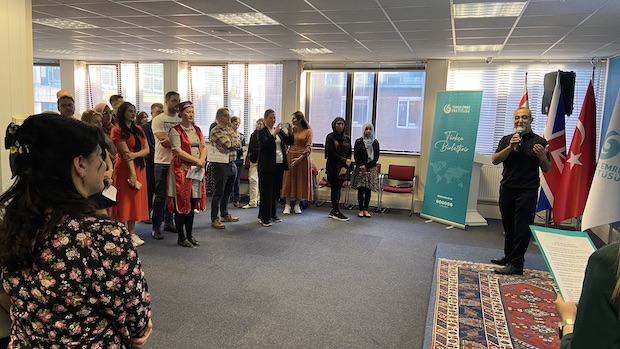 Kanella Poulakou, a B2.2 student, captivated the audience with an essay titled "Kültürün İsimsiz Kahramanları: Öğretmenle" (Unsung Heroes of Culture: Teachers.) Her heartfelt words shed light on the significant role that educators play in preserving and transmitting culture.Musical talents were also showcased, with Oscar Selim Jannti, a B1.2 student, enchanting the crowd with his guitar skills and soulful singing. Wiem Bejaoui, a B1.1 student, transported the audience to her recent trip to Türkiye through a captivating presentation, sharing her experiences and memories.The night took an exciting turn with Cristina Magdalena Ionita, a B1.2 student, presenting the thrilling competition show "Yakışır." Participants showcased their skills, vying for the chance to win an enticing prize and creating an atmosphere of friendly competition.
Bringing everyone together, students from various levels, including A2.1, B1.1, and A1.1, joined forces to sing the uplifting songs "Hayat Bayram Olsa" and "Sev Kardeşim," creating a harmony.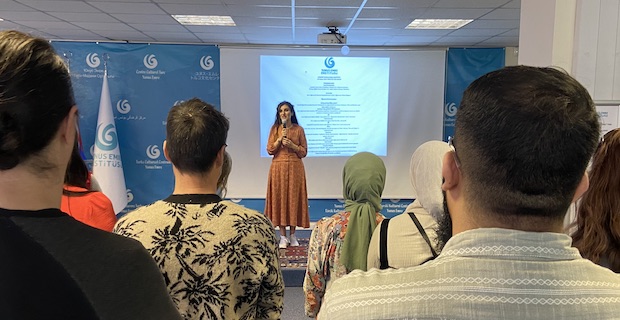 The evening concluded with souvenir photos, treats, and a spirited Halay dance, as all the students and teachers came together to celebrate Turkish culture and their shared language learning journey.For those inspired by the Turkish Culture Night, Yunus Emre Institute London invites interested individuals to sign up for their upcoming summer intensive Turkish courses, starting in the week commencing June 14th! You can now find further details on our website https://yeelondon.org.uk/!