GOING INSIDE – THE BACKGROUND: The four songs on the E.P. "Inside" paint an emotion-portrait of Olcay's inner life during the pandemic. Our urge for human connection fights with loneliness and our heart searches for love, the reason for our existence. We question ourselves, thinking things should be different, and look at the corrupt world which we will leave to our children and their uncertain futures. It's a time to desire change, to find the simple core of our existence during difficult times.
As it was for musicians the world over, the global pandemic put a sharp brake on Olcay Bayir's musical plans and at the same time left a big question mark hanging over her identity.  Having released a well-received second album, she was about to go on tour with her band. As the pandemic became more real and frightening but with mixed messages from government, the musicians held out, hoping that they might still make it. But two days before it was to start, the Arts Council England funded tour was cancelled.
Musicians everywhere were thinking, "when can we perform again?  Maybe in the summer, maybe autumn?" Shows were rescheduled to December, then to April, then again to July 2021. The answer to the question started to feel like: "maybe never, maybe my musical path is over."  Fighting disappointment, frustration and even anger, thousands in the creative industries have thought the same, coming to a calm acceptance that, even if some blame for ruined careers lies with governments, the global crisis needs us to find our inner peace and strength.
For Olcay (pronounced "OL-dj-eye") music has always been collaboration. Blessed with a stand-out, velvet voice, and songs that speak even across language barriers, she has always worked with talented musicians to arrange and hone her roughly-hewn inspirations into perfectly-crafted musical gems.  Not being able to meet and share ideas meant these exchanges would also change.
She found a lifeline in the form of funding from Help Musicians UK, offered to a limited number of artists. Submitting her application in the last hour before the deadline, Olcay was one of only 41 musicians, alongside artists like jazz trumpeter Byron Wallen and RnB cellist Ayanna Witter-Johnson, to be supported through the Help Musicians Do It Differently fund – designed to support musicians adapting to the new reality and trying more independent ways of working. As important as the financial support, was the belief and moral encouragement offered by a leading music organization.
Says Olcay, "Lockdown was imposed just two days before we were to go on tour. Like all artists, we had the whole basis of our existence pulled from under us. The world stopped and we had to find ourselves.
Many musicians started to record or stream from home, but this was not something that I was used to. The funding from Help Musicians is invaluable.  It has helped me learn how to produce and release music myself; the award was not only financial but included some really useful advice sessions from music industry professionals. It is not easy to work with other musicians remotely. There are many problems, including having different ideas about the music. When you are together in a studio you can discuss and exchange ideas more easily. But I'm really happy with the final result. I have four tracks that are all very different, because I worked with four different producers. It wasn't planned, but I feel somehow they hang together. For me the message of these tracks together is one of finding inner strength even as we face loneliness, feel vulnerable and rethink the purpose and meaning of our lives when what we thought was normality is suddenly withdrawn from us as a musician, as many are experiencing.
"Working remotely was a new experience for me. It didn't always go smoothly, as sometimes there are conflicting musical approaches. Many people have been recording at home these days, but it's not as simple as it is sometimes made out to be. In one case I had to start a nearly finished song over from scratch when a difference of opinion could not be resolved. And recording at home is not without costs. The funding from Help Musicians really helped to make this possible, but as importantly it's encouraging when an organization has this kind of belief in you.
"As singer and songwriter I had to learn to let go of my songs a little. These four tracks are as much the artistic work of each producer as they are of me. I'm happy if my original ideas or interpretation inspired others to creativity and to bring ideas that I would not have thought of. The producers and also session musicians I worked with are hugely talented. But what I really valued is their service to each song, to bring out the mood and meaning, each with their own musical stamp. In this process one of the most important things is being open to comment, exchange of ideas and suggestions.  The amount of work involved by these four producers was really huge, so you can say that even with support from Help Musicians, this E.P. was also funded by their kind-hearted willingness and belief."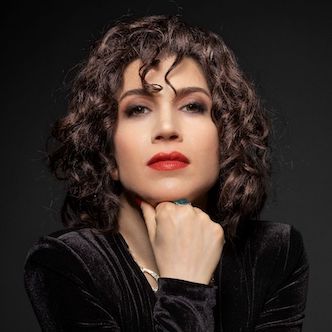 OLCAY BAYIR - BIOGRAPHY
Born into a Kurdish family in Gaziantep in Turkey's south not far from the Syrian border, Olcay's soul is rooted in the deeply emotional music of Anatolia and influenced by its various traditions, including the rich music of the Alevi community. From an early age Olcay sang and wrote songs. Around her she experienced also the other cultures that had coexisted for centuries in Anatolia; her great-grandmother had Armenian roots. As a teenager, she moved to London with her family, starting anew. With little understanding of English, music was a lifeline. She went on to study operatic singing at university, but realized that classical music was not her path. Instead, she brought the power of a trained voice to the music of her homeland in her first album Neva – Harmony (Riverboat, World Music Network, 2014), sung in multiple languages. Her second album Ruya – Dream (or ARC Music, 2019 and Kalan Muzik in Turkey) featured her own songs. Both albums were well received in industry press. Nominated for best newcomer in the Songlines Music Awards 2015 for her debut album Neva, Olcay has been described as "one of the finest, most intriguing singers on the British world music scene, with a style that reflects her complex history" (The Guardian)