The global initiative led by Natalia Vodianova and UNFPA, the United Nations sexual and reproductive health agency, saw a plethora of thought leaders, change makers and policy shapers gather with the goal of galvanizing further progress on women's health and gender equality.
ELBI co-founder, philanthropist, campaigner & model Natalia Vodianova announced an exciting new partnership with Flo Health, which would see significant funds raised for UNFPA to help educate women and girls in India.
Dr Nagham Nawzat Hasan,a Yezidi activist and gynaecologist from Iraq, and Adwoa Aboah, British Model and Activist, are among the on-ground changemakers from across the world honoured at glittering award ceremony.
26thOctober, Antalya: An ambitious new global initiative aimed at ending the stigma and taboos surrounding women's health took place in Antalya, Turkey on the 25thand 26thof October. A crucial podium for discussion and innovation, the 2018"Let's Talk!" was hosted at theMaxx Royal Resorts Kemer.
The two-day Davos style forum began with a keynote address by Natalia Vodianova, the supermodel activist, campaigner and founder of ELBI, to kick-start the event's proceedings and usher in the agenda of the Let's Talk! conversation. The event saw a number of key interactive discussions take place amongst panellists, special guests and key speakers from Fashion to Sport, Private Sector to Public Policy and Government, who announced their personal pledges for helping continue the Let's Talk! movement, as they sought to delve into a range of critical issues including menstrual, reproductive and mental health.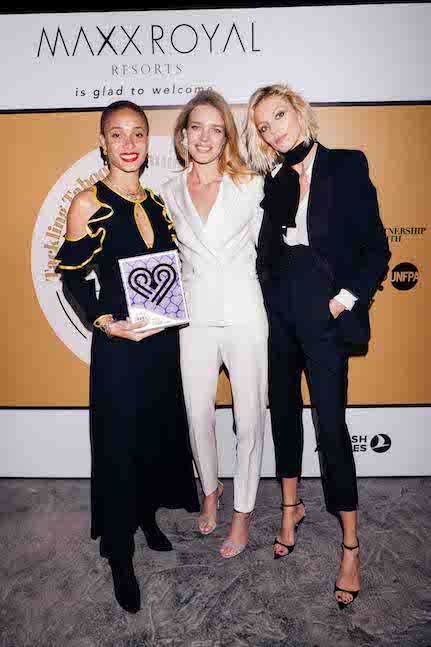 The panel discussions were followed by an awards ceremony to celebrate the achievements of individuals at the forefront of tackling the taboos, with guest of honour Her Excellency Emine Erdogan, the First Lady of Turkey. Awardees included Dr Nagham Nawat Hasan,a Yezidi activist and gynaecologist from Iraq, Adwoa Aboah, British Model and Activist, Anja Rubik, Model and Founder of SexEd PL and Dilek Sabanci on behalf of Special Olympics Turkey.
Hosted by Natalia Vodianova, the initiative was powered by herdigital charitable giving platform ELBI, and was held in partnership with UNFPA, the UN's sexual and reproductive health agency,with the support of partners including Turkish Airlines, Maxx Royal ResortsandtheAssociation of Turkish Travel Agencies (TURSAB).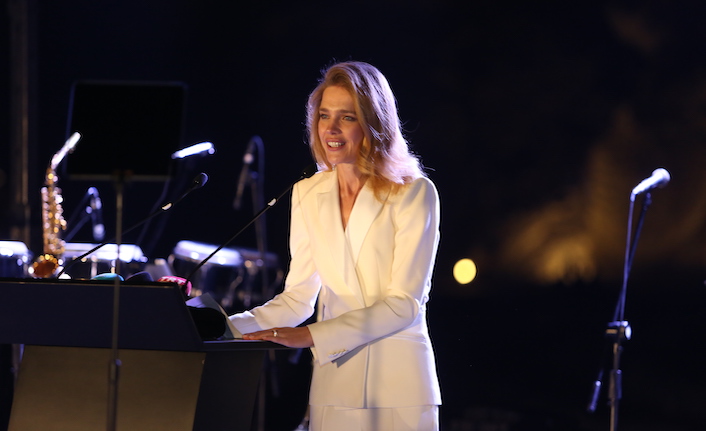 Opening the day's event, Natalia Vodianova said: "This is an issue which needs to be addressed, not just from a political point of view, but from a societal standpoint. No matter which culture you are look at, there are issues surrounding the attitudes towards women's health. In India, 45% drop out of school in sixth grade due to their periods, and the attitudes are also damaging in Europe.
I want no young girl around the world to feel ashamed of something so natural and I believe that the beginning of discussion can be the crucial vehicle for destroying the taboos. Every word has the power to be an empowering tool."
Alanna Armitage, UNFPA's Regional Director for Eastern Europe and Central Asiasaid: "We are extremely proud to partner with Natalia Vodianova on this first global Let's Talk! event. It has been a resounding success: we heard incredible stories of bravery and creativity that serve as inspiration for others. We have made connections that will spark new initiatives for change. And we are grateful for the many concrete pledges for follow-up action participants made. I'm delighted that Let's Talk! has become such an important component of the growing global movement to dismantle taboos and stigma around women's health and enable women and girls to shape their lives free from discrimination, fear and shame.
****
930am – 530pm Friday, 26thOctober 2018 Let's Talk! Panel Discussions
Panel One – The Role of Government & Civil Society in Changing how we View Stigma
The day of panels began shortly after Natalia's opening remarks, starting with a discussion on the role of government and civil society in changing the way we view stigmas of women's health.
Hosted by Canadian model, CEO of WomenOne and advisor to Canadian Prime Minister Justin Trudeau, Dayle Haddon, the panel brought together a group of health specialists, activists and government officials. Activist and model Anja Rubik, Health Science Professor Dr. Zeynep Simsek, Assistant Minister for Health in Serbia Dr Danijela Urosevic, Director Institute of Women's Studies, Arab World, Lebanese American University, Lina Abirafeh, world renowned surgeon and founder of the Endo Foundation Dr. Tamer Sekin, Executive Director of the association ROMA S.O.S, Nesime Salioska andUNFPA India's Dr. Nilesh Deshpandewere present on the panel.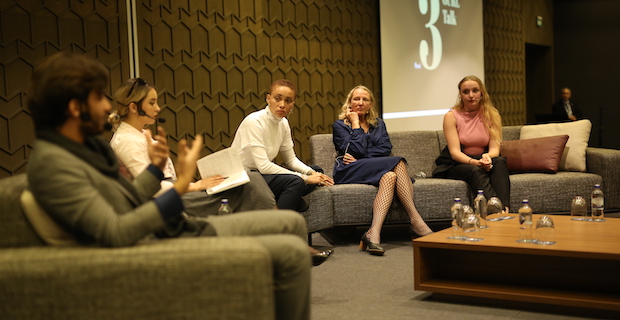 Dr Nilesh Deshpande shared how he would progress the Let's Talk! cause. He said, "I vow to set up many self-sustaining units to promote public health and raise awareness of women's health issues across India. It is my duty to help girls and educate them in menstrual health by providing vital access to products."
Anja Rubik talked about her fight against taboo in her native Poland with her #SEXEDPL campaign. She said, "I was once shunned by the church and the government for my efforts to promote awareness surrounding women's health. Now I am giving 1,000 of my best selling books to teachers in Poland to engage with how schools are educating children on sexual education."
Panel Two – We Need to Talk! Shifting the Narrative on Stigma and Taboos via Media and the Private Sector
The second panel of the day was hosted by Africa50 Infrastructure Fund'sCarole Wainaina– who welcomed Editor-in Chief of Vogue Turkey, Seda Domanic; Sevda Alkan of Sabanci University Corporate Governance Forum, Dean of Fashion at Parson's School of Design New York, Burak Cakmak; Senior Editor at The Economist Anne McElvoy; Head of Company Communications at P&G Turkey Ayca Turgay; Chief of Private Sector Partnership Branch for UNFPA New York Mariarosa Cutillo and Chief Science Officer for Flo Health Inc. Anna Klepchukova.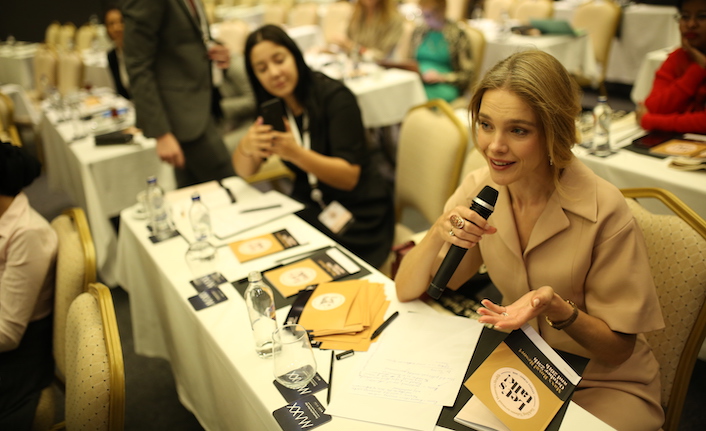 Moderator Carole Wainaina highlighted the need to "make the uncomfortable comfortable", stating her belief that "if stories have shaped taboos they can reshape them too."
Mariaosa Cutillo discussed the need to stop taboos from holding back young girls. She said, "We need to invest in the 10 year old girl. It is the 10 year old girl who will save the world."
Other panelists shared their own personal stories of meeting stigma and taboo. Sevda Alkan spoke of meeting women in rural villages around Europe who did not know enough about their rights, whilst Anna Klepchukova highlighted the fact that as a girl, friends would come to her for knowledge on sexuality education because they wouldn't get this information from their parents or teachers.
P&G's Ayca Turgay also drew attention to the power of media and messages, spotlighting a recent P&G campaign. She said, "Before the campaign, only 19% of young women and girls associated being a girl with positive attitudes. After our campaign that rose to 76%."
Panel Three – GURLS Talk
Women's rights activist and founder of GURLS Talk, Adwoa Aboah brought her highly influential and respected forum 'GURLS Talk' to Antalya, where she looked to assess the pressures and mental struggles for young women of today's society. During a highly interactive and insightful panel, Iraqi Social activist and youth advocate Anmar Khalid, women's rights activist Jeta Berisha from Kosovo (UNSCR 1244), Dr Kathryn Abeland her daughter, expert through experience, Auden Edwardes discussed the stigma associated with girls' health, including mental health.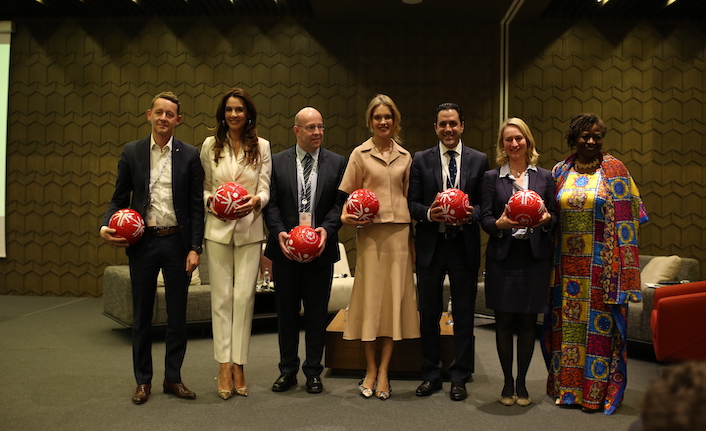 Adwoa Aboah stressed the importance of talking, saying that "We need to educate our children, our society and each other by sharing stories and supporting each other".
Anmar Khalid also highlighted how the right environment is key for breaking down stigma. He said, "We need to create an environment and community space, where it is encouraged to talk about sexual and mental health, and fight for it. In Iraq, many have often felt fear of the consequences to discussing such taboos."
Jeta Berisha highlighted the high cost of breaking taboos however, saying that "I defied my family as my first major movement. I lost a lot of people in my life but it is for a greater good. I knew I had to. I was too passionate."
Professor Kathryn Abel also commented on how these issues are subjected to stigma from the medical profession. She said,"The combination with sexual and mental health is often avoided but most relevant. The lack of sympathy and understanding within medicine is heavily contributing to the disempowerment of women."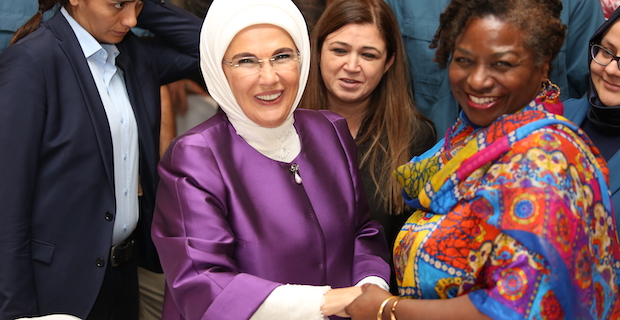 Panel Four – It's Not Fair Play. The Role of Sport in Reducing Inequality and Discrimination on and off the Pitch
The final panel of the day saw figures in the world of sport assess the role of sport in reducing inequality and discrimination on and off the pitch as part of their commitment to tackling the worldwide taboos of women's and mental health. Hosted by David Evangelista, President of Special Olympics Europe Eurasia,the panel also featured Yuri Sviridov, Marketing & Communications Department Director, FC Shakhtar Donetsk,Mario Leo of Result Sports Company, Friederike Karcher, Head of Division, German Federal Ministry for Economic Cooperation and Development andOzlem Kaymaz, Sportswoman and Miss Turkey 1992.
David Evangelista opened the panel, highlighting how "Every sport is an equalizer."
Friederike Karcher agreed, discussing the versatility of sport in tackling a range of issues. She said, "There are many topics that you can play very well through sport."
Yuri Sviridov discussed how FC Shakhtar Donetsk are helping to break down taboos in sport. He revealed the surprising figures that only 5000 girls play football in Ukraine compared to 1million in the UK and 9million in the USA. He said,"We take the opportunity to promote gender equality and girls in football"and committed to creating a Shakhtar Donetsk women's team.
Mario Leo also cautioned against bringing expertise into countries without giving them the proper tools to continue improvement and development. He said, "Power needs to be unlocked from within."
Ozlem Kaymaz signified the power of sport, stating "Sport made me who I am today."Praising its universal language, she said "Sport is the only field in which you can get out there and practice what has been discussed at Let's Talk! today."
Discussing the event, Alanna Armitage, UNFPA's Regional Director for Eastern Europe and Central Asia, said: "We've highlighted that we live in difficult times. We've agreed that government is essential for tackling stigma in society. We've seen that media has created stigmas but is also driving progress in breaking them down. We've also seen that we need to do more to protect those who protect others from stigma."Thanking host Natalia Vodianova, she also pledged UNFPA's commitment to continue to support the Let's Talk! campaign.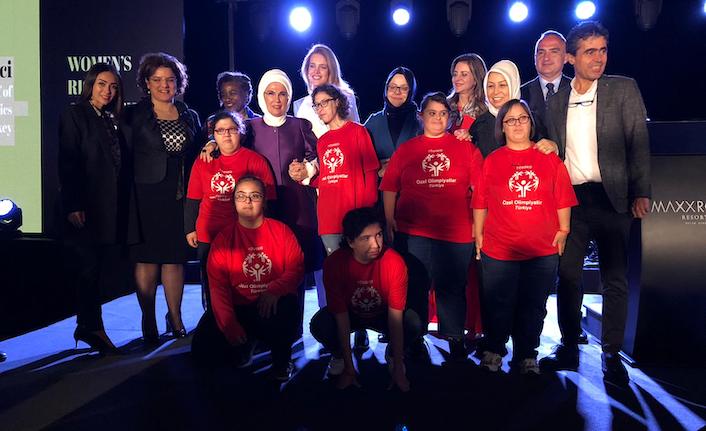 Natalia Vodianova closed the day panels with the announcement of a new partnership between Let's Talk! and Flo Health, which would give UNFPA access to funds raised from the 40 million Flo community to help educate women and girls in India about their health and access to menstrual hygiene products.
The evening concluded with a glittering awards ceremony in the presence of Her Excellency Emine Erdogan, the First Lady of Turkey, to celebrate and commemorate the inspirational activists and campaigners from across the world working towards women's health and rights across the world.
Speaking about her commitment to her work in tackling women's rights issues including early and forced marriages, Her Excellency Emine Erdogan, the First Lady of Turkey said: "Issues such as early marriage and female genital mutilation are harming the dignity of humanity. The health of women cannot be separated from human rights."
Gracing the occasion was also Natalia Kanem, UNFPA's Executive Director. She said: "How proud we are to partner with Natalia on the Let's Talk! campaign, which contributes to the culture shift towards full gender equality that we need to bring it all together. Thank you Natalia for using your phenomenal influence to make it all happen!"
On collecting her award, Adwoa Aboah, activist, model and founder of GURLS Talk said: "It's vital that we keep coming together to have these conversations."