Nazrin Rashidova, the Azerbaijan-born, London-based violin virtuoso, soloist, recitalist, chamber musician and orchestral director, made her solo debut at the age of three in Baku and was awarded a gold medal by the Cairo Opera House for an exceptional violin recital three years later. In 2008, she went on to establish FeMusa, Britain's first all-female chamber orchestra in 60 years.
She was accepted into the Royal Academy of Music at the age of 15, where she had the privilege to play on a rare collection of violins by Antonio Stradivari. She studied with Professors Erich Gruenberg, Felix Andrievsky and Lydia Mordkovitch. 
A prizewinner in several international competitions, she has broadcast internationally, played for royalty and other dignitaries, and also performed in the US, Japan, Europe and the Middle-East. 
Rashidova's two recordings for Naxos, comprising works for violin and piano by Godowsky [8.573058] and Moszkowski [8.573410], were acclaimed byThe StradandGramophonemagazines. Her fourth album,Carnival, was released in 2016 on First Hand Records. Comprising popular classical works newly arranged for the violin and guitar, it was acclaimed byThe Strad, FanfareandClassical Guitarmagazines. 
Nazrin is pursuing a PhD at the Royal Academy of Music, where her research explores Émile Sauret and the making of a world premiere recording series of his 24 Études-Caprices. The first volume [8.573704] was released in June 2017 and featured on BBC Radio 3. The second volume was recorded on the c.1685 'Sauret' Stradivari violin, and was released in March 2018.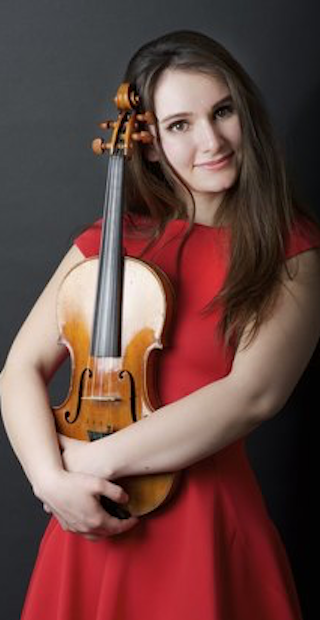 Now, Nazrin will grace the stage of the long-established Amersham Festival of Music. Tickets may be booked via the links:
18 April, 8.00pm
Lecture: A performer's approach to Mendelssohn's Violin Concerto
Information: https://www.amershamfestival.org/1842019---nazrin-rashidova 
26 April, 8.00pm
Mendelssohn's Violin Concerto with Iain Ledingham and the Amersham Festival Chamber Orchestra
Information: https://www.amershamfestival.org/2642019---afco
Tickets for both evenings: https://www.ticketsource.co.uk/amershamfestivalofmusic