Spice lovers can now nominate their favourite restaurants and takeaways in this year's prestigious Asian Curry Awards, sponsored by Just Eat. Voters will be automatically entered in to a free prize draw, for a chance to win one of six pairs of VIP tickets each worth £600, to the spectacular gala dinner and awards ceremony, with live entertainment, in London' West End in November.
With two curry restaurants closing each week, against a backdrop of rising costs, skills shortages and Brexit uncertainty – just making the shortlist can give a vital boost to a curry house's prospects.
It is not unknown for award winners to double their profits in the year following a win, according to Yawar Khan chairman of the Asian Catering Federation (ACF), which organises the annual awards. This year will be the ninth.
"Having successfully lobbied government for the removal of the infamous 'Takeaway Clause' on the official 'Shortage Occupation List', which prevented top restaurants with a takeout side to their business, from recruiting the best chefs from around the world, the future of the sector now looks much brighter," said Khan, who urges restaurateurs to up their game in terms of culinary standards, customer service and marketing, in order to "thrive and survive" in the tough economic environment.
Khan also welcomed the government's decision to extend overseas students' right to remain for up to two years to find a job – up from 4 months – after they finish their studies. He hopes many of them will enter the hospitality sector when they graduate.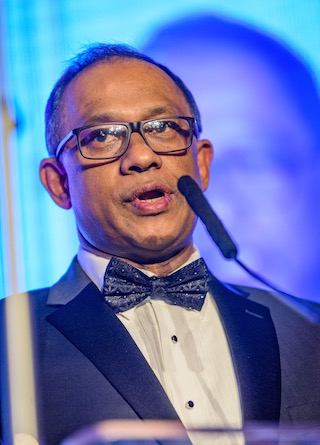 "The hospitality industry offers great prospects for intelligent, hardworking ambitious graduates – with opportunities for rapid career advancement," said Khan.
Bangladeshi, Burmese, Chinese, Filipino, Indian, Indonesian, Japanese, Korean, Malaysian, Middle Eastern, Pakistani, Filipino, Singaporean, Sri Lankan, Thai, Turkish and Vietnamese restaurants and takeaways, are eligible to enter.
Finalists will be visited by a panel of judges led by Pat Chapman editor of the Cobra Good Curry Guide.
The Asian Curry Awards 2019 take place on Sunday 17th November at the Grosvenor House Hotel in London. Curry lovers can vote for their favourite Asian restaurants and takeaways at www.asiancurryawards.com.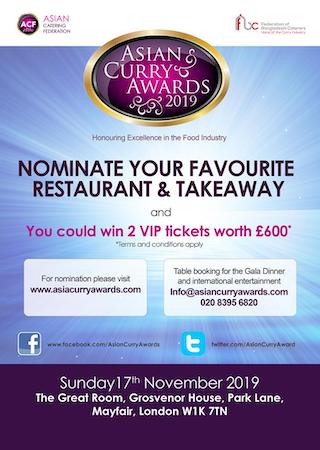 The Asian Curry Awards are organised by the not-for-profit organisation Asian Catering Federation, which represents the nation's 30,000 Asian and Oriental restaurants.
The ACF strives to deliver real returns for its members within the Asian catering industry, helping them to find financial success, achieve excellence, and build customer loyalty. It aims to unite Asian caterers on one platform; campaign for greater recognition; achieve members' common goals through partnerships with government and other organisations; provide help with training and create rewarding careers in Asian catering.