The inflation rate, measuring price changes over time, fell to 6.8% in the year to July, down from 7.9% in June.Lower electricity and gas prices drove the drop, but price rises in other areas have led to expectations that interest rates will be raised further.The cost of eating out has risen, along with alcohol and tobacco prices.Flight prices continued to rise, jumping almost 30% compared to July last year, according to the official figures, released by the Office for National Statistics (ONS).Inflation is much lower than it was at its peak of 11.1% in October, but it still remains high compared to historical rates and much higher than the Bank of England's 2% target.When the rate of inflation falls, it does not mean that prices are coming down, but that they are rising less quickly.Wages have been failing to keep up with rising prices for some time, but there are potential signs of change after figures on Tuesday revealed wages rose 7.8% annually between April and June.Alongside reductions in energy bills, price rises for staple food items like milk, butter, bread, eggs, cereal and fish eased. But overall, food still costs almost 15% more than one year ago.

Matthew Corder, deputy director of prices at the ONS, said falling gas and electricity prices drove down inflation last month when a change to the energy price cap, which limits how much suppliers can charge households for what they use, came into force.
While easing energy bills and food costs will be welcome for households, there "will be little cause for celebration" at the Bank of England, according to Danni Hewson, head of financial analysis at AJ Bell.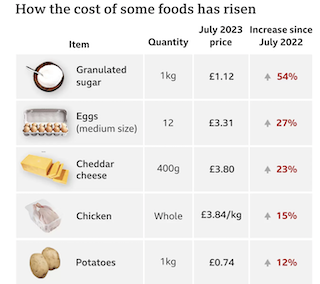 "Inflation is still significantly above that 2% target and even if it is cooling off faster than a sunburnt Brit diving into a hotel pool, prices are not falling, they're just not rising as fast as they have been," she said.

"Wage increases and price pressures have forced up service costs and that's weaving its own nasty spell on core inflation," she added.
Core inflation, which strips out the price of energy, food, alcohol and tobacco, remained unchanged in July at 6.9%. The rate is higher than in Germany, France, and the US and it is a figure that is closely watched by the Bank of England, which sets interest rates.
With inflation still more than three times the Bank's 2% target, many experts expect it will raise interest rates again in September in an attempt to slow price rises.
Inflation chart July 2023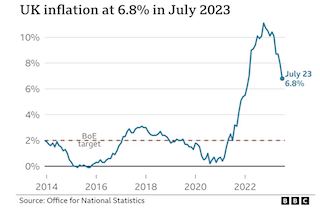 The Bank has steadily increased interest rates to 5.25%, the highest level in 15 years, meaning mortgage costs have jumped, but savings rates have also increased. Higher rates can also lead to high credit card and loan repayments.It hopes that if it makes borrowing more expensive, people will spend less, demand will slow, and prices will not rise as quickly.
Ruth Gregory, deputy chief UK economist at Capital Economics, said with wage growth and services inflation both stronger than the Bank had expected, its decision makers would look to raise rates from 5.25% to 5.5% in September.In the year to July, services inflation, which includes data on prices for services in venues like bars, hairdressers and restaurants was back up to 7.4%, the joint highest level since 1992.The ONS said price increases for hotels drove services inflation higher. By Michael Race/Business reporter, BBC News