The airline carried 32.7 million passengers compared with 30.4 million for the same period a year earlier as revenue rose 9% to €1.53bn.
But the airline said "excess winter capacity in Europe" cut its profit.
Ryanair said chairman David Bonderman will leave in the summer of 2020.
While the company blamed too many airlines chasing too few passengers, costs may be the real problem, industry experts said.
The company's fuel bill leapt 32% and its staff costs rose 31%. In total, Ryanair's operating costs rose 20% to €1.54bn.
"The heart of the big drop in their profitability is that their fuel costs are very high this year," HSBC transport analyst Andrew Lobbenberg told the Today programme.
Role shift
Chief Executive Michael O'Leary - who suggested last year that he could step down in the next five years - has agreed a new five-year contract, the firm said. 
But his role will change slightly, in that Mr O'Leary will become group CEO and will manage chief executives for each airline brand: Ryanair, Laudamotion, Ryanair Sun and Ryanair UK. 
In September, at the firm's annual meeting, almost 30% of shareholders voted against the re-election of Mr Bonderman as chairman after a summer of flight cancellations. He has spent 23 years in the job.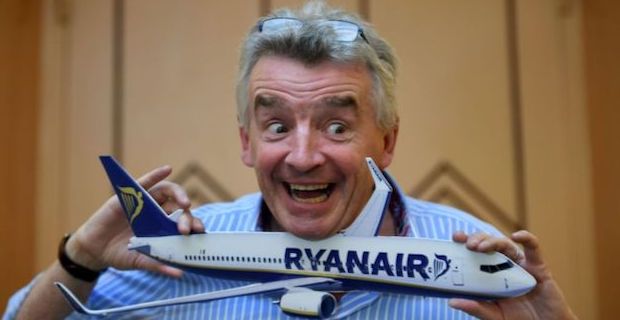 Who is Michael O'Leary?
Michael O'Leary, the outspoken boss of low-cost airline Ryanair, has been no stranger to controversy.
Mr O'Leary, who has agreed to stay on for another five years, is well-known for not being shy about expressing his views, famously excoriating his staff, his customers, competitors, regulators, governments, and groups such as environmentalists and scientists.
He once said of passengers looking for a refund: "We don't want to hear your sob stories. What part of 'no refund' don't you understand?" and has said he doesn't believe in man-made climate change.
The new company structure is similar to that of IAG, the company that owns British Airways.
Mr O'Leary will oversee costs, aircraft purchases and buying rival airlines. It could be good for industrial relations after a series of strikes over the summer, said transport analyst Mr Lobbenberg.
"It puts more distance between him and the unions," he said.
Mr O'Leary, who has been chief executive for 24 years, told September's annual meeting he had concerns about committing to a new five-year contract telling shareholders: "I'm not sure Mrs O'Leary would be happy."
He said the airline's loss was "disappointing", but "we take comfort that this was entirely due to weaker than expected air fares".
While higher oil prices and lower fares reduced the firm's profitability, they were creating even bigger problems for rivals, Ryanair pointed out.
Firms like Wow, Flybe and Germania are seeking buyers.
BBC NEWS