If you experienced the rumbling sounds of a typical British summer, you may have also seen the spark of sunshine that Rajah spices had created all over social media with the launch of their new Masala Blend range. With vibrant colours and authentic flavours, Rajah Masala Blends are yet another initiative to bring to you the 'taste of home'.
The mix of intense flavours saw many eminent culinary experts and media gathering together on a typical rainy Wednesday to relish delicious, home-inspired meals. Radikal Kitchen and Zaleha Olpin, two outstanding food bloggers, cooked up fresh, mouth-watering dishes using the eight versatile Rajah Masala Blends. Each bespoke starter, main and dessert had their own story, flavour and blend of pure, authentic spices that inspired and awed the august food enthusiasts.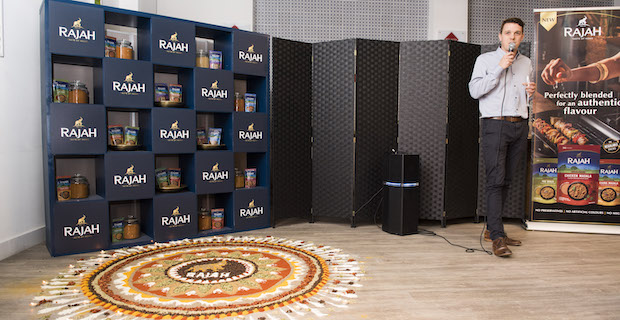 While the guests savoured each bite of the delicacies, they were in for another surprise. In line with the expertly sourced and blended masala blends, professional Rangoli artist, Rohit XXX created a mesmerising Rangoli using only Rajah Masala Blends, a mark of his expert craftsmanship.
Curious at how Rajah Spices managed to produce such delicious blends? Jonathan Somers, Senior Brand Manager from Rajah Spices was delighted to speak on behalf to educate the 30 or more attendees who were eager to learn more about the brand and the products. He expressed the high quality of the blends being made from pure spices with no preservatives and additives, enabling people to recreate a taste of home. Each of the eight versatile and resealable packets are carefully blended by expert chefs in India and Pakistan giving authentic tastes and aromatic flavours in each meal. Jonathan took pride in telling the brand's commitment to offering quality to their customers and ease of use with their resealable packets keeping the masalas fresh for longer before sharing an exclusive final cut of the Rajah Masala Blends television advertisement.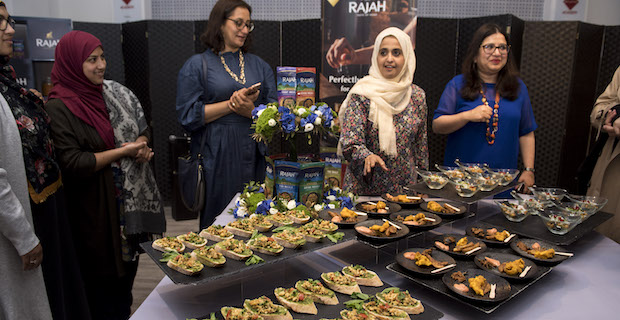 As the exquisite scent of culinary delights filled the intimate venue, influencers, media and press filled their plates with unique tastes. Everyone were offered a delicious Rajah Chaat Masala flavoured lassi to hydrate themselves upon arrival which went down as a treat, as glasses were continuously being filled to the rim. 14 unique and bespoke bite sized dishes were served throughout the evening. Radikal Kitchen assembled simple and modern Mumbai Chicken Rolls using the Chicken Masala Blends, intensifying the flavours of the ginger, garlic and tomatoes cuddled in freshly made wraps. Before plates were finished, there was another aroma filling the air with Zaleha's traditional and wholesome, Malaysian Dum Biriyani using the Rajah Biriyani Masala Blend. The colour, fragrance and seasoning added essence to the base of her meal which went down well with everyone who tasted it. Zaleha also experimented with the 100% vegetarian, Chicken Masala Blend including it in her Mee Goreng Mamak made with tofu, noodles and a squeeze of lime to fresh taste buds.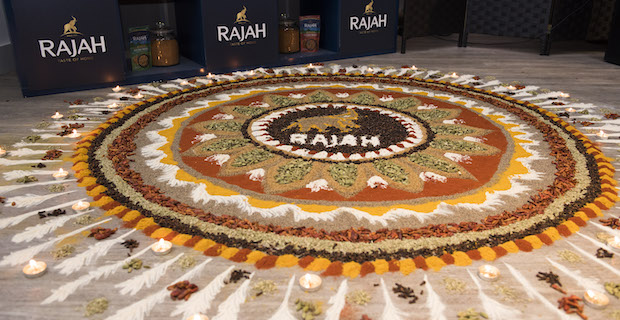 While all the dishes were done and plates were clean, Rajah Spices had one more delight up its sleeve, or should we say, platter. Guests including Salma Recipes, Ayesha from My Big Fat Halal Blogand Dr Chintal Patel from Dr Chintals Kitchen, were thrilled to receive a beautifully decorated Rajah Spices Masala Blends hamper. Each hamper contained; a Denby serving platter, Rajah branded ladle, recipe cards with a range of the Rajah Masala Blends for guests to try in the comfort of their own home. This was Rajah's way of ensuring that the authentic taste of home reaches the homes of those present at the event.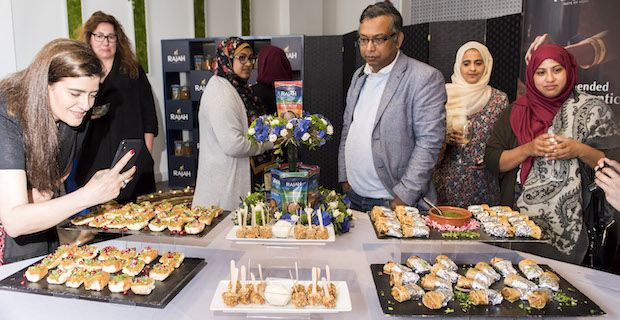 Why not get the taste of home to your home? Experiment with each of the eight versatile blends including the; Rajah Fish Masala, Rajah Chana Masala, Rajah Chicken Masala, Rajah Sambar Masala, Rajah Chat Masala, Rajah Achari Gosht Masala, Rajah Pav Masala and the traditional Rajah Biriyani Masala. And the best part is that all masala blends are pure, 100% vegetarian and versatile. This means that you can use each of the blends in any recipe that you wish to add them to! The range of Rajah Masala Blends can be found in your local store and if you are looking for daily inspiration for your cooking then do follow @rajahspices, @radikalkitchen and @zalehaolpin on Instagram to receive a fusion of recipes.