Pegasus Airlines has announced its financial results for 2018. According to data available on the Public Disclosure Platform (KAP), Pegasus increased its number of guests by 8% in 2018 to 30 million, while expanding its turnover by 55% to TRY8.3billion. Pegasus's annual net profit for 2018 was TRY507million.
Pegasus provided its services to a total of 30 million guests over 2018, 17.7 million on domestic and 12.3 million on international routes. Pegasus increased its number of guests on domestic routes by 5% compared to the previous year, while international guests rose by 12%.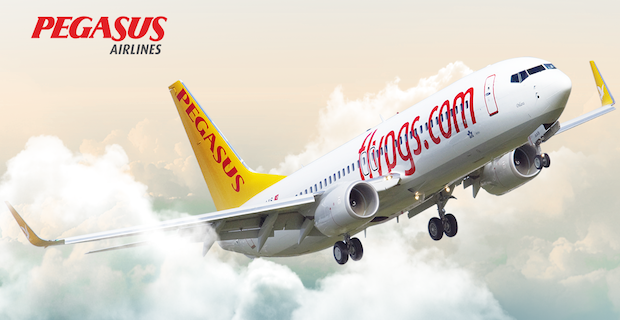 Mehmet T. Nane: "2019 is another potential year of growth for us"
Evaluating their results for 2018, Pegasus Airlines' CEO Mehmet T. Nane commented: "2018 was a record year for Pegasus Airlines. Rising numbers of tourists helped us to increase our guests on international routes by 12%. Meanwhile, domestic guests grew by 5%. We expanded our revenue 1.5 times, and despite rising fuel costs we managed to maintain our profitability. In short, we experienced another year in which we improved every key metric."
Outlining his views on 2019, Mehmet T. Nane said; "2019 seems to be a continuation of 2018, which was a tough year. Tourism made a major contribution in 2018 and we expect this to continue in 2019. In parallel with this, we believe that the number of passengers travelling with the airline will increase. We make our plans based on this conjecture. We strongly believe that the aviation sector is an important one in terms of benefiting from stormy waters, both for our country and our company. For this reason, 2019 is another potential year of growth for us."
Mehmet T. Nane stated that Pegasus will continue at full speed with their investments in 2019, saying "We took delivery of 10 aircraft in 2018. We will continue to add new aircraft to our fleet in 2019. In this regard, we expect to take delivery of 11 new aircraft from Airbus this year. We will receive the first of our 321neos this year. Customer satisfaction is one of our top criteria for success and it is an issue that we never compromise on. Digitalisation is a key component in ensuring that our customers choose us, by improving their travel experience."
Digital transformation goes full throttle
Stating that they will continue with their rapid digitalisation investments, Mehmet T. Nane continued: "Digitalisation has been a key focal point for Pegasus in recent years. Our aim with the digital transformation that we began in 2018 is to create digital solutions that simplify and streamline the customer's experience at every stage of their journey, starting with the purchase of their ticket. Our priority is those areas that will have the most positive impact on our passengers' journeys... In this context, along with our website and mobile applications, we are digitalising the airport and in-flight travel experience.
Highlighting the importance of digitalising and streamlining airport processes from the point of view of customer experience, Mehmet T. Nane explained: "The Express Baggage service that we developed to allow our guests to deliver their baggage easily and rapidly during express, practical and digital journeys, and the Travel Assistance Programme that we developed to inform and guide our guests throughout their journeys and make the entire process easier, which we have put it into practice at Sabiha Gökçen Airport, are perfect examples of this. We aim to implement these and similar applications at other airports and to further utilise digital contact points to guide customers in the right direction. As Turkey's digital airline, we will use technology as much as possible in 2019 and continue to develop projects aimed at adding value to the customer experience."