The event at Dugdale Arts Centre was attended by Mayor of Enfield Suna Hurman, Enfield Council's Cabinet Member for Culture, Open Spaces and Local Economy, Cllr Chinelo Anyanwu, and Commonwealth champion Tony Jarrett who was born in the borough. The award ceremony, hosted by the Council's Active Enfield team, was an opportunity to celebrate and thank the young athletes who came away with 20 gold medals, nine silver, and 30 bronze in the 2022/23 Youth Games. It is hoped that more young people will come forward for this season of sport  having been inspired by last year's medal winners.
Cllr Anyanwu said: "It was a real privilege to meet the young people who competed at the London Youth Games and to listen to their remarkable stories of achievement. Enfield is investing in sport, making opportunities more accessible to people from all backgrounds and all abilities. We have parks' tennis courts being refurbished across the borough, a fantastic football programme in Edmonton, a new provider for our leisure centres by the end of the year and a fantastic programme of activities administered by Active Enfield. Congratulations to our athletes and I look forward to another exciting year of competitive sport."Cllr Anyanwu shared the stage with Tony Jarrett who won gold at the Commonwealth Games in 1990 and 1998 as well as other accolades. His speech inspired the crowd as he shared his personal journey, emphasizing the importance of hard work and determination.In addition, 17-year-old Enfield resident Amarlie Wilkinson made a speech about his commitment to basketball and appointment as the Captain of the Enfield London Youth Games Basketball team. He spoke of  his historic achievement of securing the first UK championship gold medal with his team in 2023.
The London Youth Games uses the power of competitive sport to create life-changing opportunities for all young Londoners. To get involved in  the 2023/24 season, email [email protected] for more information.
The award ceremony at DAC took place on 26 September 2023.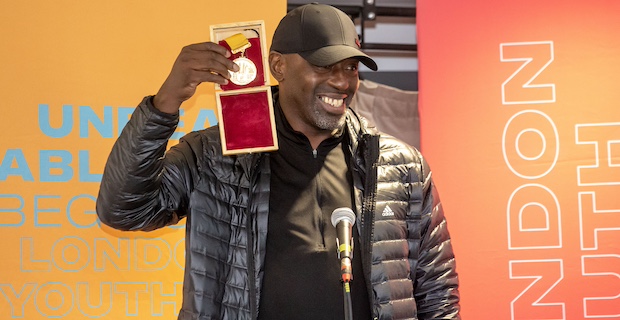 The award winners at the celebration event were:
BASKETBALL
Amarlie Wilkinson
Feolami Onabote
Jayden John
Ocean Brobbey
Hakim Linton
Evandro Bequessa
Malachi Francis
Kervy Mabaya
Henry Lim
Malachi Payne
Kyran Palmer
SWIMMING
Liam Austick
Max Kercher
Godfrey Obeng
Lewis Dawson
Ethan Morgan
Jaiden Thomas
Ethan Baxter
Zdravko Tatanov
Dylan Hanks
Malakai Morgan
Rayan Awan
Leo Kercher
Davi Gill
Christian Komatarov
Ivan Tanev
Luca Teodorescu
TRAMPOLINE
Gregory Svoboda
Oscar Squier
Keiran Piper
Iris West
Charlotte Smith
Michael Svoboda
Felix Saly
Henry Wakeford
Sabina Paktian
Eloise West
Hannah Christou
Malakhai O'Connor Peart
Olivia-Jo Francis
Holly Christou
JUDO
Nikola Bunchev
Michael Awiti-Alcaraz
Egor Volodko
ATHLETICS
Jayvannie Brown
Sarah Amuwa
Jorjia March
Rafaella Antoniou
Phiona Nanono
Kalim Pinder
Octavio Huczko