Football legend Diego Armando Maradona died Wednesday, suffering cardiac arrest at home in Tigre, Argentina. Argentine football legend underwent successful surgery on Nov. 4 for a blood clot in his brain, his doctor Leopoldo Luque said.  Maradona was awake and doing well but had "a little drainage" that doctors were planning to remove the following day. "He tolerated the surgery very well, he is lucid and awake and the time he stays in the hospital will depend on his evolution," the doctor added. A subdural hematoma, where a blood clot is formed on the surface of the brain, is usually caused by a head injury, but the former football superstar did not remember any event that could have caused it. The Argentine Football Association paid tribute to Maradona and said he would forever be a hero of the nation's football. "The Argentine Football Association, through its President Claudio Tapia, expresses its deepest sorrow for the death of our legend, Diego Armando Maradona," it said on its website. "Maradona was, is and will forever be a hero of our football. An emblem that knew how to bring the colors of the Argentine flag to every corner of the planet. Diego forever marked an era with his indescribable and unsurpassed talent. The soccer planet will remember you forever," it added.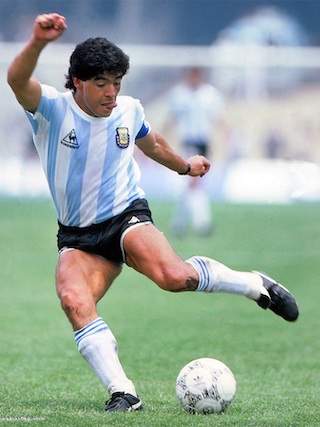 Sports world pays tribute to legend
Football clubs offered condolences via Twitter on hearing about Maradona's passing.  FIFA President Gianni Infantino expressed his deepest sorrow on the death of Maradona.
"Today is an unbelievably sad day. Our Diego left us. Our hearts – of all of us who loved him for how he was, and for what he represented – have stopped beating for a moment. Rest in peace, dear Diego. We love you," he said on FIFA.com
"The world awaits our words but there are no words to describe the pain we're going through. Now is the time to grieve," Napoli said.
"Your memory will live on forever... Rest in Peace Maradona," said Galatasaray.
Fenerbahce said: "One of the all-time greats... Rest in Peace, Diego Armando Maradona,"
"We are deeply sorry to hear of the passing of Diego Maradona, one of the greatest to have ever played the beautiful game. Rest in peace, legend," Besiktas said.
"FC Barcelona expresses its deepest condolences regarding the death of Diego Armando Maradona, a player for our club (1982-84) and an icon of world football. Rest in peace Diego," said Barcelona.
"A hero for an entire country and football itself. One of the greatest players to have graced the game of football, and we were lucky enough to enjoy you at Sevilla FC. Diego Armando Maradona, forever eternal. Rest in peace," Sevilla said.
Pele, Lionel Messi and Cristiano Ronaldo were among many who have shared their condolences after the loss of Maradona
"Sad news today. I have lost a dear friend, and the world has lost a legend. There is much more to say, but for now, may God give his family strength. One day, I hope, we will play soccer together in the sky", Pele said on Instagram.
"A very sad day for all Argentines and for football. He leaves us but does not leave, because Diego is eternal. I keep all the beautiful moments lived with him and I wanted to take the opportunity to send my condolences to all his family and friends", Messi said.
"Today I say goodbye to a friend and the world says goodbye to an eternal genius. One of the best ever. An unparalleled magician. He leaves too soon, but leaves a legacy without limits and a void that will never be filled. Rest in peace, ace. You will never be forgotten," Ronaldo said.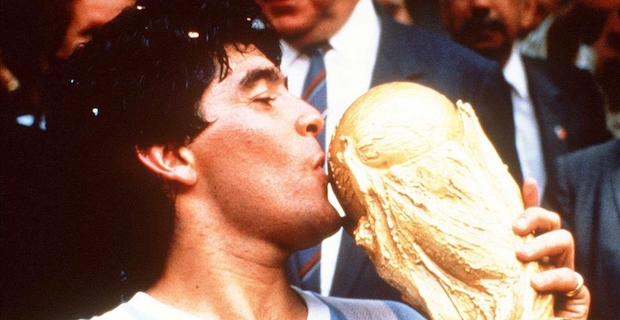 Winning 1986 World Cup
Maradona netted one of his iconic goals with his hand while playing against England in the 1986 FIFA World Cup quarterfinals but the referee was unable to see his trick. "The hand of God" goal eliminated England 2-1 in Argentina's march to the tournament glory. Maradona, 25 at the time, was the team's captain when he helped his nation win the 1986 World Cup. Known for his pace, highly-skilled technique, and dribbling skills, he was a versatile player on the pitch who could play as an attacking midfielder and forward. He played for Argentina in four World Cup tournaments -- Spain 82, Mexico 86, Italy 90, and the US 94. He made 21 World Cup appearances, scoring eight goals and eight assists. In addition to a World Cup victory, Maradona helped Argentina get as far as the final match in the 1990 World Cup, only to lose against West Germany. He scored 34 goals in 90 international caps for Argentina. Maradona played for Argentina's Boca Juniors, Spanish clubs Barcelona and Sevilla, and Italian club Napoli. The Argentine national was a beloved Napoli player, winning two Italian Serie A titles in 1987 and 1990, as well as the 1989 UEFA Cup with Napoli. He managed the Argentine national team during the 2010 World Cup but failed to advance in the knockout round. Maradona's team was eliminated in the quarterfinals in a shocking 4-0 loss to Germany in South Africa. Meanwhile, UEFA is holding a minute's silence at all of Wednesday's Champions League games in Maradona's memory.