German football giants Bayern Munich overwhelmed England's Tottenham Hotspur 7-2 late Tuesday in the UEFA Champions League. Bayern's German forward Serge Gnabry was on fire against Tottenham, scoring four goals in London. A former Arsenal player, Gnabry put the ball into the Tottenham net in the minutes of 53, 55, 83 and 88. Visitors' Polish star Robert Lewandowski scored two goals and German midfielder Joshua Kimmich netted one goal against Tottenham. Home team's two goals have been scored by South Korean forward Heung-Min Son and English forward Harry Kane.
Following this extravagant win, Bayern topped the Group B with 6 points.
Tottenham were in the last spot as they got only 1 point in two matches.
Serbian club Crvena Zvezda (Red Star) were in the second position the group with 3 points.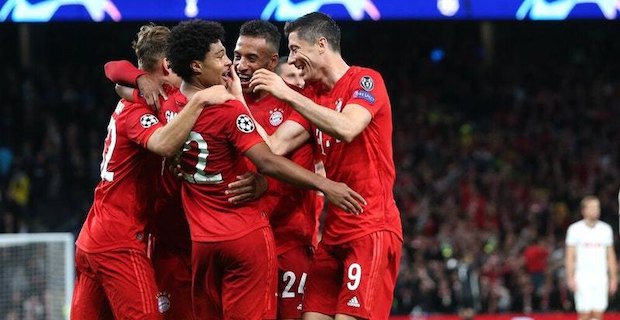 Olympiacos from Greece came third with 1 point in the Group B.
Tottenham will face Crvena Zvezda in the next Champions League match in London.
Meanwhile Bayern will be hosted by Olympiacos in Piraeus, Greece.
Here are Tuesday's results:
The Group A
Real Madrid - Club Brugge: 2-2
Galatasaray - Paris Saint-Germain: 0-1
The Group B
Tottenham - Bayern: 2-7
Crvena zvezda - Olympiacos: 3-1
The Group C
Atalanta - Shakhtar Donetsk: 1-2 
Manchester City - Dinamo Zagreb: 2-0
The Group D
Juventus - Bayer Leverkusen: 3-0
Lokomotiv Moscow - Atletico Madrid: 0-2