AVRUPA SPORTS-RUGBY DREAMS ARE MADE. "It reads like a story not real life, but this Weekend's Events show the stuff that dreams are made off. 16 year old, Kaya Stores from Cheadle Hulme High School and playing his rugby for Manchester and Cheshire was instrumental in the historic performance of the Turkish Team in the Rugby Europe Tournament in Latvia. Despite being the youngest in this u18s Team, he progressed through two 10 day camps and physical assessments to be selected in the final 12 to travel. He then featured in every match.The fact the first three teams all came from the same Group Stage shows how tough it was to progress. In Group stages, Turkey overwhelmed Austria, were narrowly defeated by Luxembourg and lost to Switzerland. But they did enough to secure a Quarter Final place on Day 2.They started as they meant to go on by defeating Hungary with its 6 foot 4 Captain. They then reversed the score from the previous Day and easily had victory over an ambitious Luxembourg side. They then improved also against Switzerland, but they were just two strong again.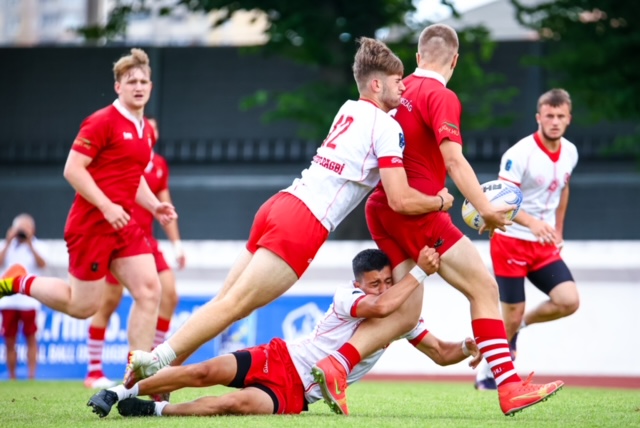 The result means that as a Finalist, Turkey now qualifies to join the Championship next year for the first time in its history. It will now face the might of such as: France, Ireland, Romania and Spain.
Two of the Turkish Team will still be eligible, Kaya Stores and Serkan Ates. Of the performances by Kaya, the Turkish Rugby Federation said that "Turkey was proud of him" as did the new Turkish Consulate in Manchester. He qualifies for the Country through his Turkish Mother, Bilge, yet his Father Stockport-businessman, Adrian Stores accompanied the Team throughout helping with translations, analysis, filming and coaching.
His Teammates at Manchester Rugby Club were ever so supportive sending regular messages. What an experience. Kaya now dreams of playing more for Turkiye and may be a contender for Captain one day."