Russian news media gave extensive coverage to a summit meeting between Turkish, Russian and Iranian leaders in Sochi where they discussed a lasting solution to the Syrian crisis. 
Thursday's meeting was the fourth in a series of such meetings held between Turkish President Recep Tayyip Erdogan, Russian President Vladimir Putin and Iranian President Hassan Rouhani since 2017. 
Russian daily Izvestia said the summit showed that the military confrontation in Syria drew to a close, citing Vyacheslav Matuzov, a former diplomat and political commentator, who likened the Sochi summit to the 1945 Yalta conference that ended World War II.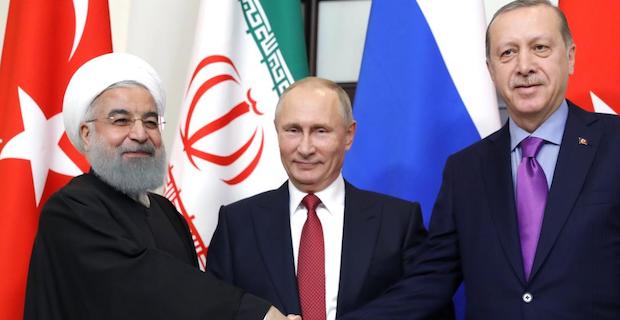 The daily also quoted Matuzov as criticizing a Warsaw meeting on the Middle East hosted by the U.S.: "The two meetings showed the world two approaches: the Warsaw convention is clearly set to mobilize hostile forces against Iran, to resolve the Palestinian problem in the absence of the Palestinians themselves, while participants of the Sochi meeting demonstrated the respect to all the players in the region."
Daily Vedomosti underlined Russia's concern over the situation east of the Euphrates in Syria, citing remarks by Russian Defense Minister Sergey Shoygu who has said that the U.S. troops were still in Syria despite the announcement of the planned withdrawal months ago and that Washington continued to support terrorists in the region.
Daily Kommersant criticized Syria's Bashar al-Assad, accusing him of "doing nothing" to restore peace in the country.
"He listens to everyone and does nothing himself. At the same time, his power in Syria has been consistently strengthened," the newspaper said.
Also, the daily said that Putin saw no part for the U.S. in the formation process of a committee tasked with drafting a new constitution of Syria.